If you use a mobile device or digital camera to take photos or videos you are well aware of their onboard storage limitations. To avoid running out of space or constantly downloading images to your computer, you need to add storage capacity. Secure Digital (SD) and Secure Digital High Capacity (SDHC) cards offer the perfect solution.
✅
These portable storage devices are flash memory cards that can provide, in the case of SDHC cards, up to 32 GB of extra space that can be used to store a lot of videos and photos.
Unfortunately, SDHC cards are not perfect. Just like any other type of storage device, they can fall victim to the devastating condition known as data loss. In an instant, there go all of those pictures that you just stored on that high-capacity card.
First week in Tokyo 🇯🇵 ... Some tragic news— my SD card got corrupted, so I'm trying to recover the lost data... My photos are fine, but I'm still trying to get a week's worth of videos back 😭 pic.twitter.com/fVg5YhOMYM

— Michelle 🐚 (@shellstreams) July 7, 2019
Luckily, data loss is often not permanent. Using SDHC card recovery software, you can restore those lost images and get back the irreplaceable memories they represent.
🗨️
We are going to look at some SDHC card recovery software for Windows and macOS systems. They can all help you recover those lost photos and videos. Following our overview of the applications, we will talk about how to minimize the possibilities of experiencing data loss and the steps you should take to ensure the recovery is successful.
Top 5 Best SDHC Card Recovery Software
Any of these software products will help you get back data that was inadvertently deleted from an SDHC card. In some cases, they may offer additional features or functionality that may influence you when selecting a solution.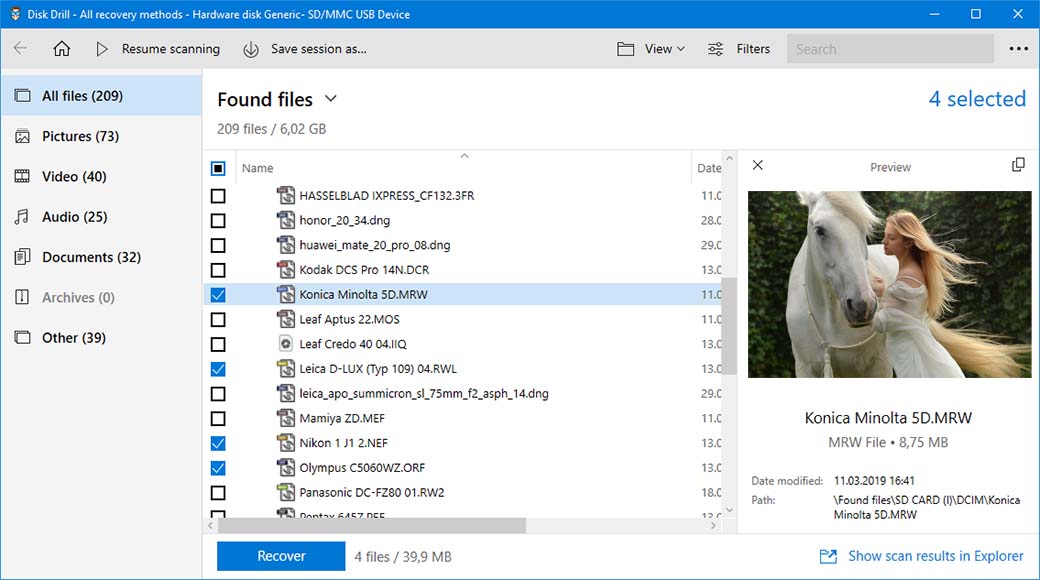 Disk Drill data recovery software is a comprehensive application that can help users recover from a wide range of data loss scenarios. Operating specific versions of the tool provide SDHC card recovery for Mac and Windows machines. A clean interface makes it possible for any user to recover their lost files quickly and easily. Scans can be paused and restarted and the results can be mounted as a disk for a streamlined recovery process.
The inclusion of free data protection tools that can create byte-level backups and safeguard important files and folders makes this a valuable application even if you don't need to recover lost data. When performing deep scans, the program recognizes and can reconstruct files in over 400 different formats including all popular image and video filetypes.
✅
Pros:
User-friendly and intuitive interface
Simple file recovery with a few clicks
Support for virtually any disk-based storage device including SDHC cards
Sophisticated scanning algorithms for recovering hard-to-find files
Additional free data protection tools
Free 500 MB file recovery with the Windows trial version
❗️
Cons:
The free Mac solution can only preview recoverable files
Lack of phone technical support
Price: Free trial versions. The Pro version is $89. An Enterprise license is $499.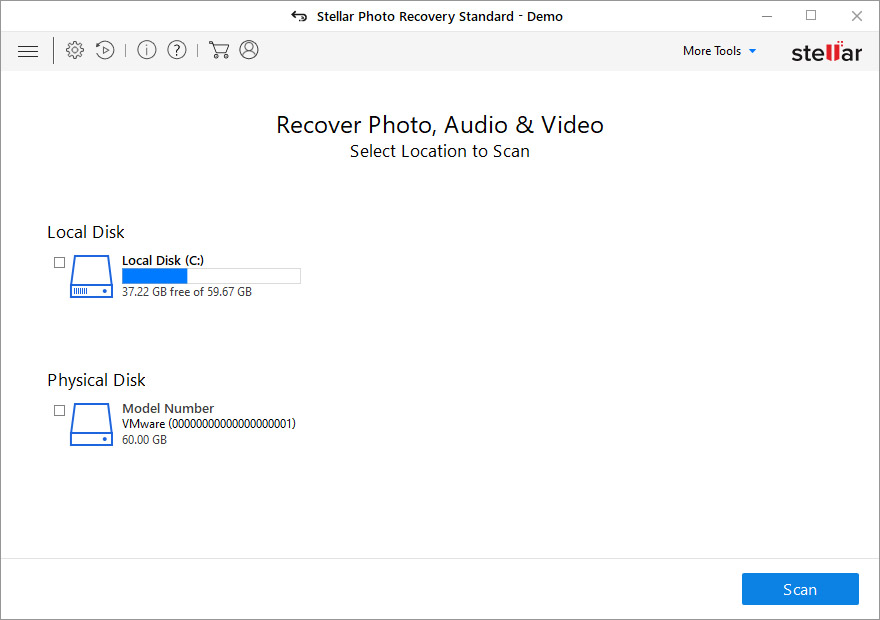 Stellar Photo Recovery can get back lost and deleted pictures from SD and SDHC cards as well as many other types of digital storage devices. The tool supports data recovery on a wide array of platforms including action and drone cameras (such as a GoPro). It provides users with a simple and user-friendly interface to facilitate the recovery process. You can use the tool to recover data from encrypted drives.
Advanced users can add new file headers manually to extend the functionality of the application. The premium edition of the software can repair corrupt image and video files. A nice feature of the tool is its ability to work with very large storage devices exceeding 6 TB in size.
✅
Pros:
Manual adding of new file headers for extended capabilities
Create a sector-by-sector image to protect damaged devices
Three scan preview options to quickly find the files you want to restore
Supports Unicode file recovery
❗️
Cons:
Requires a yearly license
No free data recovery with trial versions
Price: Basic edition $49.99, Professional Edition $59.99, Premium Edition $149.99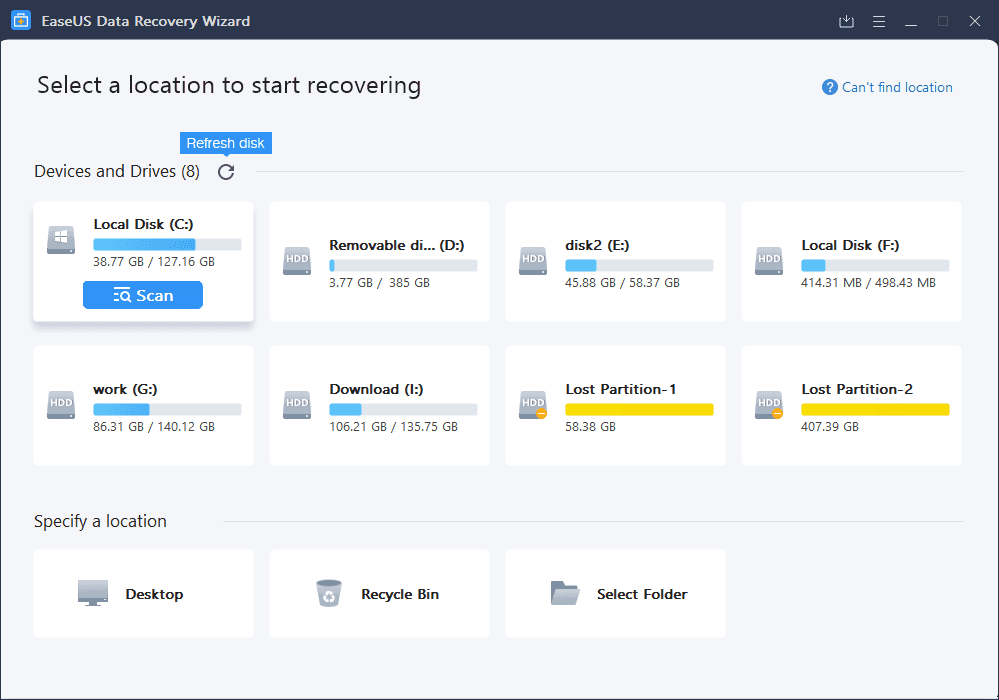 Easeus is another paid application that can recover lost and deleted photos from many types of storage devices including SDHC cards. The tool provides deep scanning functionality to recover long-lost files and photos. A user-friendly interface makes the tool applicable for users with any level of computer experience. Preview all recoverable files before performing the recovery.
This application supports 20 languages and is optimized for fast scanning. All popular image formats are supported as well as all types of digital cameras. Full filenames, file structure, and creation date are all part of the data recovery results, making it easier to find the specific files you want to restore.
✅
Pros:
Free Windows version allows 500 MB data recovery
30-day money-back guarantee
Recovery Wizard guides users through the process
Time Machine support for Mac users
❗️
Cons:
Cannot mount recovery results
Subscription requires a yearly payment
Can be difficult to obtain a refund
Price: $55.96 per year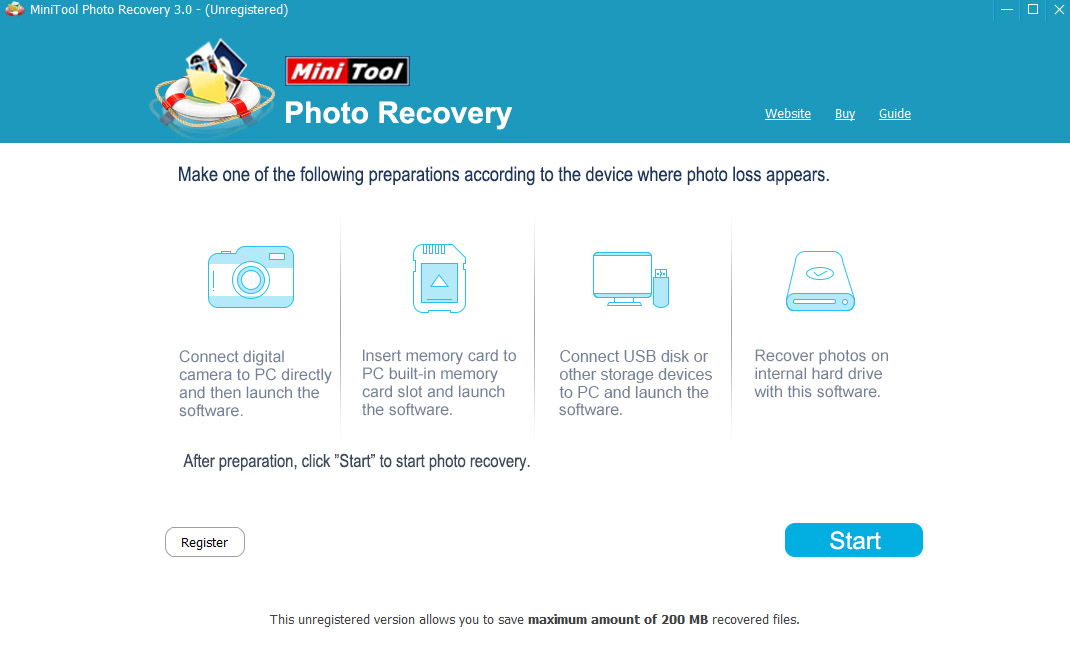 The interface of Minitool Power Data Recovery provides a three-step data restoration process designed for use by any user. It recovers deleted photos from a wide variety of digital cameras and storage devices including SD and SDHC cards. The tool organizes found files based on their extension type, making it easier to locate the items you want to recover.
Using the "Previous Recovery Result" feature allows users to perform multiple recoveries after performing a single full scan of their device. You can scan once and then approach recovery in an organized way, perhaps looking for all files of a specific type or created on a particular date. Minitool offers recovery of many different file types including all popular image formats.
Download MiniTool Power Data Recovery
✅
Pros:
A bootable version is available
Fast scanning speed
Scans damaged DVDs and CDs
Free Windows version can recover up to 200 MB
❗️
Cons:
Poor preview functionality
Cannot mount recovery results
Price: Free trial versions, $99 for a lifetime license
5. PhotoRec (Windows, Mac & Linux)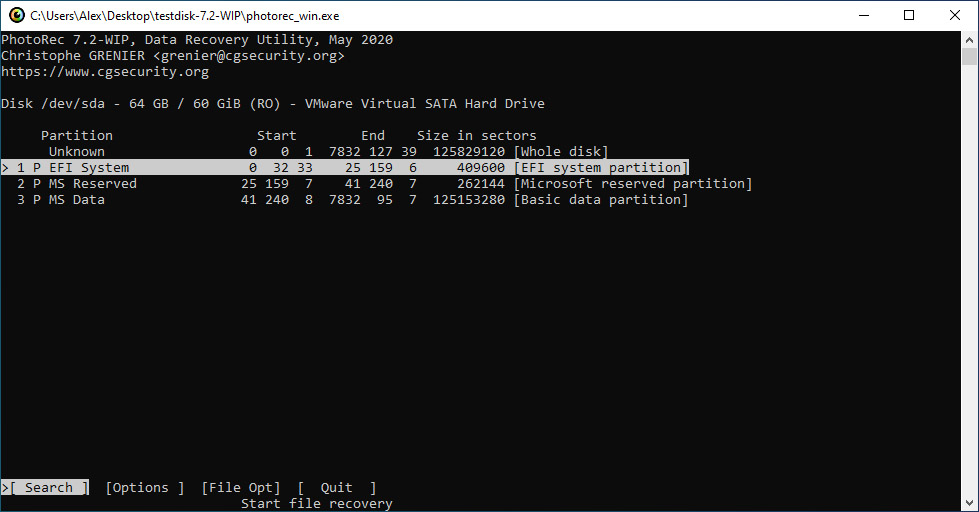 Users looking for a free photo recovery solution can try this freeware application. PhotoRec is an open-source, multi-platform solution that recovers data regardless of the filesystem in use by focusing on the underlying data. This can be very useful in cases where the filesystem has been severely damaged. The program searches for file headers that it recognizes to perform data recovery. Currently, the application can recover files with over 480 different file extensions and supports getting data back from SDHC cards.
PhotoRec is a command-line tool without the slick interface of other recovery programs. This makes it less useful for the average computer user who would prefer to point and click whenever possible. The fact that the original filenames are not recovered slows down recovery when multiple files are restored, as they will all need to be viewed and renamed manually.
✅
Pros:
Free and unlimited file recovery
Supports many file types
Application is fully supported and regularly updated
Satisfactory recovery results
❗️
Cons:
No preview options are available
Does not recover the filenames or folder structure
Price: Free
Best Practices for a Successful SDHC Data Recovery
There are some steps you can take that give you a higher probability of performing a successful SDHC card recovery with a software solution. Failure to follow this advice risks an unsuccessful recovery and extreme sadness regarding the lost images. Consider yourself warned!
🛑 Stop using the device as soon as you discover it has been subjected to data loss. Continuing to use the SDHC card exposes it to the risk of overwriting data that can be recovered with a software application. Once it's overwritten it's gone for good, so get that card out of your device or stop using it right away.
🤏 Handle the SDHC card gently when removing it from the device and inserting it into a computer or reader for the recovery. Physically damaging the card will make it impossible to restore its data using recovery software.
✅ Perform the recovery with a reliable and tested software solution. You might be tempted to go with a freeware product in an attempt to save some money. Very often, you get what you pay for and a free solution may not have the functionality or advanced technology required to get your data back safely. Take into account the value of the lost data before opting for the least expensive option you can find. You might only get one chance to recover it, so make sure you are using the right tool.
🖥️ Recover the data from the SDHC card to your computer or an external drive. Never try to recover it in place as this again risks overwriting the data before it's recovered. Get the lost data safely to another storage device before using the original card for any use.
Reasons for Data Loss on SDHC Cards and How to Prevent It
While it is certainly encouraging that SDHC card recovery software exists, you probably would prefer to not have to use it. Here are some of the common reasons for data loss on SDHC cards and what you can do to minimize the risks.
💁‍♂️ Human error is the number one cause of data loss across all types of storage devices and computing equipment. It is extremely easy to push the delete button or accidentally format the wrong card. The remedy for this problem is to make every attempt to minimize mistakes made by users working with SDHC cards. Labeling cards that contain valuable images or data can work, but only if the label gets read before you format the card. Exercise care whenever you are preparing to perform an activity that deletes data in any way.
👾 Virus and malware infections are often responsible for causing data loss on all types of digital devices. Connecting the camera or mobile device containing an SDHC card to a computer exposes its data to possible infection. To guard against this possibility, verify that reliable antivirus software is running on any computer that gets connected to your device.
🔨 Physical damage can ruin an SDHC card beyond the capacity of data recovery software to repair. Take care when removing and inserting the card into devices to avoid damaging the connections. Consider keeping the cards in protective cases to prevent them from getting bent or broken.
🔥 Environmental elements like too much heat or exposure to moisture can damage the card. Keep your cards in a cool and dry place to avoid this problem.
👀
Did You Know? SDHC cards have been around since 2006. They were developed to extend the storage capacity of the previous generation of SD cards. An SDHC card is required to support the FAT32 filesystems and can be constructed to hold up to 32 GB of data. Today the cards are manufactured by many companies including SanDisk, Samsung, HP, and Polaroid. The cards have become extremely popular with users and manufacturers of digital equipment. Producers such as Nikon, Canon, Olympus, and Pentax usually include an SDHC card when you purchase one of their digital cameras. You'll probably want to pick up a few extra cards if you like to take a lot of pictures.
A Word About Corrupted Cards

You may not be able to view the images on your SDHC card because it is corrupted. Before downloading and using a data recovery application, you can try these fixes for a corrupted or unreadable card.
Verify you are using a card reader that supports SDHC cards.
Try a different device if you get error messages like "Please insert disk into drive E:".
Attempt to scan the card with OS utilities and try a repair.
Try assigning the card a name or drive letter.
⚠️
If you have really experienced a data loss you should try one of the software solutions discussed above to get your photos back.
Conclusion
Data loss is never a pleasant experience and losing some important images from an SDHC card can seem like a disaster. Take a deep breath and try not to panic. Also, take our advice to stop using the affected device as soon as possible. With the help of a data recovery application, there is a very good chance you can save those priceless memories.
Robert Agar is the Content Writer & Managing Editor for Handy Recovery. Robert brings over 30 years of experience in data storage, security, compliance, backup, and recovery to the HandyRecovery team. Several years ago, he turned his attention from hands-on technical roles to develop a career as a freelance writer concentrating on technology and its impact on society. Areas of focus include the cloud, data recovery, artificial intelligence, and industrial automation.
Andrey Vasilyev is an Editorial Advisor for Handy Recovery. Andrey is a software engineer expert with extensive expertise in data recovery, computer forensics, and data litigation. Andrey brings over 12 years of experience in software development, database administration, and hardware repair to the team.