TestDisk is a free data recovery tool, but if you've ever used it, you'll know that it is strictly limited to a command-line interface and has limited data recovery capabilities. This tool is designed for a more tech-savvy crowd and may deter casual users who just want their data recovered.
👀
To save you the trouble, we've compiled a list of the Top 5 Alternatives to TestDisk for Windows. These tools have features that can compete with TestDisk and can suit your varied data recovery needs.
What is TestDisk, Where is it Used, and Why You Might Need an Alternative
TestDisk is an open-source data recovery software that helps you recover files from corrupted partitions and fix bootable drives. Like other data recovery software, TestDisk can be used to fix logical errors and recover lost files from your drives.
A corrupt partition on your drive's partition table causes all your data stored on that segment to become unreadable. TestDisk can recover a variety of file systems, and its companion software, called PhotoRec, can read and recover media files from various storage devices.
Here's a list of potential data recovery problems that TestDisk can handle:
🛠️ Repairing and Recovering damaged and deleted partitions: TestDisk is a capable partition recovery software tool. If the partition file systems are damaged, corrupted, or missing, the partition's contents may not be displayed correctly. In this case, users will receive an error message such as "Drive is invalid," or "MFT is corrupted," etc. TestDisk manages to locate and display safe entries on the partition to allow for secure data recovery to a different storage device.
📁 Copying files from a damaged disk: TestDisk and PhotoRec ignore the file system and go after the underlying data. This means that they will still work even if your lost media's file system has been severely damaged or reformatted.
💽 Checking disk integrity: TestDisk can scan your disk and check the integrity and status of your disk drives. It can detect and fix logical errors and also mark bad sectors where the disk is damaged or unreadable.
👢 Backup and restore the boot sector: TestDisk can make non-booting disks bootable again. It does this by recovering and rebuilding FAT12, FAT16, FAT32, and NTFS boot sectors from its backup.
However, there are some glaring problems that new users might face while trying to use TestDisk for data recovery; the archaic command-line interface and its lackluster data recovery capabilities. TestDisk mainly focuses on file system repair and reconstruction, and its file recovery capabilities are limited to restoring the logical links to them. If you want to recover permanently deleted files, TestDisk is not a very good option. Adding to this, its plain-looking interface with no GUI can intimidate newer users from attempting data recovery.
If you're looking for alternative software with a better user interface and better data recovery tools, you're in luck! Here are our top 5 TestDisk alternatives which might better suit your data recovery needs.
Top 5 TestDisk Alternatives
⚠️
Note: The following list is not a classic ranking, and the alternative data recovery tools aren't ranked in any particular order. Each suggested software has its own strengths and excels in different aspects of data recovery.
1. Disk Drill (Best for restoring deleted files)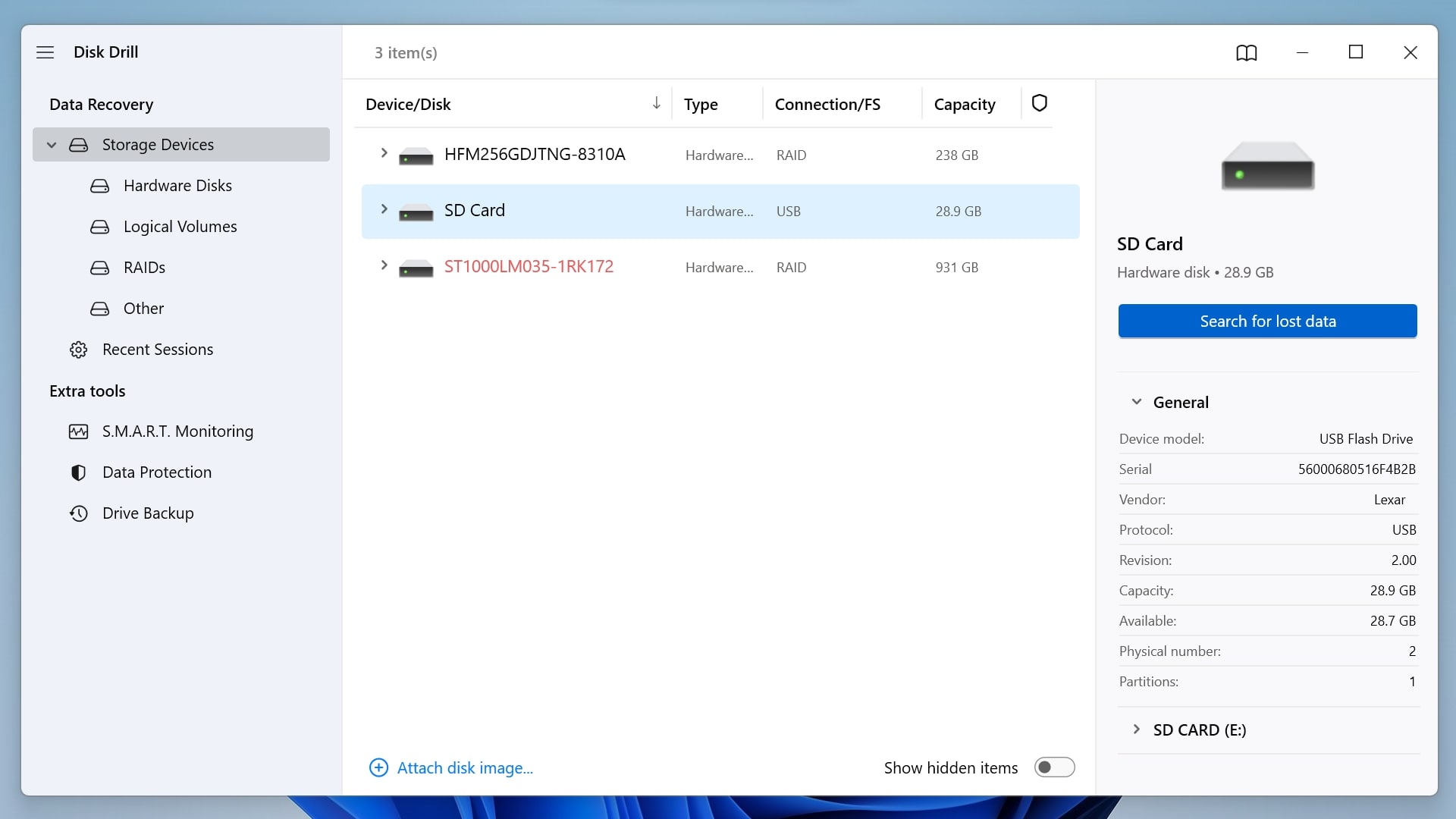 While TestDisk has its uses, it isn't great for recovering deleted data. Even PhotoRec, with its somewhat better UI, cannot recover data with their original names and folder structures.
That's where Disk Drill 5 for Windows comes in, which is the latest version of the Disk Drill data recovery software. It provides users with powerful recovery utilities and tools, packed together with its intuitive UI that makes data recovery as simple as possible.
With just a few clicks, you can recover lost files from various formats, including images, audio, videos, and other files. While scanning, Disk Drill displays an exhaustive list of all the files it finds in real-time. You can even preview files before recovering them.
Unlike TestDisk, Disk Drill offers actual data recovery capabilities for deleted files. It also comes with free data protection tools to help keep your data safe. This includes a unique data protection algorithm called Recovery Vault and a byte-to-byte drive backup for protecting your important files.
Overall, Disk Drill is a user-friendly software that is one of the best for recovering deleted files, folders, RAID arrays, and more. Here is a detailed review of Disk Drill for more information.
2. DiskGenius (Best for recovering deleted partitions)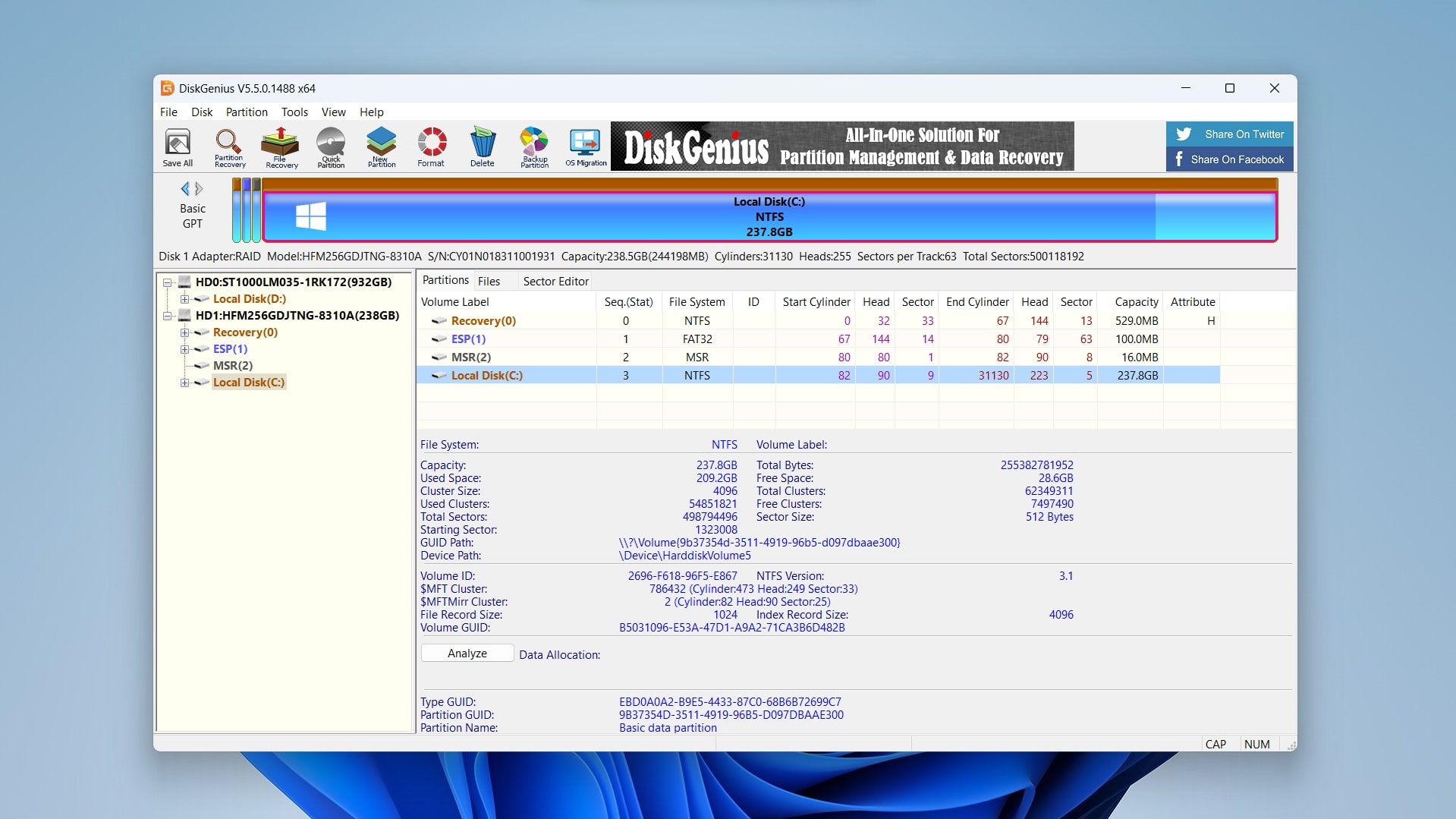 DiskGenius is a powerful partition recovery software that can help you recover data from damaged or lost disk partitions. With a more appealing look than TestDisk's bland command-line interface, DiskGenius makes partition recovery more intuitive for the casual user.
It can help users with advanced partition management, disk scans, error checks, and repairs. DiskGenius also comes with a disk cloning program that lets you clone a disk or partition, as well as a dedicated System Migration tool for migrating all partitions, user data, apps, and settings.
To summarize, DiskGenius has great functionality along with powerful features that can be used by IT professionals and casual users alike. Due to its popularity, you can also easily find tutorials for using its different tools. If you can look past its outdated interface, DiskGenius is a competent recovery tool, especially for deleted partitions. Here is a complete review of DiskGenius.
3. Ddrescue (Best for copying files from a damaged disk)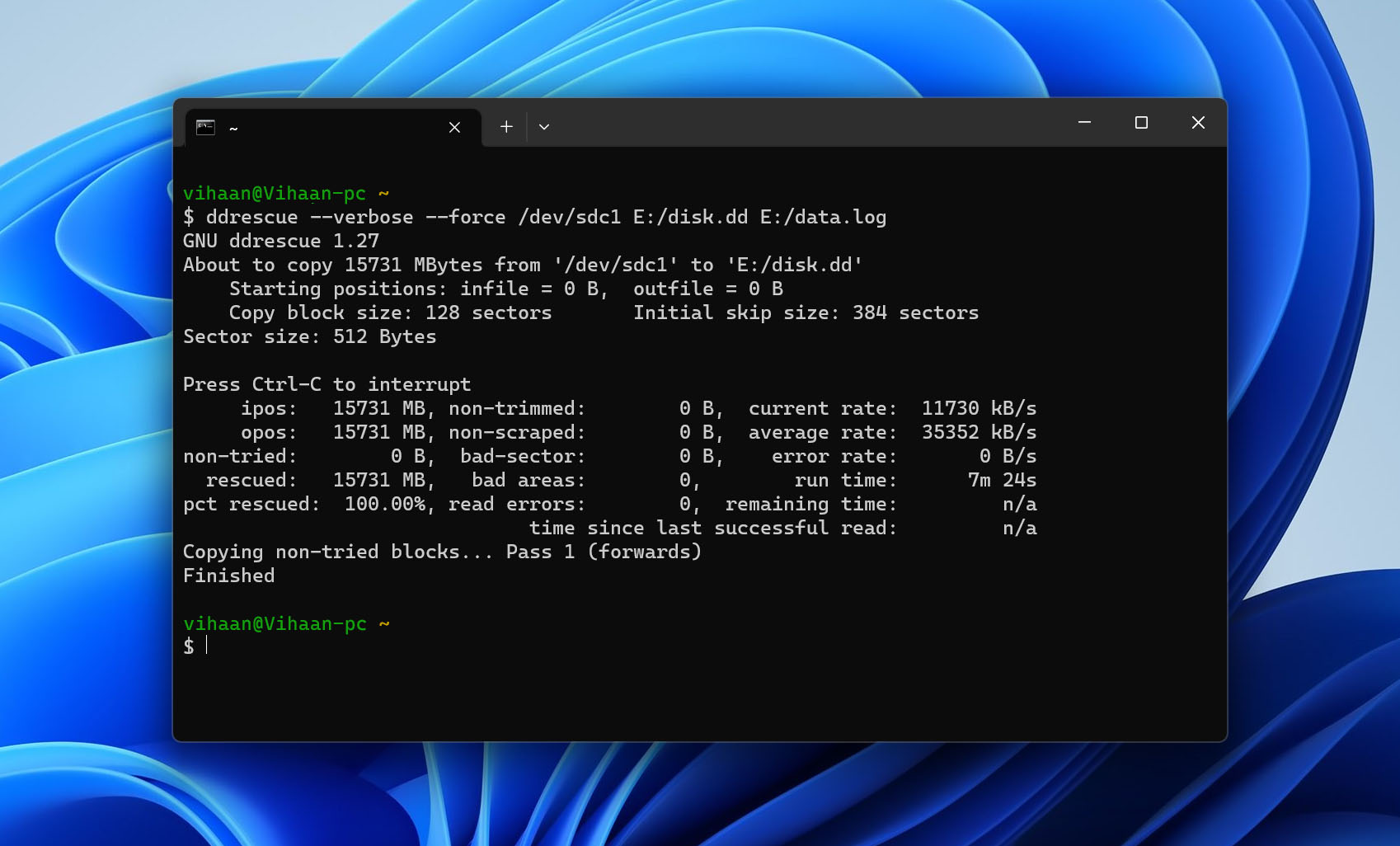 Ddrescue is a free and open-source data recovery tool that copies data from one file or block device to another, trying to rescue the good parts first in case of read errors. It works best on Linux but can run on Windows OS as well.
This application works really well for copying files from damaged disks. It does this through its 'fill mode,' which is able to overwrite parts of the output file selectively. This can help with marking bad areas or, in some cases, "repairing" damaged sectors.
The basic operation of ddrescue is completely automatic, which means once you begin recovery, you don't have to wait for an error, stop the program, restart it from a new position, etc.
The mapfile feature of ddrescue ensures that only the blocks needed are read. Ddrescue does not write zeros to the output when it finds bad sectors and does not truncate the output file if not asked to. So, every time you run it on the same output file, it tries to fill in the gaps without wiping out the data already rescued.
Keep in mind that, like TestDisk, Ddrescue features an obsolete command-line interface and requires a higher level of technical expertise to use. Ddrescue-GUI is an alternative to this software, although it isn't free for use. You can find more information about Ddrescue on their official website.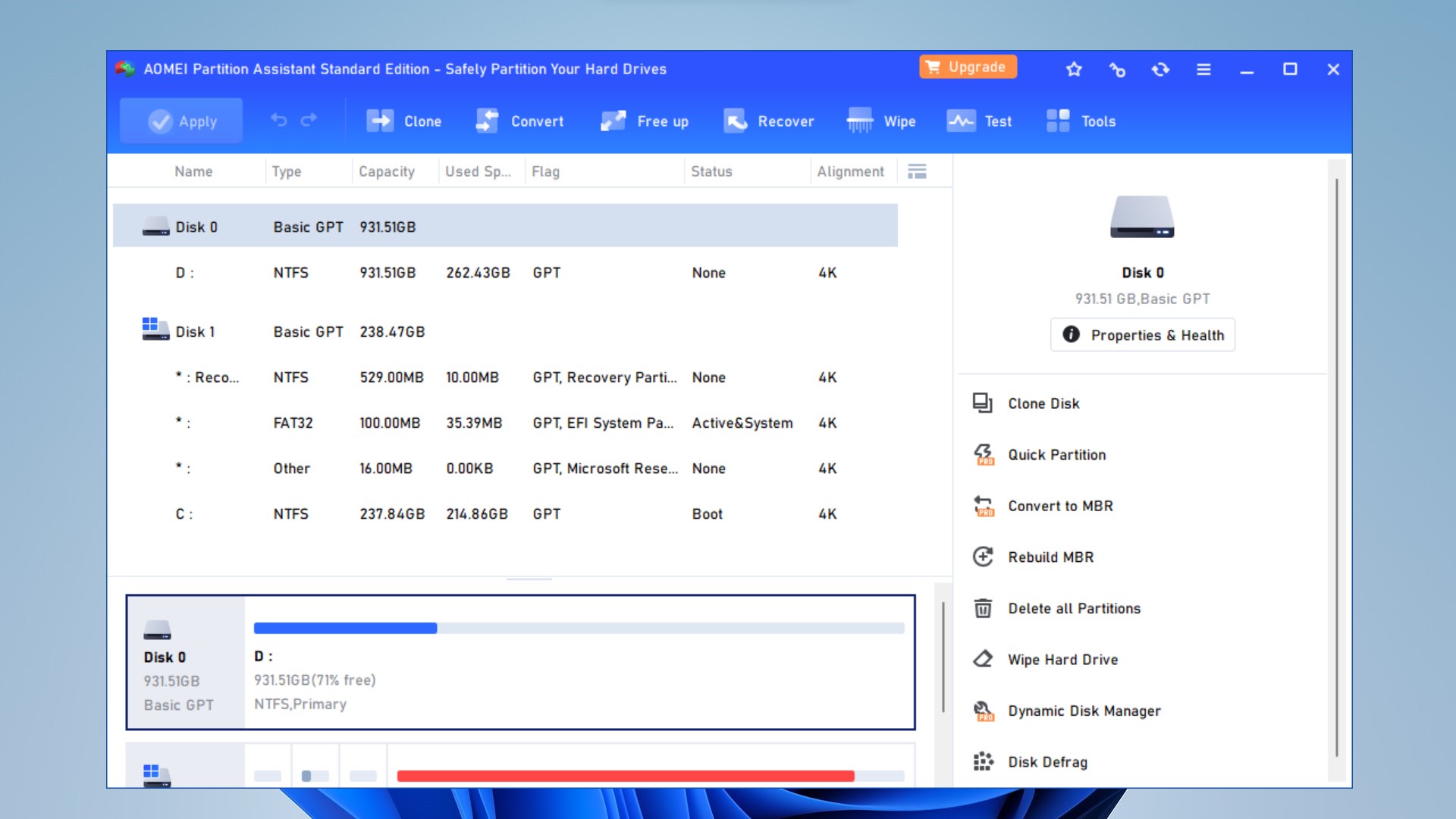 Aomei Partition Assistant is a great tool for resizing, merging, cloning, or deleting partitions. With an elegant user interface, users can manage their disk partitions and fix partition tables with ease.
It has useful wizards for copying, converting from NTFS to FAT32 and vice versa, and migrating to a new hard drive or SSD. Users can also use the program to create bootable Windows Pre-install Environment disks as well.
Drives are divided into partitions that store data, and your operating system uses a partition table as a blueprint to figure out how to store your files. Corruption of these partition tables can lead to data loss. With Aoemi Partition Assistant's tools, you can repair and fix these partition tables to access your data.
The free version is an effective partition management software, while the paid version adds additional features like partition recovery, partition alignment, secure SSD erasure, and more. You can download the Aomei Partition Assistant from their website.
5. CrystalDiskInfo (Best for checking disk integrity)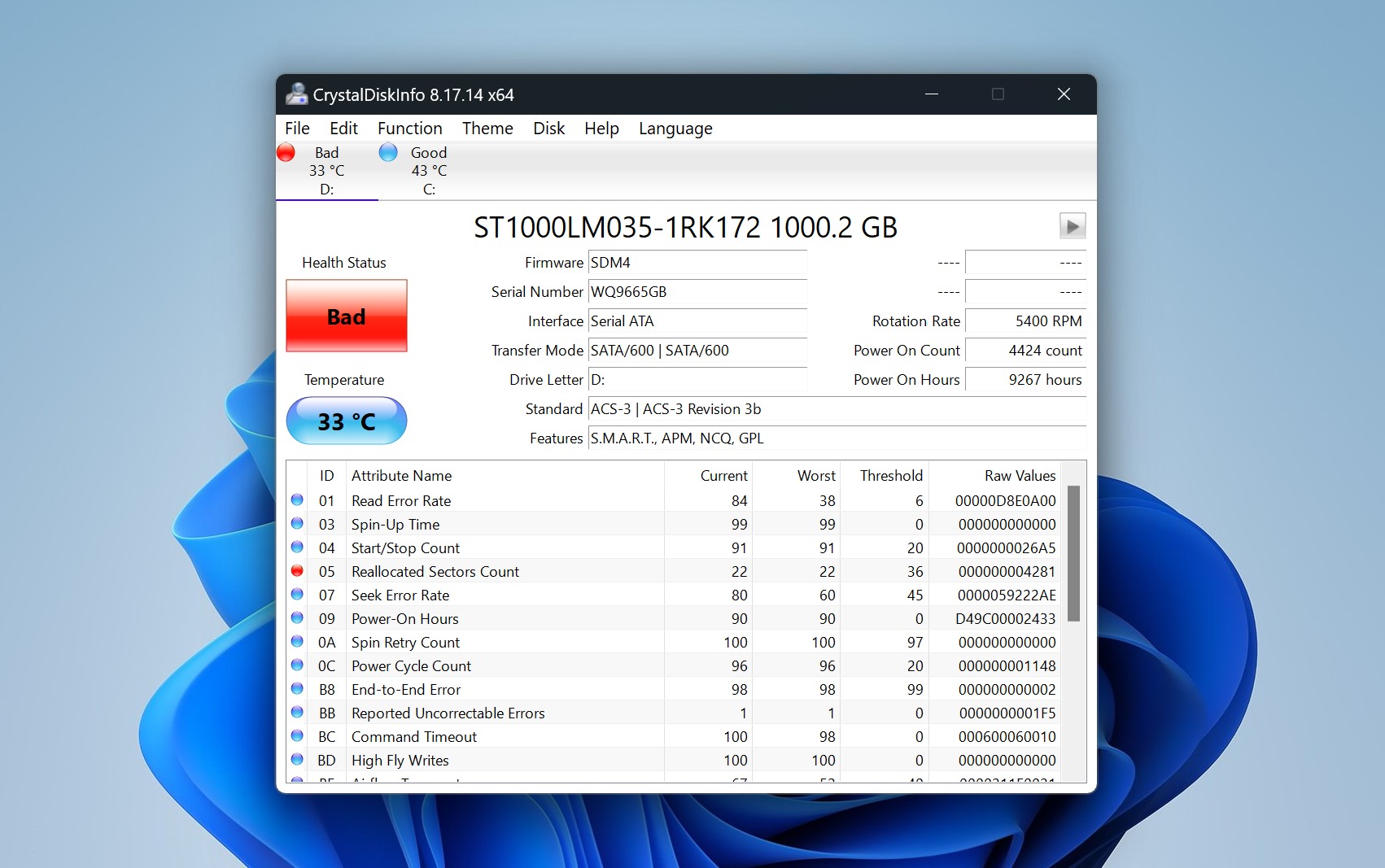 CrystalDiskInfo is a great software for analyzing a hard drive's health and checking disk integrity. It is relatively easy to use due to its simple interface. It lets users access the S.M.A.R.T. data of a disk which includes vital statistics like the Read Error Rate and Reallocated Sectors Count.
S.M.A.R.T. stands for Self-Monitoring, Analysis & Reporting Technology. Most modern hard drives have an in-built S.M.A.R.T. system for collecting and analyzing your disk's S.M.A.R.T. data. Crystaldiskinfo helps calculate your hard drive's health by analyzing S.M.A.R.T. variables to help prevent potential hard drive failure.
As soon as any of these variables cross the acceptable threshold limits, the software alerts you so that you can begin backing up your data. Keeping an eye on this data through such monitoring software is an accurate way of gauging your disk's integrity.
So if you like to stay on the safer side, you can download CrystalDiskInfo as a monitoring tool to keep track of your hard drive's important statistics and determine their health to alert you before they fail.
FAQ:
Conclusion:
While TestDisk is a capable data recovery tool, there are many reasons why you'd want an alternative software. With so many options available on the market, you're bound to get confused. Each software has its own strengths and weaknesses, and each specializes in different areas to suit your data recovery needs.
Our list gives you 5 alternatives to TestDisk, and each one is capable of recovering your lost data. If you're unhappy with TestDisk's command-line interface and are looking for better data recovery software, our top recommendations are Disk Drill and DiskGenius.
Vihaan is a freelance content writer with over two years of experience in creating original content across a multitude of niches such as tech, infotainment, lifestyle, and media. He is also deeply interested in the field of data recovery and has been studying it extensively for some time now. Vihaan is passionate about sharing his knowledge and insights on the topic and hopes to contribute to the community of professionals working in data recovery.
Andrey Vasilyev is an Editorial Advisor for Handy Recovery. Andrey is a software engineer expert with extensive expertise in data recovery, computer forensics, and data litigation. Andrey brings over 12 years of experience in software development, database administration, and hardware repair to the team.