Did you know that the Hasselblad H6D-100c boasts a mighty 100MP sensor? Another mind-blowing fact is that NASA chose Hasselblad for humankind's first-ever moon expedition. However, Hasselblad cameras are susceptible to data loss, like other storage devices, despite all this magnificence.
If you're at the receiving end of an unfortunate data loss, don't panic. This article explains how you can recover deleted photos and videos from a Hasselblad camera.
Is It Possible to Recover Data from a Hasselblad Digital Camera?
Yes, recovering data from your Hasselblad Digital Camera is possible. However, a few factors influence the probability of successful data recovery. Here are some of the most common data loss scenarios and potential solutions related to Hasselblad cameras:
| | | |
| --- | --- | --- |
| Data Loss Scenario | Description | Solution |
| 📁 Accidental Deletion | Unintentional deletion of digital assets, including photos and videos. | Use data recovery software to scan and recover deleted data from an SD card. However, suppose you deleted the images on the Hasselblad camera's internal memory itself. In that case, data recovery is impossible because deleting photos on a camera is usually a "permanent" data wiping method. |
| 🧾 Formatting | Accidentally formatting the memory card in haste. | If you didn't perform a complete format, you can leverage data recovery tools to recover data from a formatted SD card. |
| 🦠 Virus/malware attacks | Dangerous files like trojans or other viruses can corrupt your memory card - resulting in file deletion. | Virus-deleted files are recoverable using data recovery software. |
| 📸 Hardware failure | Physical damage to the memory card or Hasselblad camera | If you can connect the memory card and access it as a storage device on a PC, use data recovery software. If you can't access the memory card, consult a data recovery service center to attempt data retrieval. |
| 🔧 SD Card turned RAW | Sometimes, your SD card's file system could get damaged, leading to a RAW status. | Use data recovery software to retrieve data from the RAW SD card. |
Overview of Popular Hasselblad Camera Models
Here are some of the most renowned Hasselblad camera models and the memory card options they support:
| | | |
| --- | --- | --- |
| Hasselblad Camera Model | Flagship Feature | Recommended Memory Card Options |
| X2D 100C | State-of-the-art image stabilization | CFExpress Type B |
| 907X 50C | Stunning machined aluminum modular design | UHS-II SDXC cards |
| H6D-100C | Full-blown shooting achieving 100 MP | CFast (CF) card SD card |
| H6D-400C | Peak resolution of 400MP | CFast (CF) card SD card |
| H6X | Supports both film and digital capture | CFast (CF) card |
The engineering teams at Hasselblad recommend that photographers use UHS (Ultra High Speed) SDXC cards or CF (Compact Fast) memory cards to handle superior photo and video bandwidth requirements.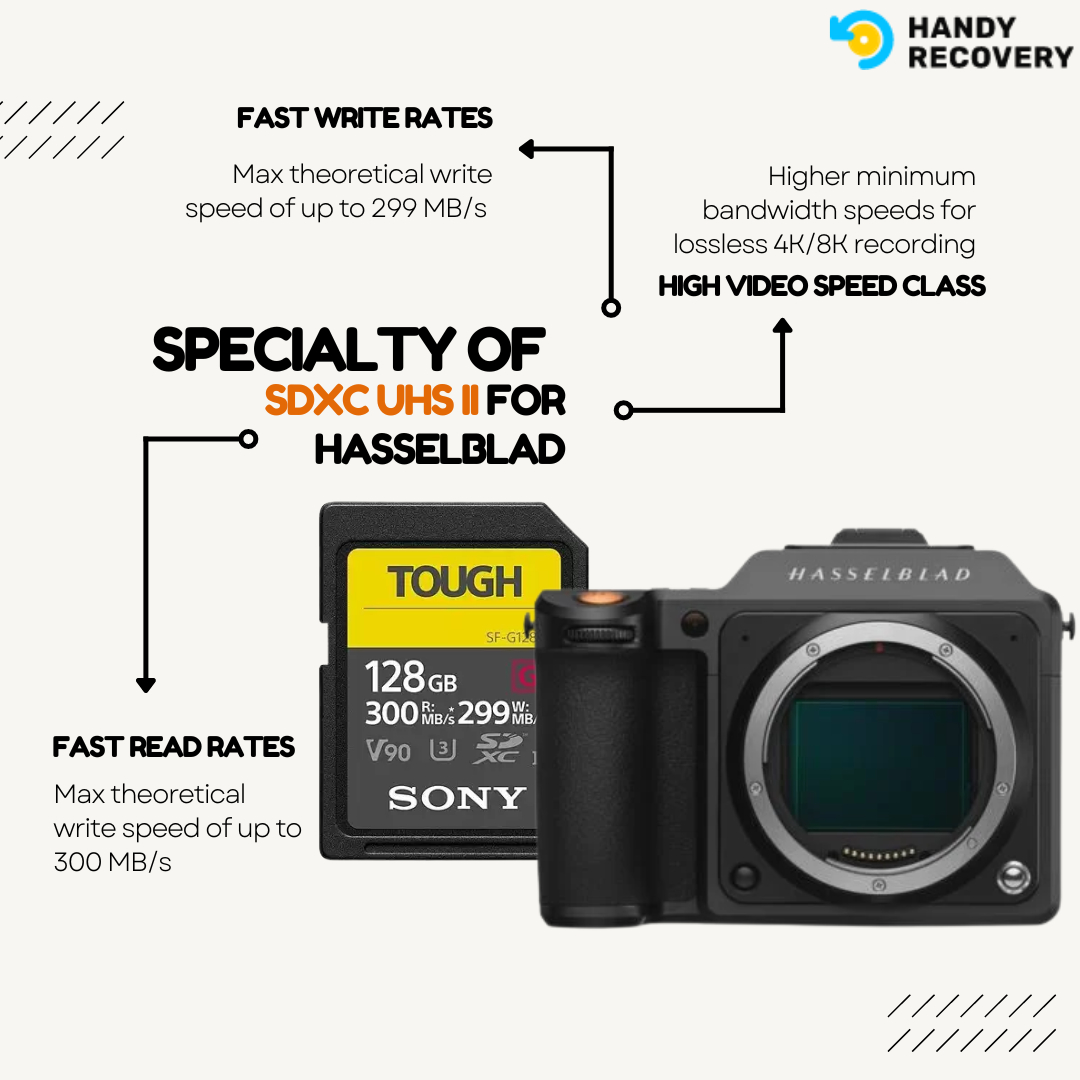 How to Recover Deleted Photos and Videos from a Hasselblad Camera
Utilizing data recovery software is the most straightforward and reliable method to recover deleted photos and videos from a Hasselblad camera. Fortunately, there are many free photo recovery tools aiding your cause.
⚠️
Once you encounter data loss, starting the data recovery process ASAP is critical. Otherwise, as you click newer pictures, your deleted photos and videos would get overwritten – thus, making data recovery impossible.
Disk Drill
Disk Drill occupies the prime spot among our top SD card recovery software. Disk Drill is a real lifesaver because the tool supports the proprietary Hasselblad RAW file formats of 3FR and FFF. Disk Drill supports all major photo and video file formats, including JPEG, MP4 and RAW CinemaDNG – all of which are staple Hasselblad file formats.
✅
Disk Drill ships a clean and intuitive UI tailored for first-time users to recover their precious data quickly. Disk Drill has your back regardless of your Hasselblad camera memory card type. Be it the SD, CF, SDHC or SDXC – Disk Drill supports data recovery from them all.
Here's how you can recover data from your Hasselblad camera:
Download, install and launch Disk Drill.
Safely eject your Hasselblad camera's SD card and connect it to your PC.
Select your SD card from the list of devices, and click on Search for lost Data. For this illustration, we are using a pen drive. However, the data recovery tutorial is exactly the same for any storage device.
Wait for the scan to terminate as Disk Drill performs a deep scan of your SD card to find recoverable files. Once the scan ends, click on Review found items.
Refine your search results by applying filters. There are two ways to filter your results: First, click on a file type from the left pane to display only photos or videos. The other way is to directly target your search for a specific file type.

👀

In this tutorial, we attempt to recover a deleted FFF file. Type in the file format in the top right corner and hit Enter to refine the search results.

Preview your files by clicking on the eye icon to reveal essential file attributes like the file name, last modified date, etc.
Click on the files you would like to retrieve, and click Recover.
Select a recovery destination to save your recovered files, and click Next. Avoid selecting the affected SD card.
DiskDigger
DiskDigger is a lesser popular name in the data recovery space. However, the tool has many handy features for photographers seeking a quick recovery of RAW digital assets.
Essential RAW photo formats, including the Hasselblad FFF and 3FR, are recoverable using DiskDigger. On the video front, DiskDigger supports widely used formats like WMV, AVI and MOV. However, the tool still doesn't ship RAW video recovery capability for formats like R3D.
Here's how you can use DiskDigger to recover deleted photos and videos from a Hasselblad camera:
Download, install and launch DiskDigger.
Eject the memory card from your Hasselblad camera and insert it into your PC.
Select the drive for scanning, and click Next.
Determine the scan type between Dig Deep and Dig Deeper. Then, click Next.

👀

The Dig Deeper scan takes more time and meticulously scans your disk sectors for recoverable data.

Now, you can scan for targeted file types by selecting the file formats you want to recover. In this illustration, we have chosen the FFF Hasselblad RAW image format. Click on Filter Results and type in FFF, and then click Ok.
Since the tool doesn't retrieve filenames, you must preview each file to select the right assets.

👀

📁 If you want to recover multiple files, select each file while holding the CTRL key.

Finally, click on Recover selected files. Select a destination for saving your recovered data, and click OK.
If you're on the free version, click Continue unregistered, and proceed with the data recovery.
Is it Possible to Recover Data from Hasselblad Cameras Connected Directly?
Before we dive into the recovery options, here's some interesting information on the Hasselblad camera connectivity options:
📸 The newer Hasselblad cameras feature dual SD card slots.
🖼️ You can dedicate one slot for RAW files and assign the other for JPEG files. Alternatively, you can allot one SD card slot for still photo files and the other for video files.
💻 Hasselblad cameras also have an HDMI output and a USB 3.0 C-type connectivity for transferring photos and videos to a PC.
With all that background information out of the way, it's time to tackle the real question. Can you directly recover data from a Hasselblad Camera connected to a PC? It depends on whether the Hasselblad Camera gets detected as a storage device on your Windows File Explorer.
⚠️
Cameras usually operate upon an MTP data transfer protocol, which doesn't provide your PC the necessary access for data recovery software to retrieve files directly from the internal storage. With the Hasselblad cameras, you require special software called Phocus, a RAW image processing tool. Using Phocus, you can import JPEG or RAW images from the camera to your PC. As a result, since your PC doesn't recognize the Hasselblad camera as a removable storage medium like a USB or HDD, data recovery software can't scan your camera to recover deleted files.
You could eject the SD card and then use data recovery software to scan and recover deleted photos from the SD card. On the other hand, if you suspect corruption signs, you could still use data recovery tools to retrieve files from a corrupted SD card.
Conclusion
Hasselblad cameras are a work of art but are susceptible to data loss. The easiest way to recover data would be to scan your memory card using data recovery software and retrieve deleted photos and videos.
Joshua is a content curator for Handy Recovery. His expertise involves taking intricate IT concepts and breaking them down into super easy to understand chunks. He's been wielding the writing sword for quite some time now - 3 years to be precise. Digital marketing, data recovery, and anything "techy" are Joshua's niches.
Andrey Vasilyev is an Editorial Advisor for Handy Recovery. Andrey is a software engineer expert with extensive expertise in data recovery, computer forensics, and data litigation. Andrey brings over 12 years of experience in software development, database administration, and hardware repair to the team.