Sometimes, it's difficult to choose between two data recovery applications because each offers a vastly different set of features. But the opposite situation, when two applications don't offer many distinguishing features, can also be a problem, and that's exactly what we're dealing with today.
Wondershare Recoverit
EaseUS Data Recovery Wizard
Current version
10.5.9 (Released 13th Jul, 2022)
15.2 (Released 23rd May, 2022)
Requirements
Windows 7-11 (x64 only)
Windows 7-11
Trial version limit
Recover up to 100 MB for free
Recover up to 2 GB for free
Starting Price
$59.99 / 1 month (Subscription + Lifetime)
$69.95 / 1 month (Subscription + Lifetime)
Recovery quality
⭐⭐⭐
⭐⭐⭐⭐
Usability
Easy
Easy
Website
Visit 

developer 

website
Visit 

developer 

website
Download
Download for Windows
Download for Windows
Wondershare Recoverit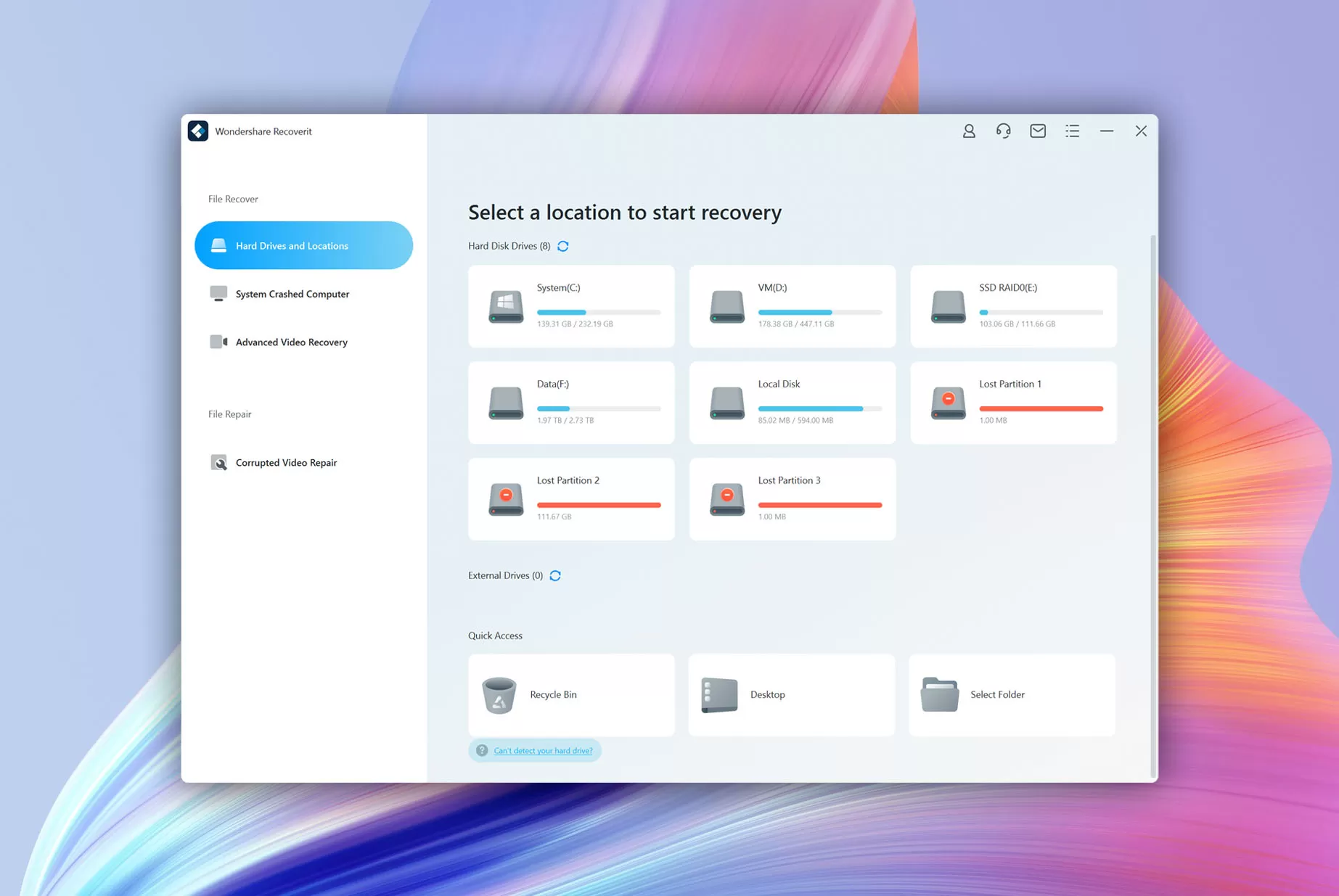 Wondershare Recoverit for Windows is a modern data recovery tool that aims to make the recovery of lost photos, videos, audio, documents, and other files a breeze. Its specialty is the repair of damaged video files—a feature not many competing products offer.
Pros:
Polished UI: Recoverit is a modern software application, and its polished UI reflects this.
Bootable disk creation: The application's ability to create a bootable disk comes in handy when recovering data from Macs that don't boot properly.
Damaged video repair: With Recoverit, it's possible to repair damaged video files and make them playable again.
Cons:
Volume-only scanning: Unfortunately, it's not possible to scan entire disks—only individual volumes.
Requires internet access: You can't install and use Recoverit without downloading additional files from the internet.
Duplicate scan results: For some reasons, the application lists certain results more than one, which can be quite confusing.
EaseUS Data Recovery Wizard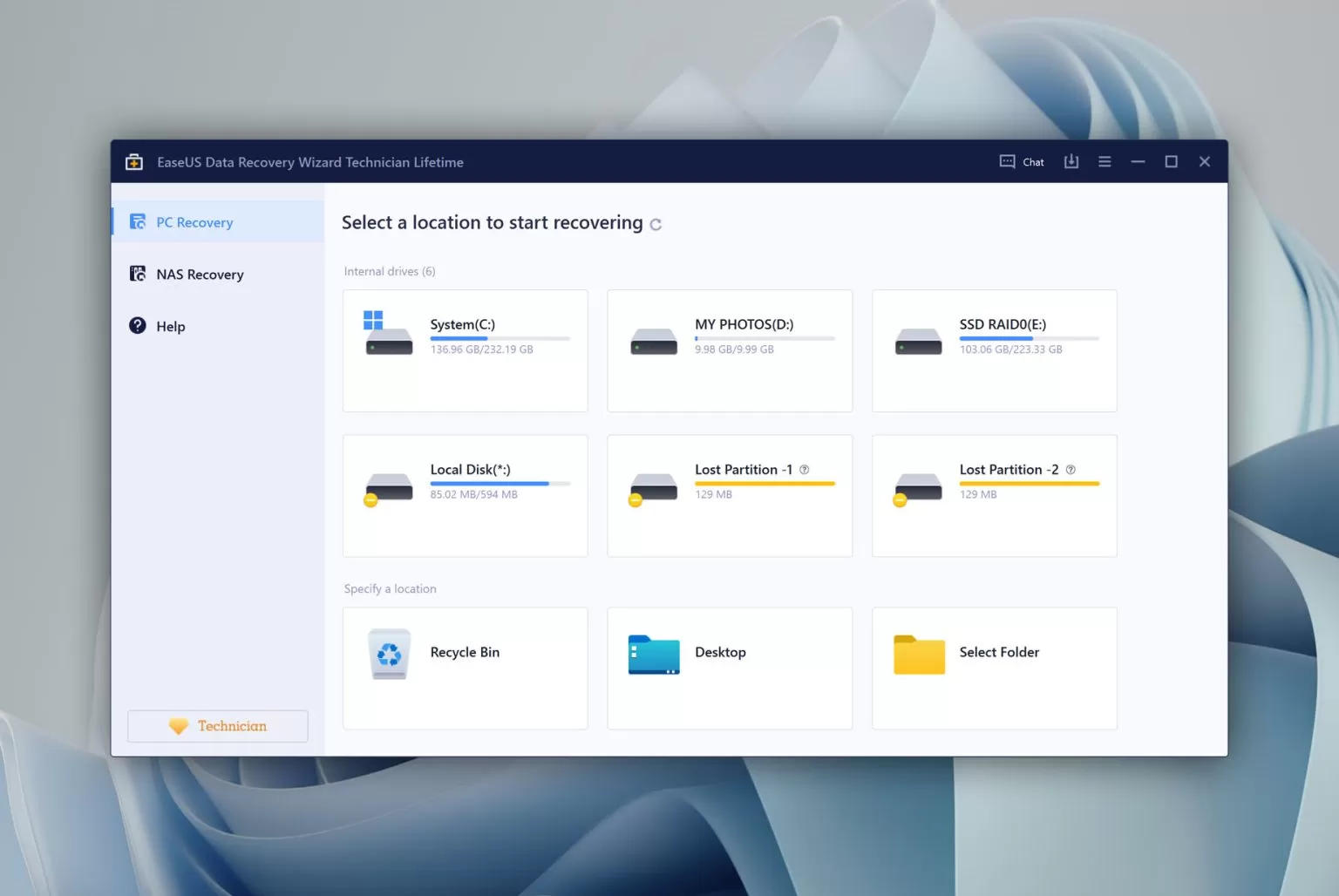 EaseUS Data Recovery Wizard for Windows has established itself as one of the most recommended tools of its kind thanks to its generous free data recovery limit, but its easy-to-use user interface, recovery performance, and extra features also deserve credit.
Pros:
Fast scanning: EaseUS is one of the fastest data recovery software applications.
Free recovery limit: With the free version of EaseUS Data Recovery Wizard, you can get back up to 2 GB of data.
Online tutorials: On its website, EaseUS has published a large number of useful data recovery tutorials.
Cons:
Linux file systems: With EaseUS, you can't recover original file names and folder structure from EXT3 and EXT4 drives.
Expensive monthly subscriptions: The available monthly subscription plans are very expensive and not cost-effective.
Recovery speed: Even though EaseUS is fast when scanning for lost files, it takes the application a long time to retrieve them to a safe location.
Recoverit vs EaseUS: Pricing Comparison
Pricing
Wondershare Recoverit
EaseUS Data Recovery Wizard
Distributed as
Freemium
Freemium
Trial version available
✅
✅
Trial version limitations
Recover up to 100 MB for free
Recover up to 2 GB for free
Number of devices per license

Essential – 1
Standard – 1
Premium – 2
For Team – 5
For Student – 1

Pro – 1
Pro+Bootable Media – 1
Technician – 100

Starting price
$59.99/ 1 month
$59.99/ 1 month
License model
Subscription + Lifetime
Subscription + Lifetime
No credit card to try
 ✅
 ✅
Money back guarantee
 ✅
 ✅
Both Wondershare Recoverit for Windows and EaseUS Data Recovery Wizard for Windows rely on similar pricing models that combine subscription plans with a lifetime license option.
Recoverit is slightly cheaper than EaseUS, starting at $59.99 a month versus $69.95 a month. If at all possible, we recommend you get a lifetime license instead because it's much more cost-effective. The least expensive Recoverit lifetime license costs $119.99, while a comparable EaseUS license costs $149.95.
The good news is that you can try Recoverit and EaseUS without spending any money. The free version of Recoverit can recover up to 100 MB of data, and the free version of EaseUS can recover as much as 2 GB. As you can see, the free EaseUS plan is very generous, and you might be able to recover everything you need with it.
Recoverit vs EaseUS: Data Recovery Performance Comparison
| | | |
| --- | --- | --- |
| File System | Wondershare Recoverit | EaseUS Data Recovery Wizard |
| FAT32 partitions | ⚠️ | ⚠️ |
| exFAT partitions | ⚠️ | ⚠️ |
| NTFS partitions | ⚠️ | ✅ |
| EXT4 partitions | ⛔️ | ⛔️ |
| HFS+ partitions | ⛔️ | ✅ |
| APFS partitions | ⛔️ | ⛔️ |
| BitLocker support | ⚠️ | ✅ |
| Windows shadow copies scanning | ⛔️ | ⛔️ |
The performance of a data recovery application is influenced by several factors, including the number of supported file formats and file systems, the sophistication of its algorithms, and the availability of extra data recovery features. Let's see which of the two contested applications performs better.
Recoverit by Wondershare doesn't deliver particularly praiseworthy results regardless of which file system it scans. In fact, some file systems it claims to support (APFS, HFS+, and EXT4) don't seem to be supported at all. This makes the fact that the application can recognize more than 1,000 unique file signatures less exciting.
EaseUS performs noticeably better than Recoverit when scanning NTFS and HFS+ partitions, and it also makes it easy to scan BitLocker-encrypted storage devices (you still need the right password). Where it struggles is FAT32 and exFAT scanning. The application overlooks very small files, files saved in the root folder, and files in directories with really long names.
Recoverit vs EaseUS: Feature Comparison
| | | |
| --- | --- | --- |
| Feature | Wondershare Recoverit | EaseUS Data Recovery Wizard |
| Update frequency | ✅ | ⚠️ |
| Changelog available | ⛔️ | ✅ |
| Online market share | ⛔️ | ⚠️ |
| Sort results | ⛔️ | ✅ |
| Recovery from RAID1, 0, JBOD | ⛔️ | ⚠️ |
| Real-life recovery challenge | ⚠️ | ✅ |
| Raw photo recovery | ⚠️ | ✅ |
| Video formats recovery | ⚠️ | ✅ |
| Document formats recovery | ⚠️ | ✅ |
| Convenient scan session management | ⛔️ | ✅ |
| Scan free space only | ✅ | ⛔️ |
| Corrupted video repair tool | ✅ | ⚠️ |
Data recovery software applications can be compared not only in terms of their performance but also in terms of their usability, extra features, and even support. That's why some applications deliver an amazing value even though their recovery performance leaves something to be desired. Is that the case with Recoverit and EaseUS? See the table below to find out.
Recoverit and EaseUS are reputable data recovery software applications developed by well-known software companies that go to great lengths to keep their users satisfied. Paid customers can ask questions and receive help via phone, live chat, and online helpdesk, and each of the two applications also has an extensive knowledge base that covers the most commonly encountered data loss scenarios. Unfortunately, only EaseUS publishes a changelog to explain to users what's new in the latest product updates.
Moving on to usability, the two software applications are neck and neck—almost as if their developers were closely monitoring the other team's progress. Recoverit has a slightly lower score than EaseUS only because it doesn't offer enough options to sort scan results in order to quickly and easily find missing files.
EaseUS offers partial support for RAID recovery, and it recognizes more raw photo and video file formats. For these and other reasons, it recovered more lost files during our tests than Recoverit (around 174,000 versus 106,000). Neither of the two data recovery applications can recover lost data from mobile devices. EaseUS and Recoverit also come with similar extra features, such as bootable recovery drive creation and the option to preview scan results in real-time. Recoverit stands out with its excellent video repair capabilities, which are no match for EaseUS and most other similar tools.
Wrapping Up
In conclusion, EaseUS Data Recovery Wizard for Windows is better than Wondershare Recoverit for Windows, but the two applications share more similarities than differences. The most important difference is the fact that EaseUS lets users recover up to 2 GB of data for free, while the free version of Recoverit can retrieve only up to 100 MB, which is enough for only a small handful of files. With EaseUS, you're also more likely to recover all missing files because the application found almost twice as many files as Recoverit during our test.
Why choose EaseUS:
Can recover 2 GB for free
Responsive customer support
Clearly organized scan results
BitLocker support
Why choose Recoverit:
Recovers 100 MB for free
Video repair capabilities
Fast scanning speed