In this article, we will discuss how to restore Windows.old files using third-party data recovery tools as well as native Windows resources. It can be critical to recover the Windows.old folder as it contains files that allow you to go back to a previous version of the Windows operating system.
Jump to:
If you've recently installed or reinstalled your OS, you probably noticed that some of your documents appear to be missing. In fact, they are now located in the Windows.old folder. You will want to move these files, as the folder will be automatically deleted within 10 days. We will also present you with ways to restore Windows.old files, in case that has already happened. Let's begin.
What is Windows.old?
Windows.old folder is automatically created every time you switch to a new version of Windows. It will contain all files you had on the previous OS, such as system files, account settings, and installed programs. With it, you can easily restore a previous version of Windows if something goes wrong or you don't like it.
👀
If you can't find it, there's still a possibility to restore Windows.old files. This is because they are still on your PC, and space is just marked as empty. But you will have to act fast, as any new file can overwrite it, leaving you no chance of recovery. Unfortunately, if you are trying to restore files from an SSD, keep in mind that your chances of recovery are very low.
How To Restore Files From Windows.old Folder
The easiest method is to move all of your documents manually. To do this, you will have to navigate to the root drive, which will contain the Windows.old folder.
You can find it here: Computer > Local Disk (C:) > Windows.old > Users > *Your Username*
Simply browse through the folder and select everything that you wish to move. Pressing Shift and left-click will highlight multiple files. Then, use Сtrl + C and Сtrl + V shortcuts to move them to the location of your choice.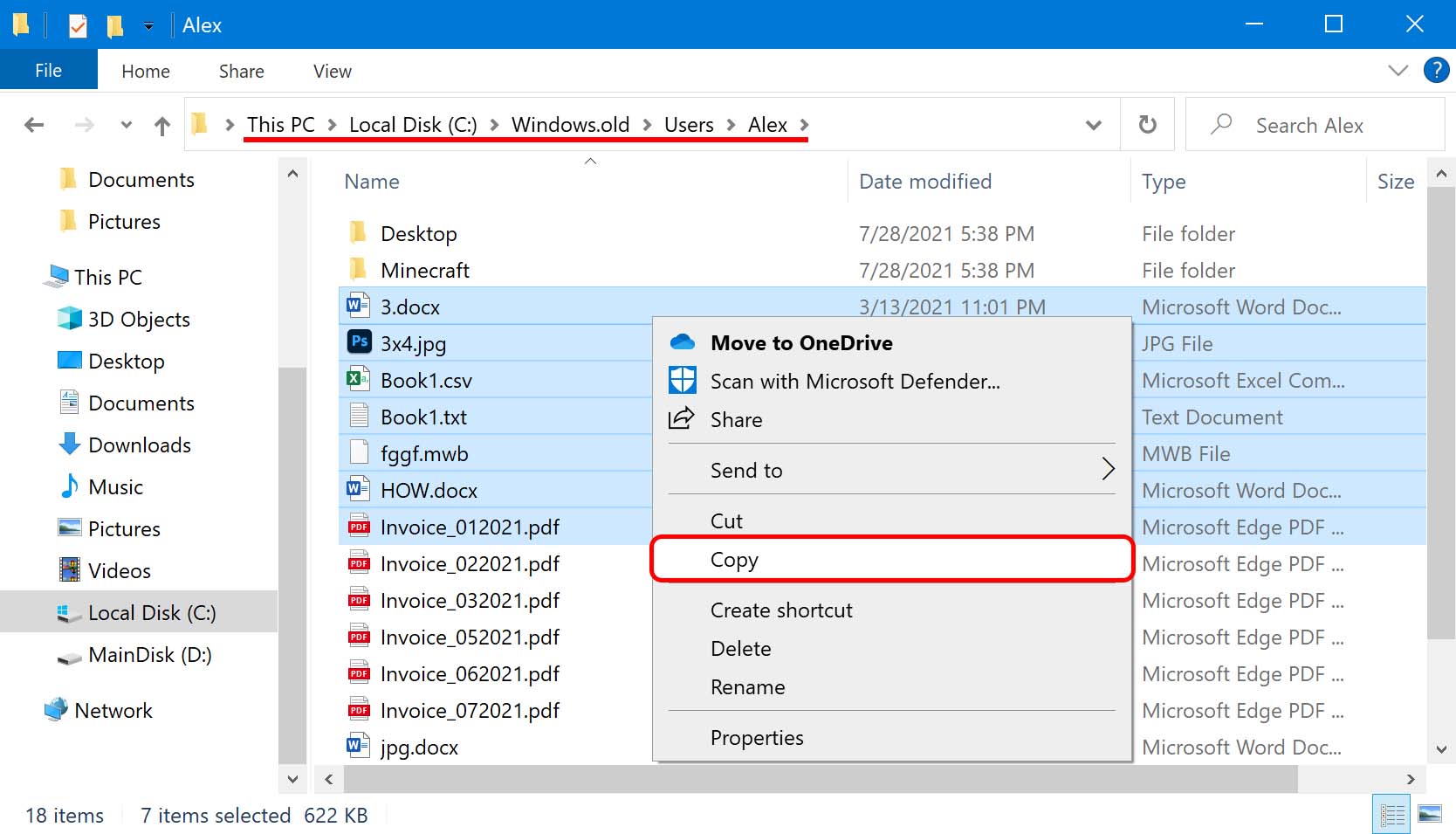 Ways to Recover Deleted Windows.old Folder
Option A: Recovery Software
Restore Deleted Windows.old Folder via Disk Drill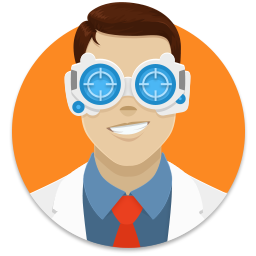 Your best bet is to find a reliable data recovery app. I've decided to go with Disk Drill Data Recovery, as it has already proven itself in the past. It supports hundreds of popular file types, works quickly, and has a user-friendly interface. This is a premium app, but you can get a trial to try it out for free. This way, you can recover up to 500 MB of files.
Here is how you can use Disk Drill to restore deleted Windows.old files.
Download it from CleverFiles website.
Install Disk Drill. We recommend that you install the app on the drive that isn't affected.
Launch it. Pick Data Recovery mode on the left. Then, make sure to select the disk, not partition, that contained your Windows.old folder.
Select All Recovery Methods. This includes 4 different scanning modes (quick scan, deep scan, signature scan, and lost partition scan) which will recover the most amount of data.
Initiate a Scan. To start it, select Search for lost data in the bottom right corner.
Look For Lost Data. When the scan is over, click on Review Found Items to start browsing through files. Since there might be 100+ GB of data, this might be a little intimidating. You can navigate through this much easier, by using a search bar on the right side. If you are looking for a specific type of file, you can for example type .docx or .jpg. Disk Drill also has a preview function, with which you can make sure that you've fetched the right document before restoring it. To activate it, go to View > Preview Panel.
Restore Windows.old. Mark the boxes associated with the files that you want to retrieve and select Recover. Choose where you want to save them and click OK to initiate the recovery.
⚠️
Note: Disk Drill won't let you restore deleted Windows.old files to the same drive.
---
Recover Deleted Windows.old Files via EaseUS Data Recovery Wizard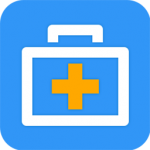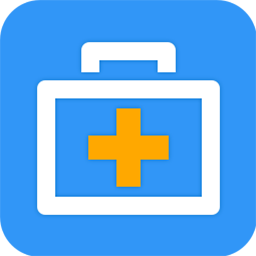 Here we have another great solution for restoring Windows.old files. EaseUS has been in the data loss business for 15+ years, and as such is very versatile. It has a minimalistic interface that is easy to navigate as a casual user.  Its recovery rate is very high, thanks to the support for 500+ file formats. Although it's a bit expensive and slow, it's also really reliable.
👀
Note: you will have to purchase 1-month ($70), 1-year ($100), or a lifetime subscription ($150) before recovering your data.
To retrieve Windows.old with EaseUS just:
Download the app. Just click on Free Trial, and the download will start automatically.
Install and Run EaseUS.
Select the Drive and Start the Scan. Windows.old is located on your main disk. This is usually C:. Hover over it, and click on the Scan button that will appear. The scan works in 2 stages. EaseUS will first initiate quick scan before switching to deep scan.
Find Files That You Want to Restore. You can use the search bar on the right to speed up the process. Tick the box next to it and click Recover. If needed, enter your license code to activate your subscription. Choose the destination folder and click Next to finish the process.
---
Recover Windows.old Folder with Windows File Recovery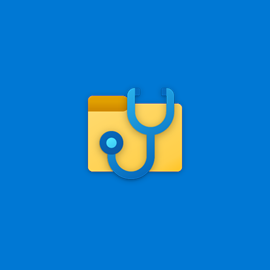 If both of these apps are too expensive, you can use a native recovery tool from Microsoft. Windows File Recovery is free and powerful software that should restore specific files from Windows.old without any problems. Just follow this process.
Download Windows File Recovery from Microsoft Store.
Run Windows Powershell. This is a command-line program that will run Windows File Recovery. Right-click on the Start menu and select Windows Powershell (Admin).
Choose Scanning Method. Windows Powershell lets you choose between 3 types: Segment, Default, and Signature. The Default mode is similar to a quick scan, while Segment mode lets you scan the drive thoroughly. With Signature mode, you can scan by different file types, such as MP3, JPEG, PNG, and so on. We will be focusing on the first two.

Regular Mode. This is the standard recovery option for non-corrupted NTFS drives. Simply write the following line in the command interface: winfr C: E: /regular /n \Windows.old\Users\%Username%

C stands for the drive that contains Windows.old folder
E is for the drive where you wish to restore the files (could also be D:, F:, etc.)
n lets you filter your search by providing a file path
/regular activates standard recovery

Next, click enter and accept the command by typing y, which will initiate the scan.

After the scan is done, recovered files will be available on the drive that you previously chose.

Segment Mode. Segment mode is a more thorough method, but the process is nearly identical. You'll  just need to make a small change to the line in the Powershell, so that it looks like this: winfr C: E: /segment /u /n \Windows.old\Users\%Username%

/u will restore undeleted files from a location such as Recycle Bin
/segment is a recovery option that uses file record segments
---
Option B: System Restore
Alternatively, you can use a backup feature that creates "snapshots" of the current state of your PC. These are called restoration points. You can create them manually, or automatically.
To recover Windows.old with System Restore, you'll just have to.
Open Start.
Type "Restore" and click on the top result.
Select System Restore.
Choose your Restore Point. A wizard will throw in a recommendation, but you can also select other backups if available. Just make sure that they are within the first 30 days. On the next screen, you can Scan for affected programs to see which apps will be removed if you proceed.
Click Next and Finish to revert your PC to the previous restore point.
FAQ
Yes. To do this, go to Local Disk (C:) > Windows.old > Users > * User*, and copy the files that you wish to restore to another folder.
They are located on the drive where your Windows is installed. Usually, this is a C: drive.
This might be possible by utilizing good recovery software such as Disk Drill, Windows File Recovery, or Ease US. You can also use System Restore if you've set up restore points in the first 10 days.
Parting Words
As you can see, it's fairly easy to move files from the Windows.old folder to keep them permanently. Even if there is no Windows.old folder, there are numerous methods you can use to solve this problem. You'll just have to act quickly to get the highest chance of recovery.
Marko Medakovic carved out his path as a Freelance writer by writing premium articles on the tech and gaming industry. He has written extensively on the topics of data recovery and macOS security. Marko is driven by a desire to spread his knowledge clearly and concisely, so that everyone can benefit from it.
Andrey Vasilyev is an Editorial Advisor for Handy Recovery. Andrey is a software engineer expert with extensive expertise in data recovery, computer forensics, and data litigation. Andrey brings over 12 years of experience in software development, database administration, and hardware repair to the team.