It's very much possible to recover deleted data after Windows Update! Use the links below to quickly navigate to the section of the article that interests you the most.
Jump to:
I remember getting super excited for the Windows 10 update: After all, it was like stepping into the future with the fancy blocks and graphics. However, all this excitement quickly turned into anxiety as I realized that some of my essential files went missing.
⚠️
This article is a quick guide to recover files after Windows update. The truth is that it's very much possible to recover data after Windows update.
The Real Reasons Why Windows 10 Updates Delete Files
Here are the prime culprits behind the deletion of your important data after an update:
Unexpected Update Sequences
Windows 10 doesn't offer the option to pause or delay updates. As a result, most updates occur in the background.
✅
However, there's a workaround: You can change the Windows update configuration. Consequently, the computer would ask you for permission before initiating an update sequence.
Here's how you can disable the default automatic installation of new updates.
In the start menu, key in "Edit Group Policy" and open it.
Go to: Computer configuration > Administrative templates > Windows Components > Windows Update and choose Configure automatic updates.
Check the Enabled button and pick the 2nd option – Notify for download and auto-install.
Now, Windows will no longer force an automatic update. Instead, Windows will merely check for updates and not download them. You will receive a notification if there are any new updates available.
Upon addressing the notification, the Windows Update Module pops up for the download and installation of an update.
Buggy Security Windows Updates
Well, the good old saying is true: Don't update right away until a ton of good reviews pop up.
You are probably wondering why a software giant like Microsoft still releases buggy updates that delete files. Technically speaking, unlike Apple, Windows runs on tons of different PC brands.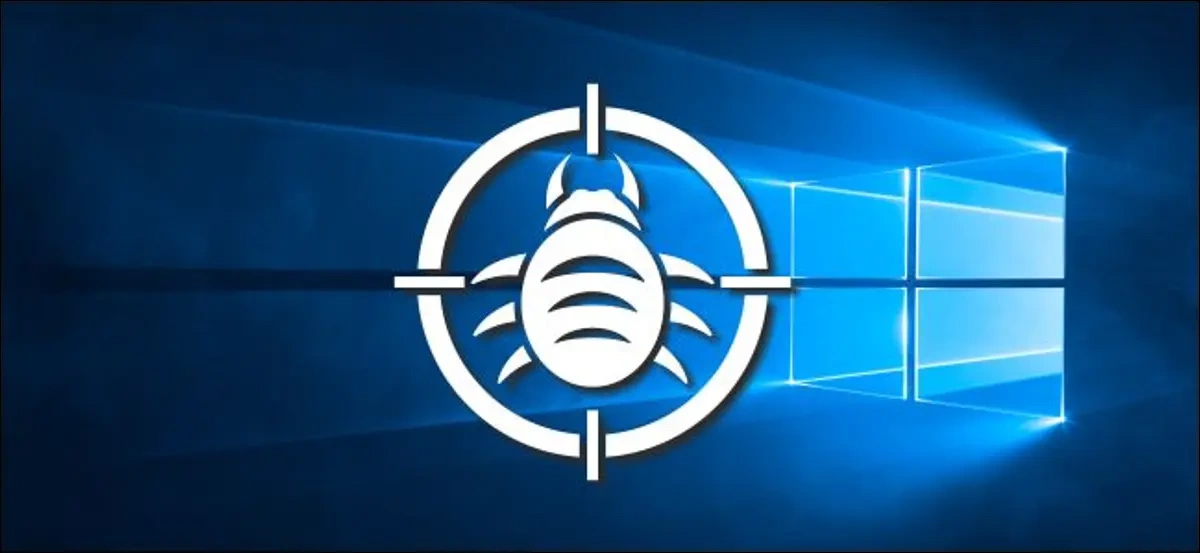 Consequently, it's challenging for Microsoft to foresee and clear possible bugs before an actual update surfaces. However, the Windows dev team is quick to resolve these bugs.
Read more about one such bug here. Without any further ado, let's dive right into how you can recover files after a Windows update.
---
9 Effective & Straightforward Techniques to Recover Files After Windows Update
Here's our list of the top file recovery methods after an update:
1. Using The Administrator Account to Recover Data after Windows Update
If you upgraded from Windows 7 to 10, there are chances you created a Microsoft account in the process. As a result, your data could reside within the Administrator account – which is initially disabled.
Here's how you can gain access to your missing files:
Open the Start Menu.
Key in Computer Management and click on it.
Navigate as per this path: Computer Management > Local Users and Groups > Users.
Double click on the Administrator account (first row in the image).
Uncheck the Account is disabled box.
Click on Apply > OK.
Next, sign out of the current account.
Sign in with your admin account.
✅
If you followed the above steps correctly, your files will be available in the local Admin account.
👀
What if your admin account was never disabled in the first place? We got a few other methods for you: Stay tuned!
2. Uninstall the Update and Retrieve Your Files
What if you could roll back the update and get back to basking in the good old days? Well, here's how you can do that:
Open Settings.
Head over to Update & Security and click on Windows Update.
Now, click on View Update History > Uninstall Updates.
Type in the buggy update ID into the search box, and press Enter.

⚠️

Note: To quickly check out what version of Windows you're on, use the shortcut Windows key + R and key in Winver and then select OK.

Restart your PC after the update gets uninstalled. Your files should be accessible now.
If the above steps didn't work, you could also head over to File Explorer and then C:\Users\ . There are chances that the main user folder is renamed. For instance, if the user profile folder is C:\Users\Joshua there might be a C:\Users\Joshua.bak or C:\Users\Joshua.000 folder. This renamed folder will have your files.
3. Recover from a Previous System Restore Point
The restore point is a nifty feature in Windows. In a nutshell, if you run into a critical error upon installing a new application, or update – the system restore essentially rolls back the settings and configurations to an earlier point in time.
Here's how you can recover data after Windows Update using System Restore:
Open Start.
Key in Create a restore point.
Click the first result and enter the System Properties page.
Click on the System Restore button. If you can't click on the button, it means there is no available restore point.
Click on Next.
Select the desired restore point.
Click on Close > Next > Finish.
Now, your PC would have teleported back in time to undo the buggy update.
4. Sign Out from the Temporary Windows Profile
After a Windows update, there are chances you encounter the "You have been logged in with a temporary profile" alert. Consequently, your desktop would be lifeless with your profile files gone and Windows settings back to default.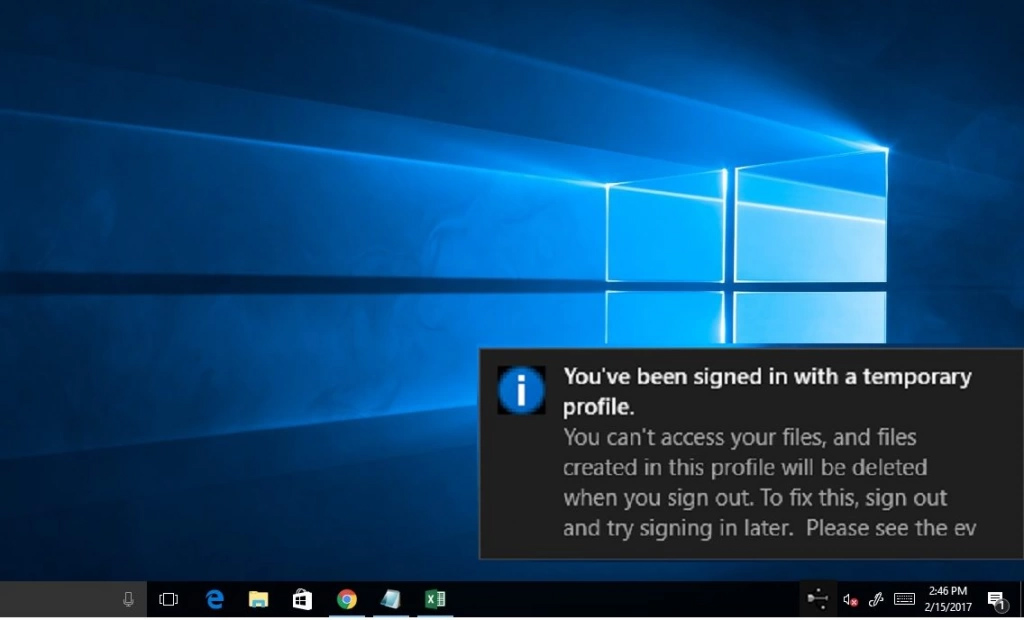 Here's how you can check if you're on a temporary profile:
Open Settings.
Head over to Accounts.
Click on Sync your settings.
If you encounter the following message, – you're on a temporary profile.
Reboot your computer.
Sign in with your account.
Now, you should be able to access all your original files and folders.
❗️
Caution: Before restarting your PC, back up your data (from the temporary profile).
There's another workaround solution to this problem as well:
Restart your computer while holding down on the Shift key – this boots your computer into safe mode.
Now, reboot out of safe mode. Your PC should restart normally and bring back your default user profile.
⚠️
Note: The real reason why this temporary profile issue arises is that Windows tends to create a temporary user profile while applying its updates. In some cases, the temporary profile doesn't get removed even after the installation ends. As a result, you end up logging into this empty – temporary profile.
5. Thoroughly Search for Your Files
While upgrading Windows, sometimes your data moves to a different location or folder. As a result, conducting a manual file search could help you locate that data:
Open up File Explorer (Windows key + E).
Click on This PC on the left panel.
Key your file name into the top right search box.
✅
You can also use the * (asterisk) for a wildcard search. For instance, you can use the *.PDF search query to pull up all your PDF documents.
Additionally, File Explorer has a nifty feature that helps filter out your search results. You can drop down the kind tab and select a file type for a more refined search.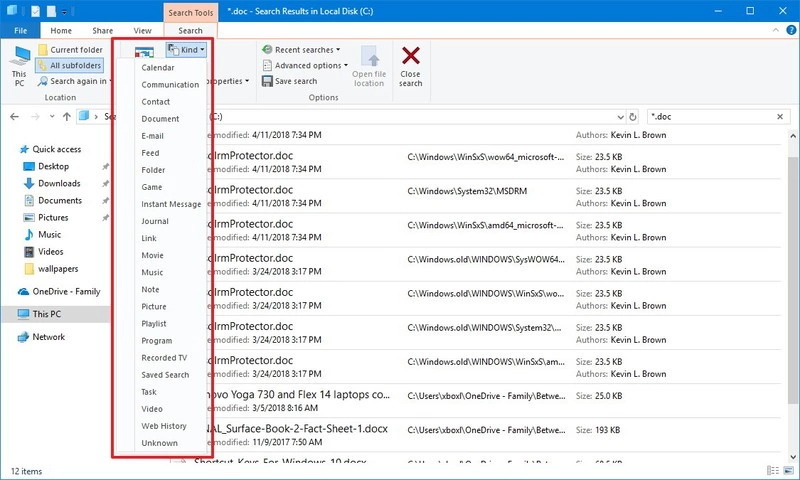 Furthermore, you can conduct a more comprehensive search by unraveling your hidden files/folders. Here's how you can unhide files:
Go to File Explorer.
Under the View Tab, click on Options > Folder Options.
Under the Advanced Settings section of the View tab, check the option for showing hidden files.
Now, you can initiate your file searches. You never know: You were probably fretting over a file that was accidentally hidden!
If none of the above methods worked for you, it's time to bring in the big guns: Data Recovery Software.
6. Recover Files Using Data Recovery Software
Data recovery software utilizes advanced file scanning algorithms and file manipulation technologies to recover deleted files. The underlying principle is that when files get deleted, they aren't erased completely – but continue to reside in some form (until they are overwritten).
⚠️
Caution: As soon as you encounter any file loss, you must minimize the usage of your device to prevent any overwriting. Continued use of the drive or device drastically reduces the chance of successful file restoration. Moreover, we strongly recommend immediately disconnecting the affected drive from your PC and scanning it as an external storage device connected to another PC.
👀
Upon scouring the internet for data recovery software, we decided to give Disk Drill a shot – and our first impression was astounding. Here's a quick starter guide:
Download, install & run Disk Drill: Use a USB drive for installing Disk Drill Data Recovery. This is to minimize your disk usage. Download the setup file from here and install it on a USB drive.
Select the partition or disk containing the lost files: Considering a Windows update scenario, you will have to choose the default system folder of your PC.

👀

Pro Tip: Ideally, it's best if you choose the affected drive for the scan (instead of a particular folder).

Start scanning for lost data: lick on the Search for lost data button to commence the scanning process. A status bar at the top displays the scan status. Moreover, you can pause and resume scans at your convenience.
Select files for recovery:

Although you can pause the scan at any point, we recommend letting the scanning procedure terminate by itself. As a result, you get a complete picture of which files are recoverable. Now, check the items you would like to recover.

Save the Recovered Data:

While selecting a destination for the recovered data, please ensure that you do not select the affected device (your very own PC in this case).
👀
Note: Disk Drill is just one of the many data recovery tools out there. What we liked about Disk Drill was the risk-free data recovery offering. You can download the application for free and recover 500 MB of data for the low, low cost of zero.
When selecting a data recovery tool, there's a handful of factors you need to consider before making a decision. We have compiled a list of the best tools out there.
✅
The bottom line is that using a data recovery tool maximizes your chances to recover data after Windows Update.
We have some more methods for you to recover your deleted files. These methods might be a bit obvious, albeit worth a shot!
7. Using File History to Restore Files
On the off chance that you backed up files before upgrading your OS, the backup restore would get your data back.
⚠️
Note: We highly recommend taking system backups before any OS update. Even the most minor upgrades can effect unexpected consequences. As a result, it's a great idea to schedule automatic backups.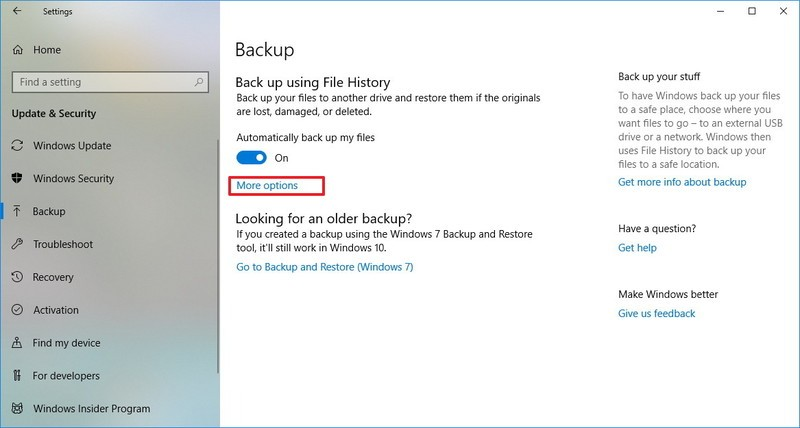 To restore a backup, go to Settings > Update & Security > Backup. Scroll down and click the Restore files from a current backup button.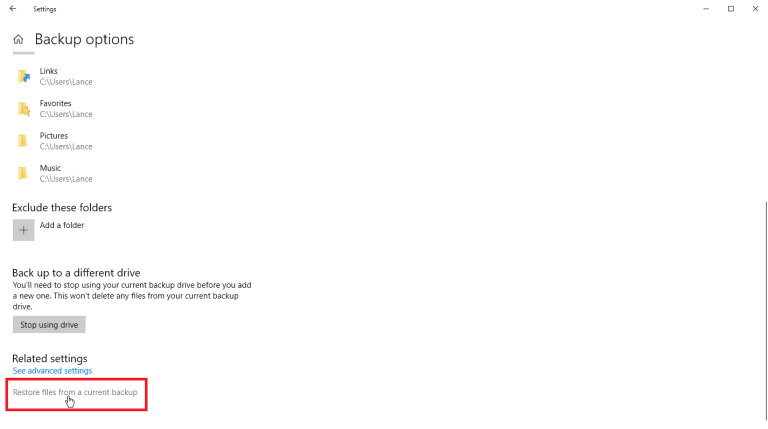 Windows shows the backed-up folders. Sift through the results to locate the files you need. Then, click the green button at the bottom to restore the files.

🔗
Did you know that even if you Shift deleted (permanent delete) your files, recovery is still possible? Click here to learn more.
8. Backup and Restore Feature on Windows 10
This is a more conventional approach to restoring your stored backups. Here's how you can get started:
Open Control Panel.
Go to System and Security > Backup and Restore (Windows 7).
Under the Restore section, click on the Restore my files button.
Click on the Browse for files button.
Browse through the backup and mark the files you would like to recover. Click on the Add files button.
If you want to recover an entire folder, click on the browse for folders button; Mark the folders for recovery and click on Next.
Specify the destination for saving the restored files. Click on restore> Finish.
⚠️
Note: It's worth checking your One Drive backup settings. You could have subconsciously scheduled an automatic cloud backup, and that might get you off the hook.
9. Checking the Windows.old folder
When you opt for a Windows 10 upgrade, the OS creates a folder named "Windows.old" which copies the previous version's data – for recovery.
Here's how you can recover data from the Windows.old folder:
Head to the File Explorer.
Click on the This PC option.
Enter the Local Disk (C:) drive.
Open the Windows.old folder.
This folder would contain your personal files and data. Now, you can move these files to a desirable location.
❗️
Note: if you can't find the Windows.old folder, the chances are that you implemented a clean installation process that erases all data on your PC. Moreover, something unexpected probably happened during the installation, which hindered the backup.
FAQs
In a nutshell, yes. We have mentioned specific approaches like searching for files or disabling the temporary account, centered around "unhiding" or "revealing" the data.
Moreover, some other techniques like using a data recovery tool or the backup & restore feature are also quite helpful in data restoration.
As a rule of thumb, refrain from any device usage after encountering file loss.
Not in all cases. Sometimes, Windows releases buggy updates – which result in your files getting deleted.
Key Takeaways
Did your files get deleted after a Windows update? Fret not because there's a handful of techniques to get your data back.
We covered certain methods like conducting a refined search and signing out of the temporary profile. Moreover, try to use a data recovery tool – which simplifies the data recovery process.
Additionally, if you have backups, restore the saved backup, and you're good to go.
We want to leave you with one bit of advice: Backup, backup & backup. It merely takes a few minutes to schedule automated backups. Let us know in the comments which technique you found the most helpful.
Joshua is a content curator for Handy Recovery. His expertise involves taking intricate IT concepts and breaking them down into super easy to understand chunks. He's been wielding the writing sword for quite some time now - 3 years to be precise. Digital marketing, data recovery, and anything "techy" are Joshua's niches.
Andrey Vasilyev is an Editorial Advisor for Handy Recovery. Andrey is a software engineer expert with extensive expertise in data recovery, computer forensics, and data litigation. Andrey brings over 12 years of experience in software development, database administration, and hardware repair to the team.