Have you lost your valuable OBS recordings because of accidental deletion, unexpected crash, or the recordings corrupted? You need to stay calm and read through the following methods of recovering the OBS recordings.
👀
Before we get into more details on how exactly you can recover deleted OBS recordings, we want you to know that we'll start by assuming you have already tried the primary methods of data recovery available on Windows 10, such as checking your recycle bin and checking for possible backups. The next part of the article will talk about permanently deleted OBS recordings.
Where Does OBS Studio Save Recordings
By default, OBS Studio will save your recordings to your video folder in your main documents section. The fastest way to access this location is by clicking File – Show Recordings.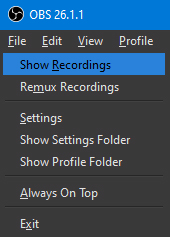 You can easily set a custom Recording Path (the location where your recordings are saved).
Here are the steps you will need to take:
Click on the Settings button at the bottom right.
Go to the "Output" tab, then the "Recording" tab.
From there, type or paste the folder location in the "Recording Path" box, or click "Browse" to choose a folder/storage location on your computer's hard drive. Now when you will stop the recording, the files will be stored in that folder. As we have previously mentioned, You'll have to go to File> Show Recordings to open the location.
Recover Permanently Deleted OBS Recordings
OBS does not keep 'backup' recordings or buffers; it only saves the file that's being recorded. In case your saved OBS recordings have been accidentally deleted or the storage device formatted, there is only one reliable method to recover the deleted OBS recordings – using a data recovery software solution.
Recover Permanently Deleted OBS Recordings Using Data Recovery Software
There are numerous tools that can recover deleted video files. This software ranges from overly simple to complex. One such app is Disk Drill Data Recovery, a tool that we have used for quite a while and has an incredibly high success rate with video recovery.
✅
Disk Drill Pro has proven to be a very reliable tool for recovering files, and it is also easy to use. It can recover lost and deleted videos in almost all video file formats, including .flv and .mp4.
Let's take a look at how you can recover deleted OBS files in Windows:
Download Disk Drill and install it. Choose a different partition or disk for installing Disk Drill than the one that faced data loss to avoid overwriting.
Launch Disk Drill and click on the "Search for lost data" button. It can be found next to the hard drive from which you want to recover permanently deleted OBS recordings.
Select the video files you would like to recover from the list of results. You will have the option to filter the scan using several filters.
Press the "Recover" button to get started with the recovery process.
⚠️
Important: Do not attempt to recover video files to the same drive  you are recovering from to avoid overwriting.
Resolving Some Common OBS Issues
➡️ Why does OBS record in FLV?
FLV is the default option of recording format as it is more resistant to crashes. MP4 files need to be closed out to work correctly. If something goes wrong and the MP4 file is not properly closed out, you lose every frame of that file, and there's an excellent chance it will become completely unrecoverable. While the MP4 file may be corrupted and unrecoverable in case of a crash, the FLV does not need to be closed out to be usable.
➡️ How to make OBS record in mp4
There are several recording options you can choose from with OBS, two of the most common are the .flv file type or the .mp4 file type.
To change the file extension for the path to MP4, you will need to go to Settings > Broadcast Settings. For example, if you're saving to C:\Video.flv, if you want your recordings to be saved as MP4, all you need to do is change it to C:\Video.mp4.
Another way to select MP4 file extension can be easily accomplished by following the below steps:
Go to the Settings and select the Output tab.
Find Recording Path under the Recording tab.
Select the MP4 from the Recording Format dropdown list you can find there.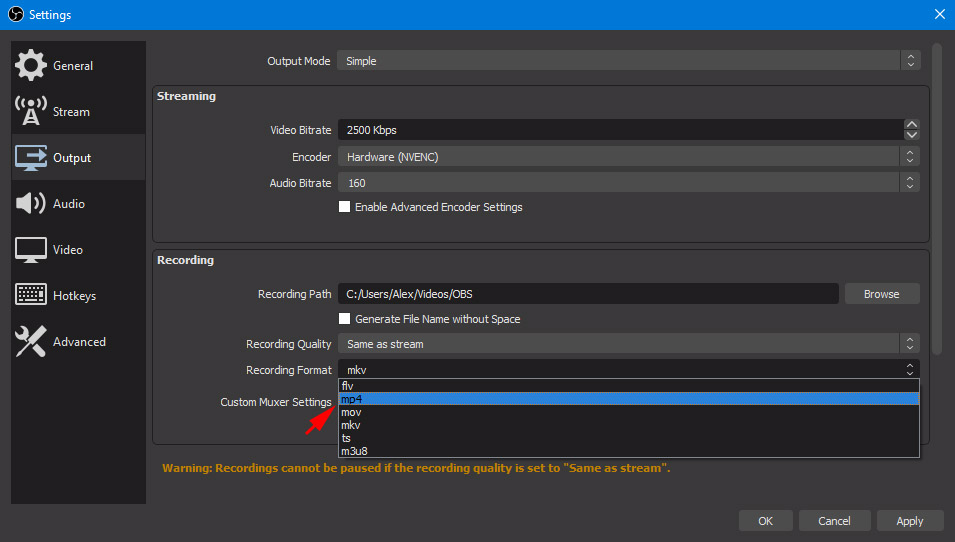 ➡️ OBS won't stop recording/OBS stuck on stopping recording
When facing the OBS stuck on stopping recording issue, you will notice that the OBS software won't be able to stop the recording process and will get stuck on the Encoding overloaded error.
If the encoding gets overloaded, it means your computer hardware cannot handle the video production maybe because your CPU and GPU are overloaded and can't encode as fast as you need. Trying to record a video with high standards like 4K resolution and over-60 fps could also be the cause for this error.
In case the encoding is overloaded, your computer will stop the video creation. Even though the OBS recording is still running, the GPU and CPU will completely stop the outputting.

As a result, if you press the Stop Recording button, OBS will prompt you to the sign of an Encoding overloaded error. It will not be able to stop the recording as technically; it is not yet complete; the video is only halfway done.
If this is the case, you will not be able to retrieve that video. The only option you have is to shut down the OBS process. If you attempt to restart a screen recording directly with any optimization, the OBS Encoding Overloaded error will pop up again.
How to Troubleshoot the OBS "Encoding Overloaded" issue:
🎥 Turn down video settings.
🧪 Apply to Hardware Encoder.
📈 Change CPU Usage Preset.
💽 Free up more HDD space.
💡 Try using an OBS alternative.
➡️ My OBS recording is corrupted
An OBS recording can get corrupted if a problem occurs during saving. In case your computer loses power or crashes while you save your video, there's a good chance that the recording will be corrupted. OBS recording can also be corrupted by viruses and other malware.
⚠️
You will not be able to open or repair the corrupted OBS file using data recovery software. Instead, you will have to use specialized video repair software.
➡️ I can't play my OBS recordings
Have you tried to record videos with OBS and save them as MP4 just to realize when you finished the whole recording process that your file won't play? If this is the case, OBS had probably crashed before the MP4 had finished saving, thus corrupting the file.
Changing the container format to FLV should not change the file size; however, the remux process will just take the raw encoded video and audio data and put it into a different container format. By choosing FLV, in case of a crash, the recording will just stop, and you will be able to play the recording up to the point where the crash happened.
Another reason why you might not be able to play your OBS recording is that your media player does not support those file formats or you don't have the right pack of codecs.
👀
Codecs are computer programs that can encode or decode audio and video files. While most video players have their own self contained codec packs others might require an additional codec set. If you are wondering which codec pack to use, K-Lite Basic or Combined Community Codec Pack (CCCP) are two of the most popular.
FAQ
The answer to this question depends on the file output type you have been using. Recordings done in an mp4 file format are unable to be recovered if something happens due to the particular container structure.
.flv and .mkv do not have this problem, as these are designed as streaming media containers. If you want to be on the safe side, you should probably set the output format to .flv and convert it to .mp4 once the recording has finished. The .flv file will work even if the OBS software has crashed, as their container structure enables the video to end at any point.
You can find OBS Studio recordings by selecting File> Show Recordings; however, the output path can be changed under Settings > Output.
OBS won't move or delete any of your existing recordings unless you change some of its default settings.
If the video recording is not available in the specified folder, you can try recovering it. If you have a backup of your OBS recording, you should be able to restore it quickly. The process is quite straightforward; you can follow these steps:
Open File Explorer.
Right-click on the folder where your OBS recording was located.
Select Properties, then click on the Previous Versions tab.
Pick a previous version of the folder and just click the Restore button.
In addition to this method, you can use the global search by file format to look for the missing OBS recording.

Crashed OBS recordings can be recovered using some specialized video repair programs. For example, you can try Stellar video repair software and Youdot video repair.
Conclusion
As you can see, even permanently deleted OBS recordings can be recovered. We have explained a couple of ways that you can employ to restore deleted OBS recordings on Windows 10, including Disk Drill, an easy-to-use file recovery software.
Roxana Raducanu is a seasoned technical writer with 10+ years of experience writing for startups and Fortune 500s alike. She is a copywriter with a special affinity for technical content; and a love for words, and SEO; a tech enthusiast, following the latest trends related to digital marketing, hardware, software, Artificial Intelligence, blockchain, cryptocurrencies, and new technologies.
Andrey Vasilyev is an Editorial Advisor for Handy Recovery. Andrey is a software engineer expert with extensive expertise in data recovery, computer forensics, and data litigation. Andrey brings over 12 years of experience in software development, database administration, and hardware repair to the team.