This article will help you find misplaced or lost files on your Windows 10 system using a variety of different built-in and third-party methods. We cover virtually every technique that can be used to find a file on a Windows 10 machine to locate those important files that seem to have disappeared.
Jump to:
The problem with keeping your files organized in a bunch of different partitions and folders is that it can sometimes be hard to find the files you need. Are those important documents from last week on your C: drive? Or were they backed up on the cloud?
👀
To help you locate your missing files, here is a list of all the methods to find a file in Windows 10.
8 Best Methods to Find Files on Windows 10
Here's a super-quick guide to finding disappeared files on Windows 10:
Download & install Disk Drill on your Windows 10 PC.
Select the device containing missing files.
Run the scanning process & wait for it to finish.
Select the files you want to recover & click "Recover".
Choose the recovery destination & hit "Confirm".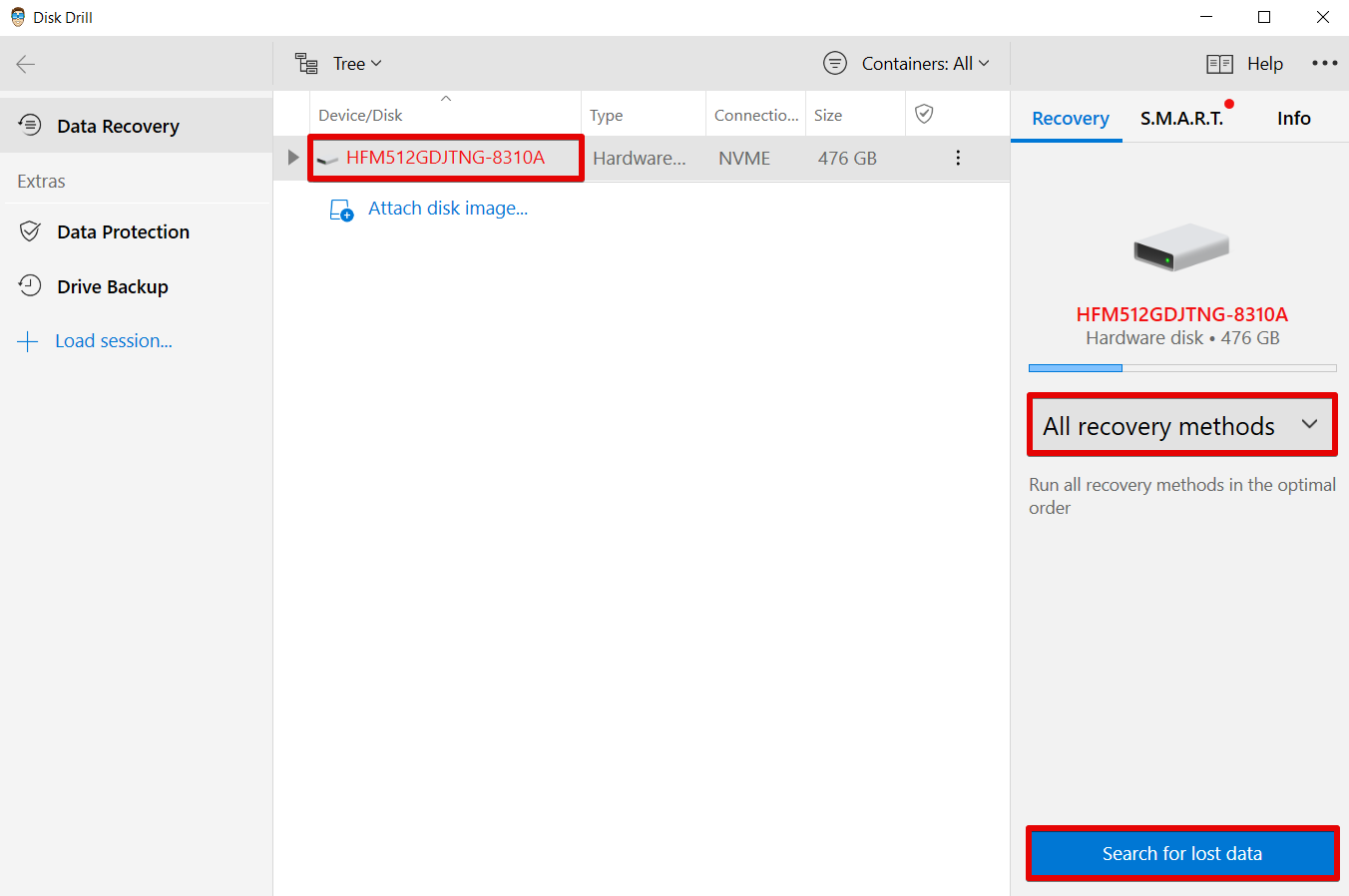 Read the detailed guide with more methods below.
Method #1

: Check Your Recent Files

The first location to check for pictures or documents that you cannot locate is Recent Files. This is a section of File Explorer with a list of all the files you have opened recently. It doesn't matter which drive or folder the file belongs to – if you opened it, the file will be here.
To check your Recent Files, open up File Explorer. You can search for it from the search bar if you have trouble locating it.
By default, File Explorer opens at Quick Access, which includes a list of your Recent files below.
Method #2

: Look in the Recent Items Folder

In addition to the small list displayed in Recent Files, Windows keeps a more extensive log of files you have interacted with in the past. Interestingly, this includes a history of your 'actions' on the computer, rather than just data.
Accessing this list is simple. Navigate to %AppData%\Microsoft\Windows\Recent\ by entering this location in the address bar. The Recent Items folder will open up.
Like any other folder, the files are normally sorted by name, which isn't very useful in this case. Right-click on any empty space and select Sort by > Date modified to get recent items first.
Now you can scroll down to see your files arranged by the date you interacted with them. You can also search this folder from the search box on the top right.
Method #3

: Search Your Computer

A good way to find your missing files is to, well… search for them. The search functionality built into Windows is no slouch, and can quickly locate lost files with the right keywords.
To search for files on your computer, you can use the Search Box on the Taskbar or open File Explorer. The explorer is recommended as it shows the files in a much easier to parse view.
Navigate to This PC in File Explorer. This ensures that your search will include every location on your computer. To search, begin typing in the search box on the top right.
As you start typing, a drop-down menu will autosuggest similar items. Click on any of these entries or enter your query to start searching.
The search results show up along with their respective file locations, sizes, and the date modified.
Search by File Type
If you don't remember the name of the file in question, it might be a good idea to bring up a list of all the files of the same type. You can do this easily by using the wildcard character (*) in conjunction with the respective file extensions.
For example, if you want to search for all the PNG files on your computer, you can type *.png in the Search Box. This will show you all PNG files on the computer. Similarly, search for *.jpg, *.jpeg, *.doc, etc. to find all the files with the respective extensions.

Show Hidden Files
Sometimes, it is possible that the file you are looking for is hidden. This can be accidental or due to a virus. Regardless of the reason, you need to be able to view hidden files to find such files.
You can do this easily in File Explorer by checking the Hidden Items checkbox under the View tab.

Method #4

: Look in Online Backups

Often, the files you cannot find on your computer have backups on the cloud. But how do you search for them? Well, if you use Microsoft Onedrive, you don't need to worry.

If you are logged into Onedrive, Windows will search its contents automatically. You don't need to do anything else.
To search the contents of your Google Drive, open it in a new tab of Chrome.
You can look for your files using the search bar on the top. Click on the Search Options icon on the right of the bar to get a number of ways to filter the search. You can filter by the type, owner, date, and even the contents of the file.
Method #5

: Search in Email Attachments

Your email attachments are another overlooked location that can contain important documents and files. As emails are stored on the cloud, their attachments do not show up in a regular file search on your computer.
To search your emails, open Gmail in a fresh tab. You can see a search bar at the top.
Click on the search options icon on the right of the bar to bring down the filters. Check the Has attachment checkbox to limit the search to results with file attachments. You can even specify the size and a range of time to further narrow down the search.
Method #6

: Check in the Recycle Bin

When you delete a file on your computer, it isn't permanently removed at once. It is compressed and stored in the Recycle Bin instead. This allows you to restore an accidentally deleted file quite easily.

Since the Windows search does not include the contents of the Recycle Bin, you need to find your missing files in the Recycle Bin separately.
To begin, double-click on the Recycle Bin icon on your desktop.
A File Explorer-like window opens up, displaying all the deleted files on your computer.
Manually looking through the whole list can be a bit time-consuming, so use the search box on the top right. Just like a normal file search, you can use a filename or search for a file type using the wildcard (*) character.
If you find a file you wish to keep, right-click on it and select Restore. The file will be sent back to where it was originally deleted.
If you find that your Recycle Bin has already been emptied, you must try something else.
Method #7

: Scan with a Data Recovery Tool

Once you have exhausted all the common file locations and are still coming up empty-handed, it is time to try something else. There are many reasons why your files cannot be found; they may have been permanently deleted, corrupted by a virus, or wiped out in a formatted drive.

Now, you can try out the individual methods for each of these causes, or just use data recovery software. Leading data recovery applications are designed to recover files lost due to any reason, and it will be able to retrieve your missing files in most cases.

For this guide, we will be using the free version of Disk Drill Data Recovery as we have found it to be one of the best data recovery tools based on performance. And since it has a free plan that allows up to 500 MB of recovery without any time limits, you can follow along without having to buy a license.
To get started, download and install Disk Drill from the official website.
Open Disk Drill and continue past the opening screens.
The main window will open up, showing all the storage devices connected with your computer. Select the drive containing your missing files and hit Search for lost data.
As the scan is in progress, the discovered files are sorted by file types and displayed as icons. To actually view the files, click on Review found items.
You can select the file type you want to check from the left and further filter them using the options at the top. You can even search for specific files using the search box at the top right.
To preview the files, hover your mouse over a file and click on the eye-shaped preview button.
Once you have decided on which files you want to keep, select their checkboxes and click on the Recover button. You will be prompted to choose a folder to store the restored files in.
Method #8

: Restore a Previous Version

A more difficult situation is when you have made changes to an existing file. Data Recovery software can only bring back a deleted file, not a previous version of it.

But there is a feature in Windows that can do just that. File History is a data backup system in Windows that allows you to revert a file or a folder to a past state. It achieves this by storing periodic backups of specified folders in your computer to an external drive.

If the folder containing the files in question is included in your File History backup, then you can easily revert them to a previous version. Do keep in mind, though, that File History needs to be set up on your computer beforehand.
To restore the previous version of a file or folder, open File Explorer to navigate to it.
Right-click on the file or folder in question, and select Properties.
In the new window that pops up, switch to the Previous Versions tab.
In this tab, you can see all the previously backed-up versions of the folder. Select the version you want and click on Restore to revert to that version.
FAQ
Conclusion
Windows includes a number of methods to help you find a missing file. From the Recent Files to its integrated search function, you should have no trouble locating a file you used in the past few days.
The problem begins when these options fail. That can either mean that your files aren't on the computer at all, or have been deleted.
There are many ways to recover deleted files on Windows 10, from the Recycle bin to using a data recovery tool. Don't forget to check online sources too; your Onedrive, Google Drive, and even your Gmail attachments might contain the missing files.
A frontend developer turned writer, Levin brings his in-depth knowledge to bear in breaking down complex technical topics into a layman's perspective. A believer in emergent technologies, Levin writes about Machine Learning and Internet-of-Things to explore how people and businesses can benefit from innovation. He also likes going into the nitty-gritty details of software or hardware products to bring an unbiased review that adds value to his readers.
Andrey Vasilyev is an Editorial Advisor for Handy Recovery. Andrey is a software engineer expert with extensive expertise in data recovery, computer forensics, and data litigation. Andrey brings over 12 years of experience in software development, database administration, and hardware repair to the team.