It's easy to take photos with your iPhone, but keeping them organized can be a difficult and time-consuming task. But iOS photo management doesn't have to be a headache. In this article, we're listing the top 8 best photo organizer apps for iPhone that will help you keep your photos neatly arranged and easily accessible.
👀
Note: The iPhone picture organizer apps described in this article can help you regardless of whether you're using an iPhone 12 that's still running iOS 14, the latest iPhone 15 running iOS 17, or anything in between.
Are Photo Organizer Apps Better Than Apple Photos?
Since you already have a photo organizer app pre-installed on your iPhone, you might wonder why you'd need a third-party solution. Well, while Apple's built-in Photos app offers basic functionalities and seamless integration with your device, it may not cover all your photo organizing needs.
Here are some compelling reasons to consider third-party options for keeping your photo library in top shape:
⬆️ Sorting abilities: While the Photos app does provide a handful of sorting options, they are fairly limited. In contrast, many third-party photo organizer apps offer a wider range of sorting capabilities. For example, you can sort photos by location, custom folders, or even by specific criteria such as date range or file size.
🔎 Filtering options: Advanced photo organizing apps for iPhone often have intricate filtering features, allowing you to find images by a variety of criteria, such as EXIF data, geotagging, or facial recognition.
🏷️ Tagging: Third-party iPhone photo manager apps frequently include manual tagging features, letting you categorize your images in a way that makes sense to you.
🤖 AI features: While Apple's AI is no slouch, some third-party photo organizing apps take it to the next level with more complex algorithms for facial recognition, scene recognition, and even object identification.
👯‍♂️ Duplicate removal: Many third-party apps offer advanced duplicate identification and provide more comprehensive solutions for cleaning up your library than the Photos app. If you're looking to go beyond the basics, our guide on the best apps to delete duplicate photos on iPhone offers additional insights.
🗂️ Batch operations: Apple's Photos app isn't great at handling batch operations like bulk renaming or moving photos between albums. This is where a dedicated iOS photo manager can save you a ton of time.
So, is a third-party photo organizer app better than Apple Photos? It depends on your needs. If you're looking for more advanced features, then a specialized iPhone photo organizer app is likely your best bet.
8 Best Apps to Organize Photos on iPhone
⚠️
Note: All numeric data and other information that may be subject to change are accurate as of the time of writing this article.
Are you ready to discover the best photo organizer apps for iPhone? Of course you are! Whether you're drowning in duplicates or simply looking for a more efficient way to sort your snaps, we've got you covered with our curated list of the top 8 apps that will take your iPhone photo management to the next level.
🗨️
Tip: If you're looking to further optimize your iPhone's storage in addition to organizing your photos, don't miss our guide on the best iPhone storage cleaner apps. This will help you free up even more space on your device for all those unforgettable moments you'll be capturing.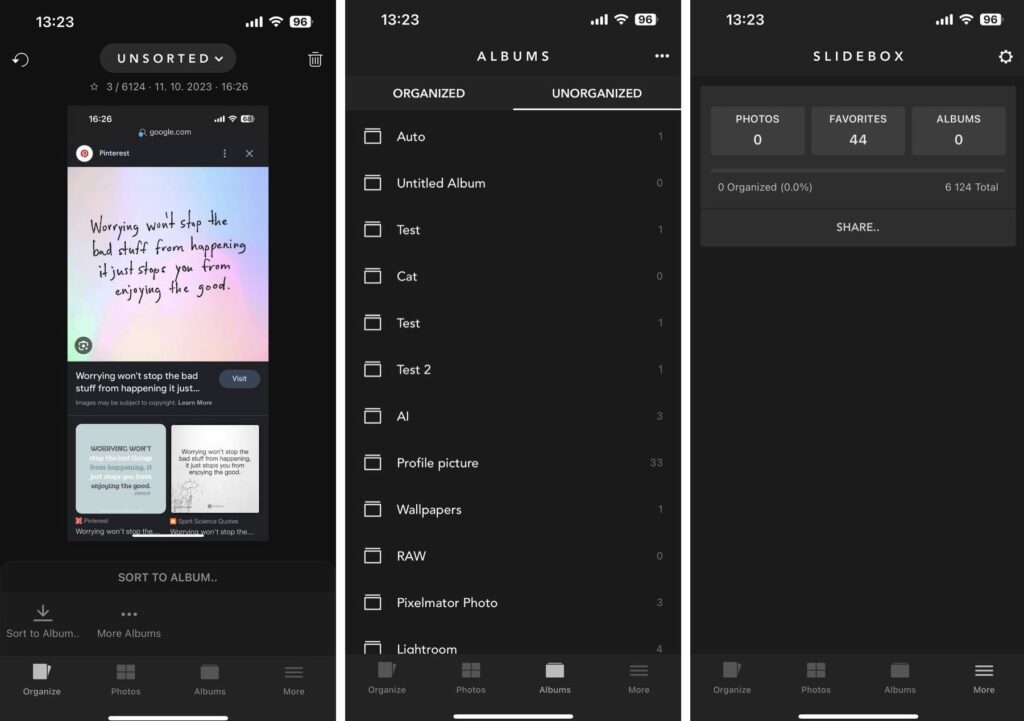 Slidebox offers a hands-on approach to photo organization on the iPhone, letting you swipe away clutter and sort your memories into custom albums—all with intuitive gestures that are as easy to remember as they are fun to execute.
With a high rating of 4.8 stars out of 5 on the App Store, it has garnered positive attention for its user experience and feature set. The app is free to download and try, but an in-app purchase is required to unlock all features, including cloud storage.
Key features:
Swipe to delete: Effortlessly trash unwanted photos with a simple swipe.
Quick album sorting: Create and sort into albums with just a tap.
Photo comparison: Easily compare similar or identical pictures by swiping back and forth.
Favorites tagging: Mark your special memories as favorites for easy access.
GIF support: Yes, you can even organize your animated images.
Batch undo: Made a mistake? You can undo your last action effortlessly.
Pros:
Very intuitive to use
One-time purchase option available
Received a ton of raving reviews
Lifetime license available
Cons:
Some of the best features cost money
Price: Free to download, with in-app purchases. A monthly subscription is priced at $4.99, while an annual subscription is $49.99.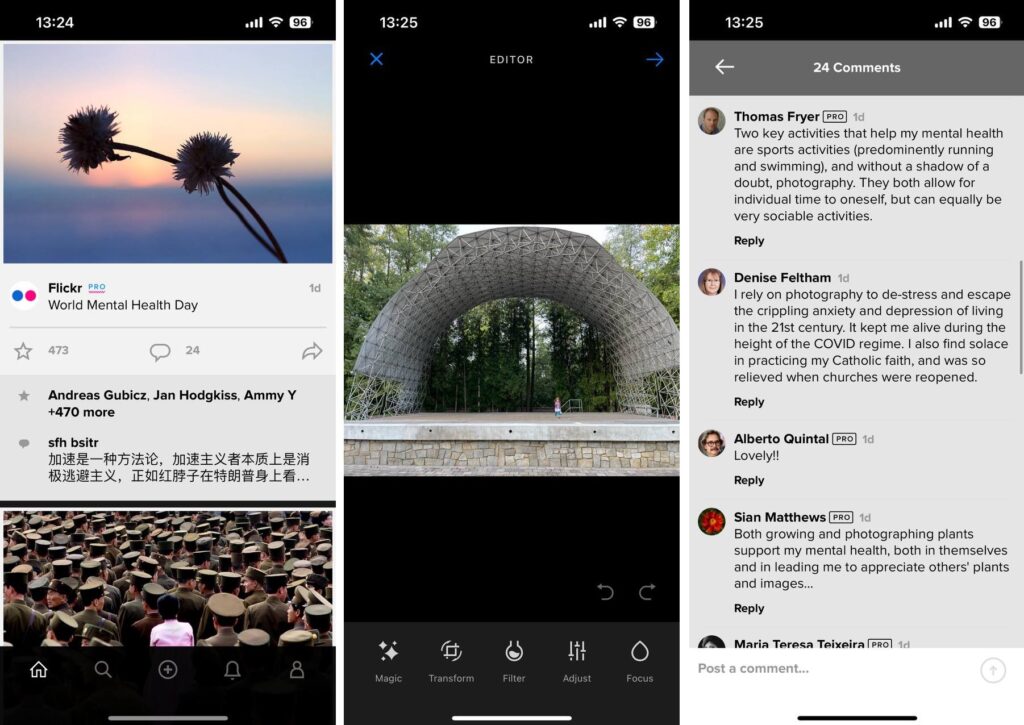 Flickr offers a compelling alternative to storing your photos solely on your iPhone or in iCloud. The photo-sharing website launched in 2004, and it has over 100 million users. The main thing that makes Flickr such a compelling photo organizing app for iPhone is the Flickr Pro plan, which comes with unlimited photo storage.
The Flickr app for iPhone makes it easy to upload your pictures to the cloud and organize them in a way that feels intuitive and straightforward. If you want to, you can even enhance your photos by adding filters, cropping them, and more.
Key Features:
Unlimited storage: With the Pro plan, never worry about running out of space.
Intuitive organization: Easily categorize and find your pictures using tags, albums, or geolocation.
Community and inspiration: Join groups or follow photographers who share your style and interests.
Advanced editing tools: Enhance your pictures with a range of filters and editing options.
Pros:
The Pro plan offers unlimited storage
Clean user interface that's easy to navigate
Trusted and reliable photo storage platform
Plenty of sharing and analytics options
Cons:
Won't help you organize locally stored photos
Extremely limited free plan
Price: Free to use with a 1,000-photo limit. Flickr Pro is priced at $8.25/month and offers unlimited storage and an ad-free experience.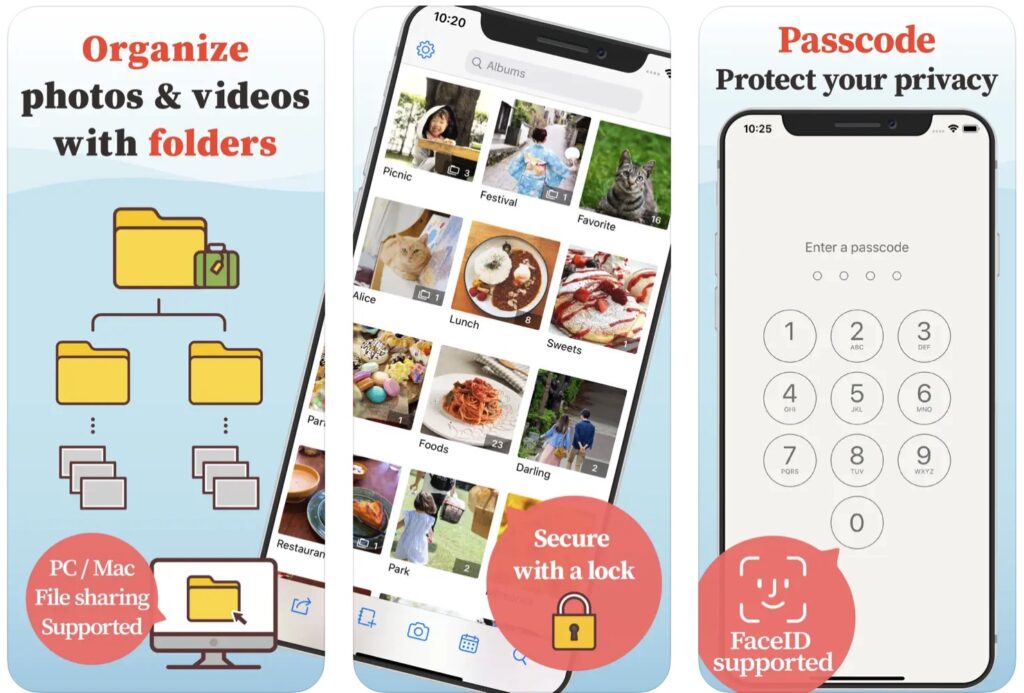 This iPhone photo management app is great for those who are tired of people snooping through their photos because you can lock it with a passcode, Face ID, or Touch ID. MyPics implements a familiar folder-based structure, making it easy to organize your photos into different albums for quick access.
In addition to basic photo sorting features, the app supports video storage and even has a built-in slideshow function for showcasing your favorite moments. Importing photos from social media platforms is a breeze, and you can also back up your entire album to cloud storage for extra peace of mind.
Key features:
Passcode protection: Keep your albums private with a passcode, Face ID, or Touch ID.
Batch importing: Seamlessly import photos and videos from your native Photos app.
Folder classification: Organize your media into folders and group them into album sets.
Dropbox support: Automatically back up your imported files to Dropbox.
Photo & video editor: Edit your media right within the app.
Pros:
Secure with multiple locking options
Doesn't compress imported photos
Highly customizable
Offers an expert add-on for advanced features
Cons:
Slightly steeper learning curve
Some features locked behind in-app purchases
Price: Free to download, with in-app purchases. Pro version is $7.99, and the Expert add-on is $8.99.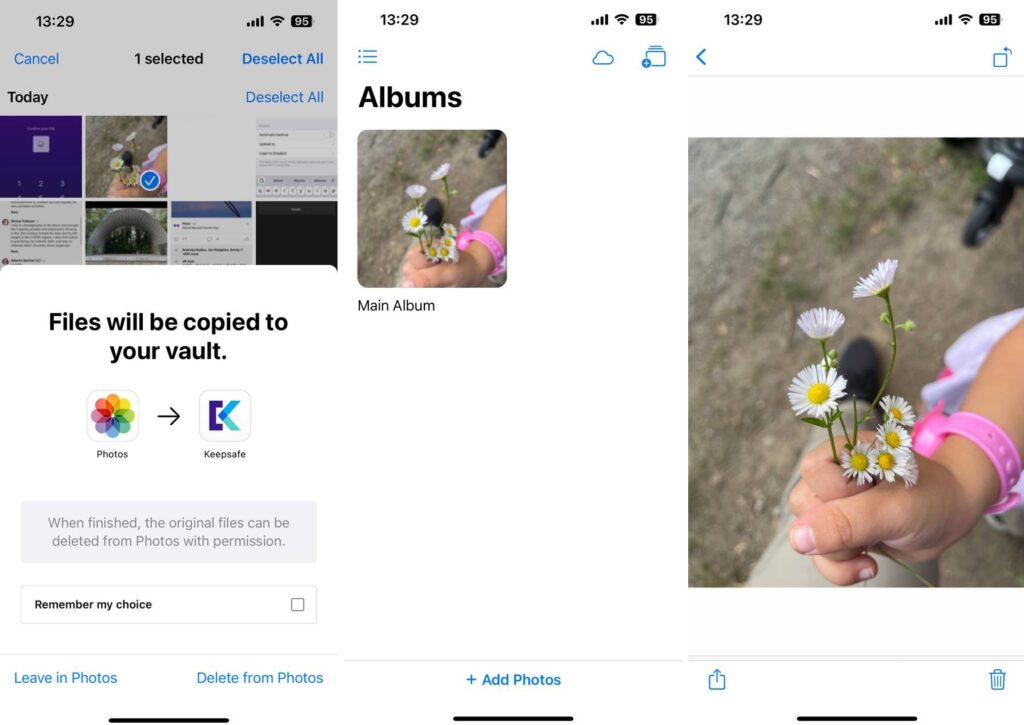 When it comes to the organization of sensitive photos, Keepsafe's Secret Photo Vault is a top option. This iPhone photo management app offers military-grade encryption, PIN protection, and even fingerprint touch ID to ensure the utmost security. Besides photos, you can use Keepsafe for safeguarding videos, IDs, and important documents.
The app boasts over 70 million users and offers a sleek interface that makes it one of the best iPhone photo organizers out there. Just know that some users have raised concerns about data loss and storage issues. We haven't experienced any issues during our testing, so it's likely that the issues have already been addressed by the app's developers.
Key Features:
Military-grade encryption: Highly secure to keep your personal content locked away.
Album locks: Designate specific PINs for individual albums.
Custom albums: Make your own albums and personalize them as you like.
Photo backup: Keepsafe syncs across devices, ensuring your photos are always available.
Trash recovery: Accidentally deleted a photo? Keepsafe's trash recovery has got you covered.
Pros:
High-level security features
Easy-to-use, intuitive interface
Ability to set custom album thumbnails
Wide range of sorting and organizing capabilities
Cons:
User reports suggest potential issues with cloud syncing and data recovery
Price: Free to download, with in-app purchases ($9.99 per month or $23.99 per year) for premium features.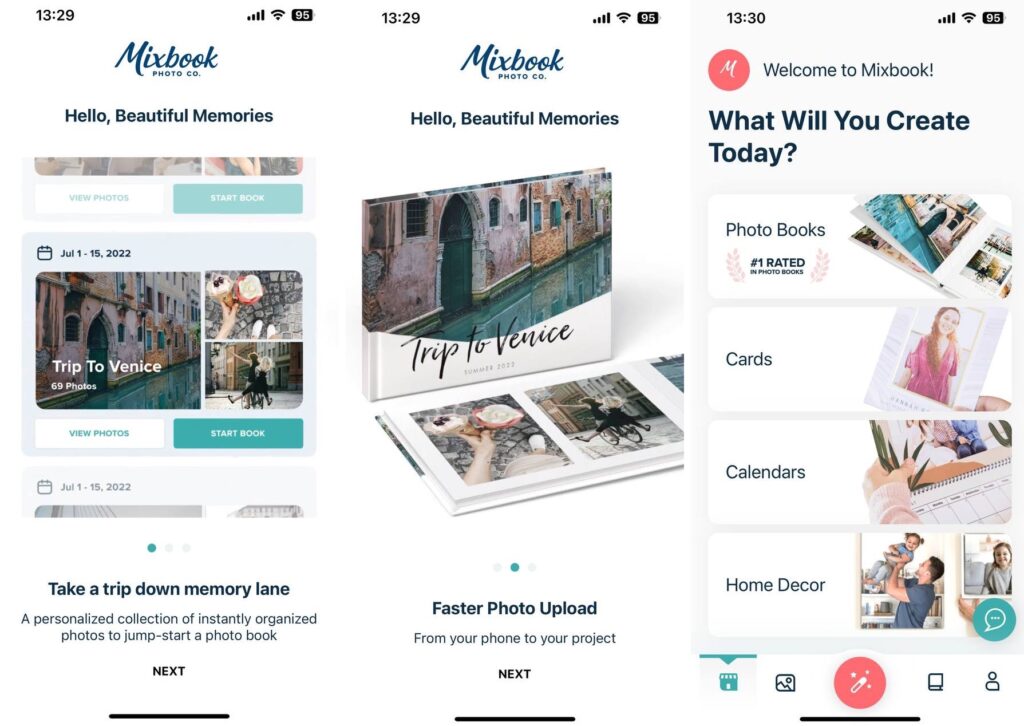 Mixbook Photo Books best app to organize photos on iPhone into visually striking photo books. Whether you're designing a thoughtful gift or just want to remember your recent travels or family event, the app can deliver high-quality end results thanks to its user-friendly interface.
But Mixbook Photo Books isn't just for books; you can create cards, wall decor, and calendars, giving you plenty of options to get creative with your photo collection. There's a huge number of design themes to choose from, so you should be able to pick something that matches your personal taste regardless of how tame or wild it is.
Key features:
Instant photo organization: Automatically categorizes your photos for easy retrieval.
Creative freedom: A host of customizable templates and layouts for different occasions.
Quality materials: Option for lay-flat photo books with premium paper quality.
Share digitally: Easily share a digital copy of your photo book with friends and family.
Exclusive promos: In-app deals and promotions to make your projects even more cost-effective.
Pros:
Quick and easy-to-use interface
Versatile design options
Excellent customer service
Strong community reviews
Cons:
Free shipping only on orders over $59
Price: The app is free to download. Photo book pricing varies based on customization, but expect to pay upwards of $20 for a basic book.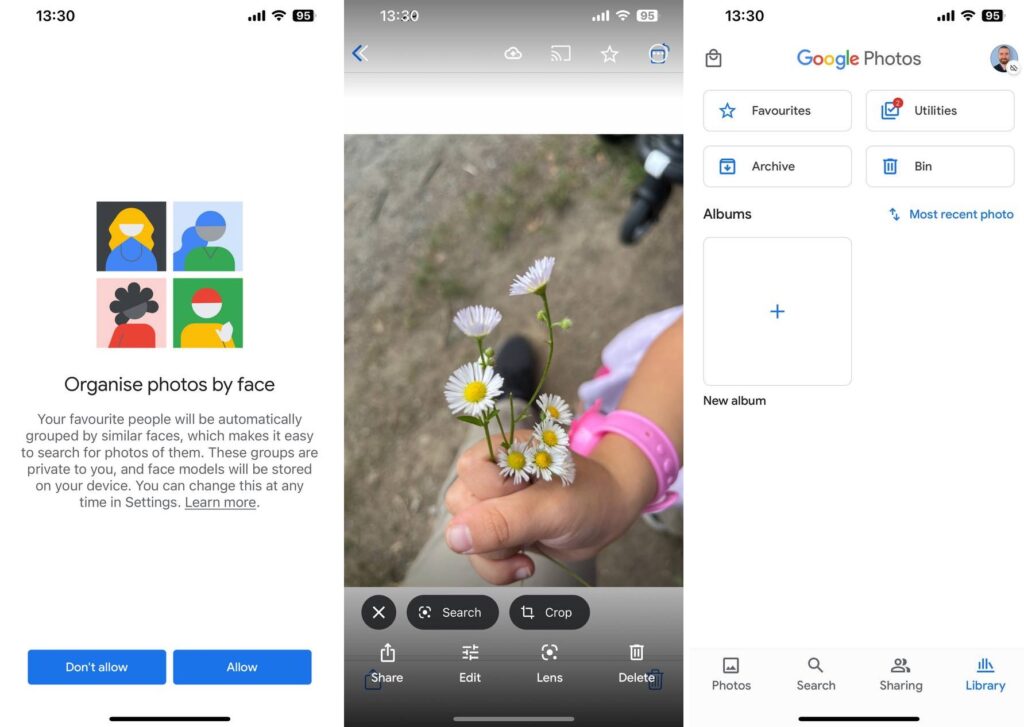 Google Photos is a cloud platform that can make your images effortlessly accessible across devices. If you already have a Gmail account (and you most definitely have), then you can start using Google Photos without any hassle and with 15 GB of free storage space to play with.
We think that Google Photos is one of the best apps to organize photos on your iPhone largely because of how awesome its Live Albums feature is. With it, you can create dynamic collections of photos that automatically update based on certain criteria, such as people or places.
Key features:
Automatic backup: Once set, the Google Photos software automatically backs up your pictures to the cloud
Smart Search: Locate photos by people, places, or things in them, no manual tagging required.
Google Lens: Identify text and objects in photos for a more interactive experience.
Advanced editing: Edit your photos with intuitive tools, apply content-aware filters and adjust the lighting.
Shared libraries: Create shared albums and give trusted persons access to your entire photo library.
Pros:
Seamless cross-device accessibility
Advanced search and tagging functionalities
In-app editing and smart suggestions for sharing
15 GB of free storage space
Cons:
The free storage space is shared with other Google services
Price: Free for the initial 15 GB. Subscription plans for additional storage via Google One start at $1.99/month or $19.99/year for 100 GB.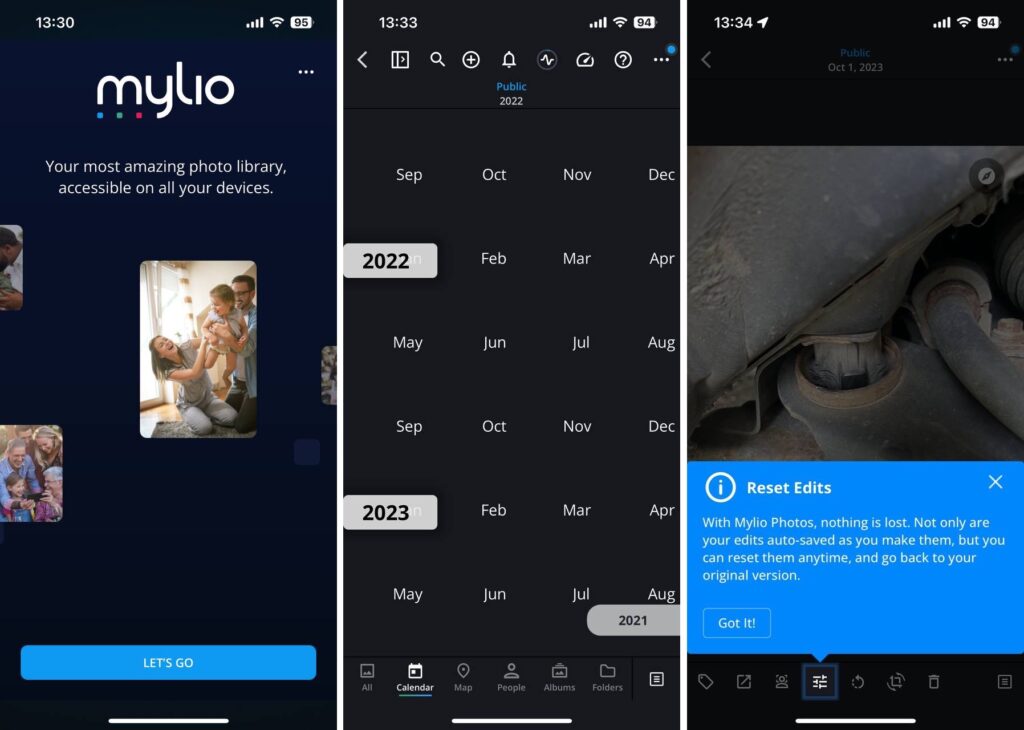 Tired of going through tens of thousands of pictures? Meet Mylio Photos, an excellent iPhone photo management app for disorganized photo hoarders. This app uses machine learning to make it quick and painless to find exactly the picture you're looking for—even if your gallery is as big as a small town's population.
More specifically, Mylio assigns SmartTags to your photos, allowing for intuitive categorization based on subjects like people, places, and events. When you want to retrieve a specific photo, you can simply use these SmartTags as search parameters, dramatically cutting down the time and effort you'd otherwise spend scrolling aimlessly.
Key features:
Quick filters: Use EXIF & IPTC data and other details to quickly sort your photos.
Social media gallery backup: Backup images and videos from social media platforms.
Photo declutter: Identify and delete duplicate or similar photos.
SmartTags: AI-driven tagging for faster and more accurate searches.
Local AI processing: All AI functionalities run locally, ensuring data privacy.
Pros:
Highly intuitive and feature-rich
Strong focus on privacy with local AI processing
Multi-device sync and backup functionalities
Positive user reviews
Cons:
Some users have reported bugs related to syncing
Could benefit from improvements on the video organizing side
Price: Mylio Photos offers a free basic plan, but for more advanced features, you'll have to opt for the Mylio Premium monthly ($9.99) or annual ($99.99) subscription.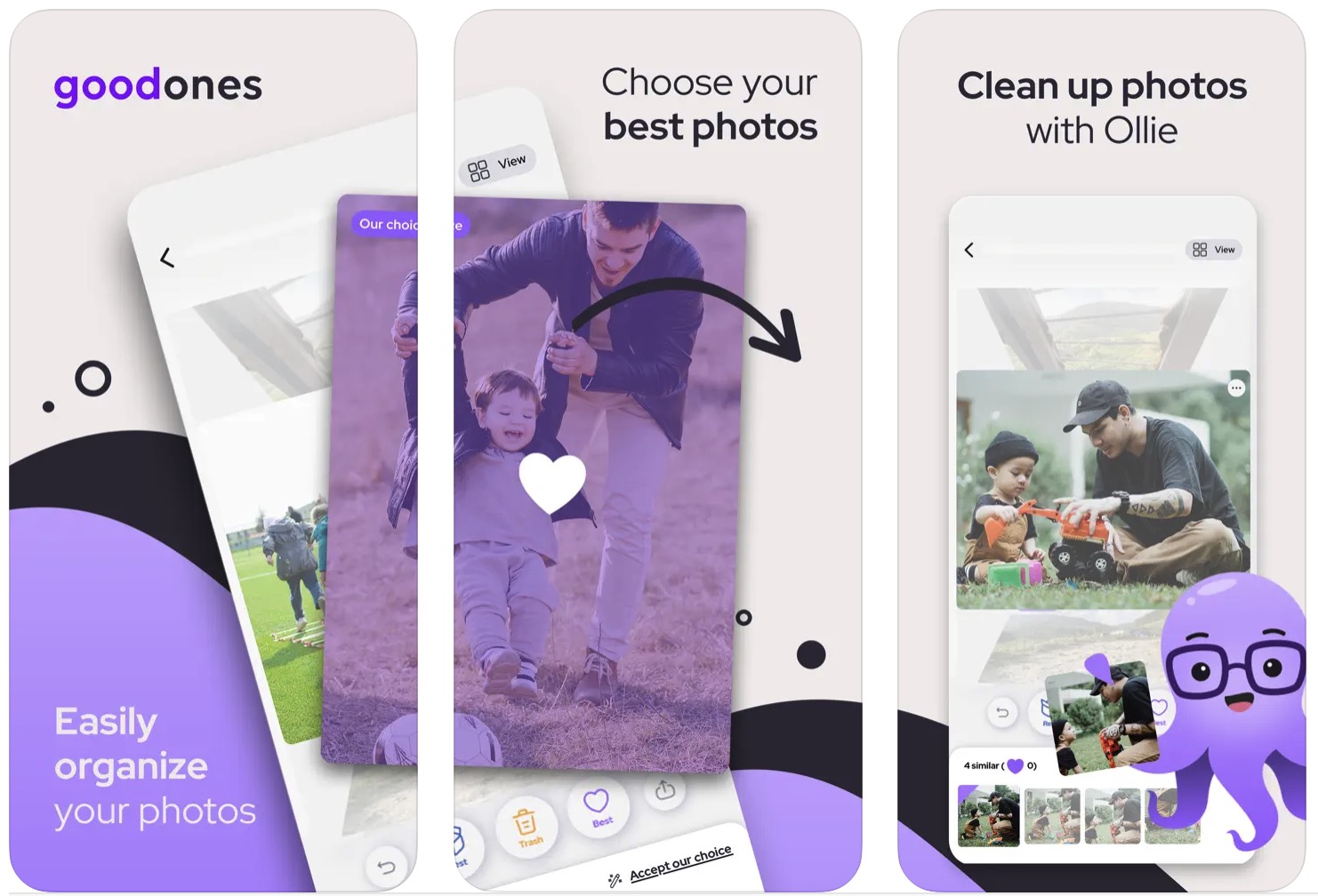 GoodOnes is such a remarkable iPhone photo management app that it's difficult to believe how it can be completely free! The app integrates an AI-powered assistant called Ollie to modernize the way you manage your photo library.
With the Ollie AI assistant, you can remove thousands of duplicates, blurred pictures, and other unwanted images in no time. Also worth highlighting is the "Our Choice" feature, which recommends the best photo from a set, so you can confidently declutter your gallery and save only the gems.
Key features:
Ollie, the AI assistant: Makes sifting through your library effortless.
Auto-sort and smart deletion: Clears out blurry or duplicate photos, conserving your device's storage.
"Our Choice" recommendations: Offers personalized choices for the best photos in a set.
Extensive sharing options: Allows you to easily share your selected photos across various social media platforms.
Pros:
User-friendly interface
AI assistant for photo management
Comprehensive sorting and tagging options
100% free
Cons:
The ability to recognize blurred photos can be a hit or miss
Price: GoodOnes is a completely free iPhone photo organization app.
FAQ
Conclusion
Finding the right photo organizer app can simplify your life, allowing you to manage your digital memories with ease. In this article, we explored various options that cater to different needs and preferences. Hopefully, you've found an option that suits you in every way possible.
David Morelo is a professional content writer in the technology niche who joined the Handy Recovery team in 2019 and has since made an invaluable contribution to the quantity and quality of our materials. David's main principle is not to start working on a new article until he has studied the subject backwards and forwards.