The iPad is the runaway favorite in the tablet niche, offering tons of features for both professional and casual users alike. But as many iPad owners will attest that running out of storage space is a common problem with the popular Apple tablet, especially for those who've opted for the lower capacity variants.
That's where cleaner apps come in. They can help potentially free up space and hike up performance. But with the myriad of options on the AppStore, which one should you go for?
✅
In this guide, we'll go through our list of the best iPad cleaner apps available and discuss what puts them ahead of their peers.
Benefits of Using iPad Cleaner Apps
Contrary to the name, cleaner apps are often more than just a one-note tool. They usually come with a host of handy features for managing and optimizing your gizmo, such as:
🗂️ Cleaning storage: The primary function of iPad cleaner apps is to assist you in freeing up storage space on your device. They accomplish this by facilitating the deletion of various junk on your iPad, including unused apps, temporary files, and browser data like cookies and cache.
🖼️ Easy photo and video organizing: Some iPad storage cleaner apps offer media organization features, allowing you to filter and delete photos and videos by date and location, as well as get rid of duplicates.
👤 Better contacts management: Your contacts list can quickly get out of hand, especially when you've been constantly migrating it across your different Apple devices. Some cleaner apps include the ability to easily merge contacts by specific fields, wipe out contacts without info, delete contacts in bulk, and create/restore backups with ease.
🚀 Improving iPad performance: Filling up your iPad with junk can significantly bog down its performance, which is why it's essential to periodically wipe unneeded apps and files from your device. Cleaner apps also sometimes include a performance booster feature that can put unused background apps to sleep and free up your iPad's memory.
🔋 Battery life optimization: Piggy-backing off of the point mentioned above, cleaner apps may limit background apps on your iPad to make the battery last longer.
Top 8 Best iPad Cleaner Apps
We scoured the AppStore to find the highest-rated cleaner apps around, and after trying them out for ourselves, we managed to narrow down the list to our top eight. Without further ado, here are our picks for the best iPad storage cleaners to free up space and smoothen performance: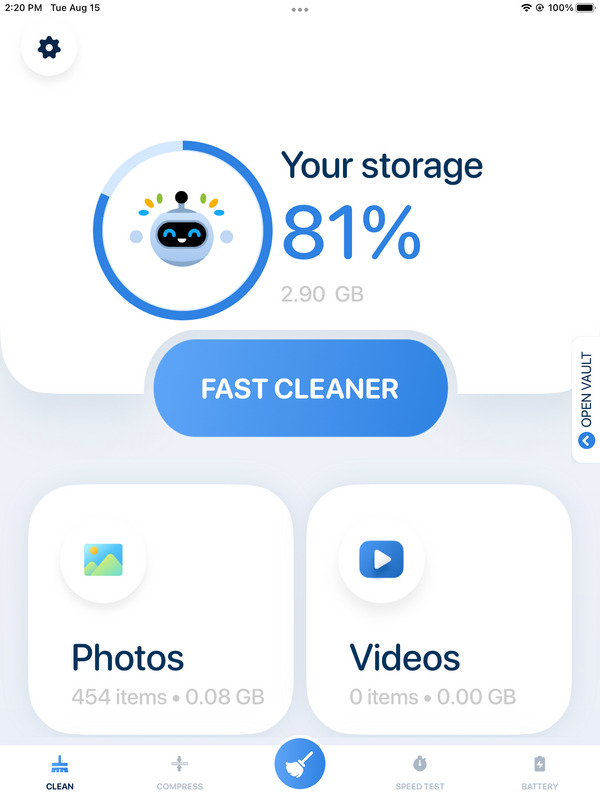 Developed by font and productivity app specialist SCI Bronze, Boost Cleaner promises to equip you with all the tools you need to clean up your iPad and improve its performance without any hassle.
Ease of use
Boost Cleaner sports a bright and accessible user interface with huge icons that make it exceptionally easy to navigate. All the features are laid out simply but aesthetically, and you can quickly start cleaning up your iPad with one or two taps.
Features
Aside from the ability to clean up unwanted and duplicate pictures, videos, contacts, and calendar entries, Boost Cleaner comes with media file compression, an internet speed tester, and customized battery charging animations.
Price
Boost Cleaner is free to download from the App Store and offers a 3-day, full-featured trial before requiring a $9.99 monthly subscription.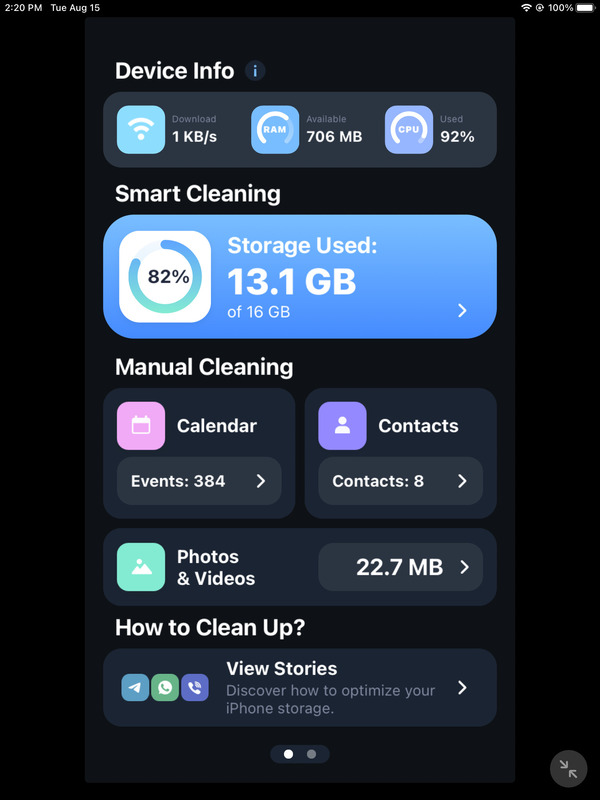 Smart Cleaner from BPMobile offers a sleek yet simple experience that bundles clean-up tools, compression utilities, a private vault, and more – all in one neat little package.
Ease of use
Smart Cleaner's user interface couldn't be simpler, as the entirety of the app can be explored in a single swipe and a couple of taps. All it takes to grant permissions to your photos, calendar, and contacts is the push of a button, and the primary features are positioned on your screen all at once.
Features
Smart Cleaner comes with a smart cleaning feature that encompasses calendar entries, contacts, photos, and videos. There's also a secret vault, video compression, extra widgets, a speed test, and tips on how to optimize your iPad in various ways. To top it all off, the app constantly monitors your internet download speed, available RAM, and CPU usage via a banner at the top of your screen.
Price
You can download Smart Cleaner from the App Store and test drive it through a 3-day trial. If you're keen on subscribing, the premium version starts at $4.99.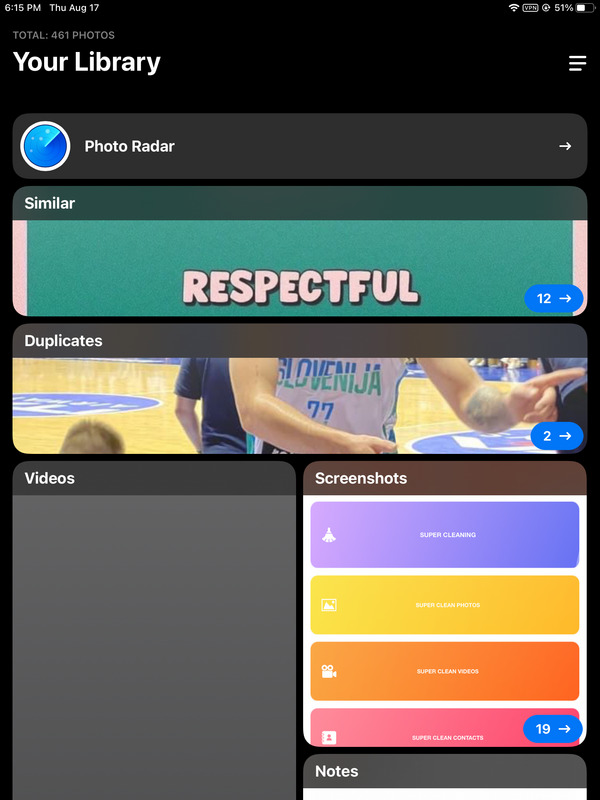 Gemini Photos: Gallery Cleaner is a media-centric iOS storage space saver that takes a more dynamic approach to clutter cleaning as it suggests good photos to keep and which ones you should get rid of. It does this by taking into account several factors, like editing and favoriting frequency, blurriness, closed eyes, etc.
Ease of use
The app aims to be as simple as possible by letting you keep or delete photos through swiping gestures, while the simple UI design makes navigation a breeze.
Features
As previously mentioned, Gemini Photos: Gallery Cleaner is geared primarily toward cleaning up photos in your gallery. It offers smart suggestions for bad, useless, or duplicate photos to delete and an intuitive gesture system to utilize. It also includes a "Photo Radar" feature that constantly monitors new photos and videos to prevent your iPad storage from filling up.
Price
Gemini Photos: Gallery Cleaner is free to download and use for up to three days, after which you'll need to subscribe for $4.99 per month.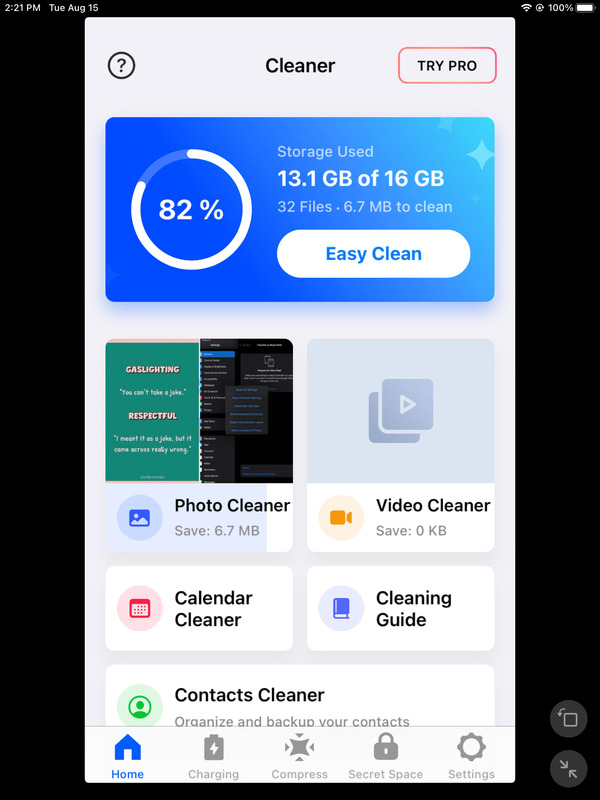 Cleaner for iPhone is a simple and focused app that offers to clean up a solid variety of files from your iPad and throws in some nifty features to boot. It also features a lifetime price tag, which is always nice.
Ease of use
It isn't the prettiest app around, but using it couldn't be easier. The sections are easily accessed through icons at the bottom of the screen, and functions are laid out in an exceedingly intuitive manner.
Features
The app scans photos, videos, contacts, and calendar entries, and it's capable of flushing out similar and duplicate photos for deletion. There's also an "Easy clean" feature in case you're itching to get right into the cleaning. Aside from that, Cleaner for iPhone allows you to change your charging animation, compress files, and add media to a secret vault.
Price
Just like the previous entries in this list, Cleaner for iPhone starts as a free iPad cleaner app for the first three days, then switches to a $4.99 monthly subscription. Alternatively, you can pay $19.99 for lifetime access and avoid subscriptions altogether.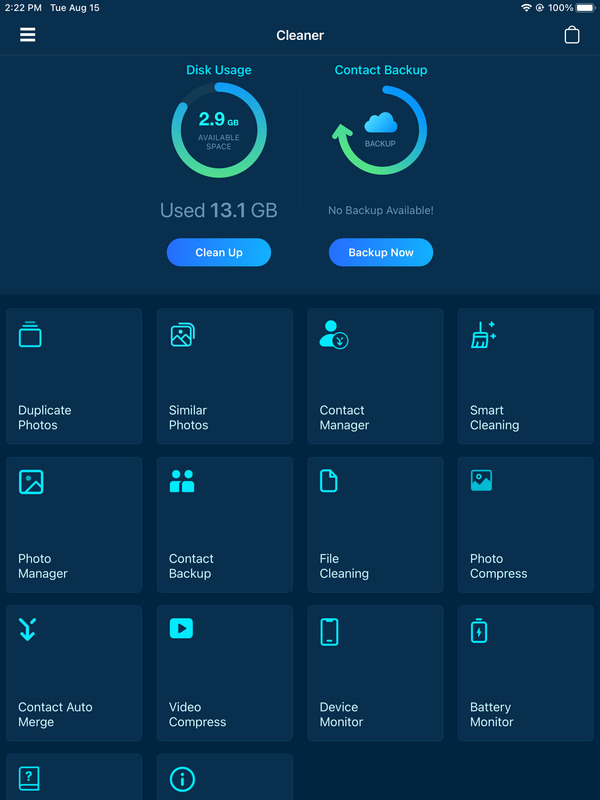 Cleaner has all the bells and whistles you're looking for in a storage cleaning app, and it comes with a UI that's perfectly designed for the iPad. And to sweeten the deal, its intuitive tutorial system makes learning all the app's functions effortless.
Ease of use
The app has its fair share of features, but picking them couldn't be easier on account of the handy tutorial system. The tutorials are animated to simulate exactly how navigation would work on your screen, along with in-depth descriptions of the different functions. Another well-designed aspect of Cleaner is the user interface, which makes excellent use of the iPad's larger screen.
Features
Cleaner is capable of cleaning up photos, videos, contacts, and other files, in addition to a photo/video compression system. There's also a battery monitor in case you want a bit more info about your charging status. And if you're looking for convenience, there's a smart cleanup button that mops up unwanted files in a couple of taps.
Price
You can try out all of Cleaner's features during the free 3-day trial, but you'll need to subscribe after that. Subscription prices go for $3.99 a week, $9.99 a month, and $34.99 a year.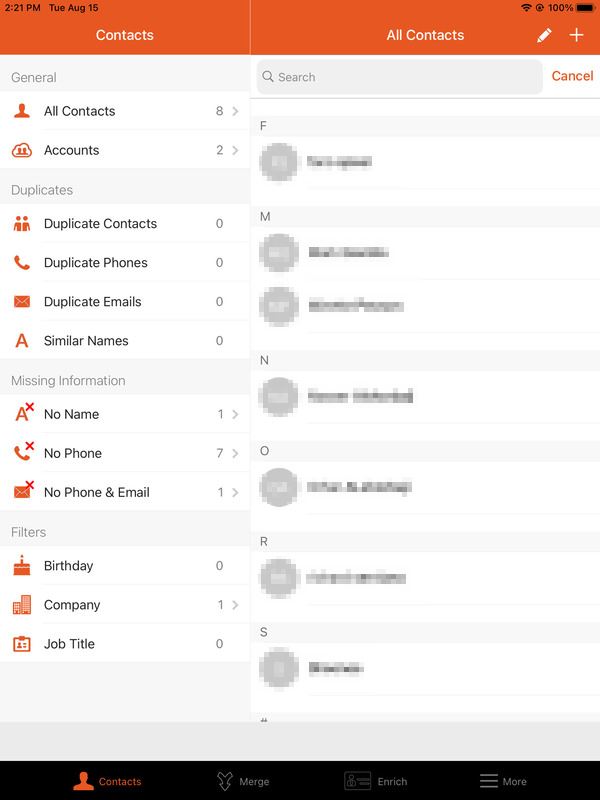 Easy Cleaner is one of the best free iPad cleaner apps on the App Store, and unlike most of the competition, its main focus is optimizing your contacts list. It does this by boasting features that tidy up your contacts list in its current state, along with improving and maintaining it in order to minimize clutter buildup.
Ease of use
This app is by far the most professional-looking of the bunch, sporting a sleek orange theme and an easy-to-navigate interface. Your contacts list is staring you right in the face as soon as you launch the app, and it's segmented into understandable sections so you can quickly begin sorting the entries out.
Features
Easy Cleaner's main selling point is how it utilizes AI technology to "enrich" your contacts, meaning it can attempt to fill in any missing contact information through its global database. The app also offers smart filters and restore point creation for backing up your address book. It hasn't forgotten about the basics either, as you can use the app to rid yourself of duplicate contacts, merge them together, and delete ones with missing info.
Price
The app is completely free to download and keep.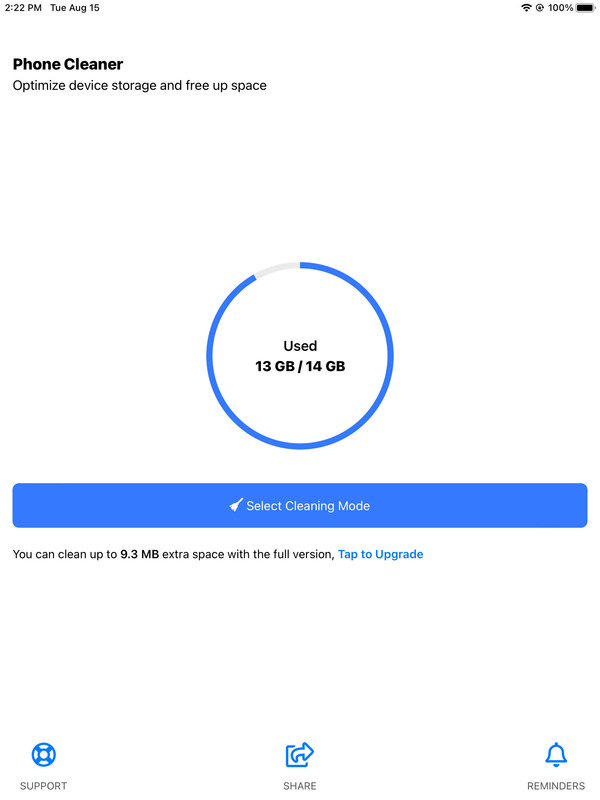 Phone Cleaner is as simple as they come, with its low-profile home screen and minimal navigation. If you're after a no-nonsense option that has the usual features plus a few unique ones, this app might be exactly what you're looking for.
Ease of use
Given its minimalistic design, utilizing Phone Cleaner is straightforward and effortless. There's a single cleanup button to tap on the home screen that brings up all the functions of the app in giant, well-described tiles. From there, manipulating the different options of the Phone Cleaner features is just as easy.
Features
As far as cleanup tools go, you've got duplication photo and contact deletion, media filtering, and a search tool for similar pictures. A unique feature is the web cleaning tool that helps block ads through a Safari extension.
Price
Phone Cleaner is a bit more generous with its free trial, offering 7 days to try the app out. After that, it's $2.99 a month.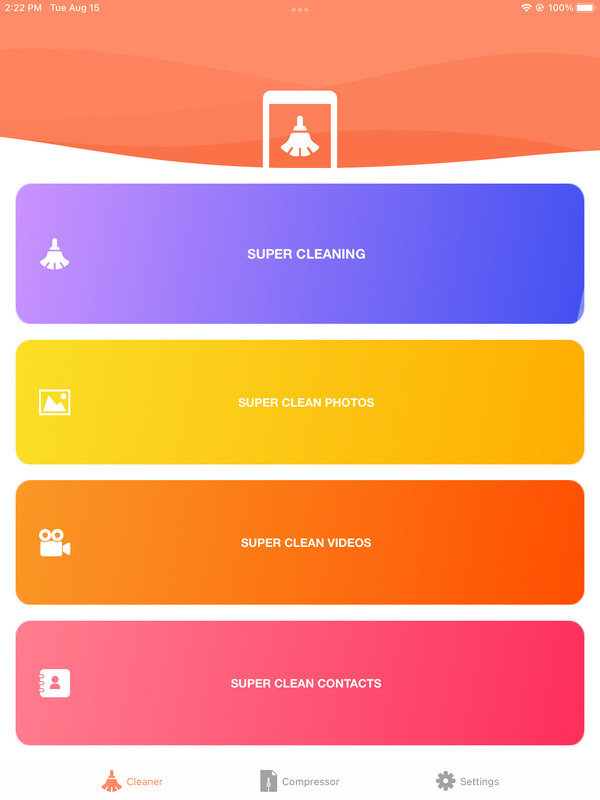 We're capping off our list with Phone Cleaner by LQL Studio One – an iPad app that claims to be the most powerful mobile cleaning program around. It has all the standard features you'd look for when it comes to freeing up space on your device, wrapped up in a colorful presentation that's easy on the eyes.
Ease of use
With its intuitive labels, large buttons, and inviting UI, Phone Cleaner is a breeze to use, even for technological newbies. Utilizing the different features is as simple as tapping a couple of buttons.
Features
Its main feature is general file cleaning, but it also allows for in-depth sweeps of photos, videos, and contacts. There are compression tools for pictures and videos as well, in case you'd like to lower the file size of some of your media.
Price
Just like most of the entries on this list, Phone Cleaner offers a free 3-day trial. To continue, you'll have to shell out $3.99 a week or $24.99 for a lifetime license.
FAQ
Conclusion
Figuring out which iPad cleaner app you should go for can be a daunting task, given how widespread these types of programs are on the App Store. Hopefully, with the help of this list, you can find one that's right for you. But even without an app, there are a few things you can do to free up some much-needed space on your iPad. Here are some of them:
Clean browser and apps cache: Browsers and other apps on your iPad continuously create temporary files, which can end up consuming a lot of space on your device. Make sure to routinely clear out your browser and app cache to avoid this.
Native iPad suggestions: If you head to Settings > General > iPad Storage, you'll see a breakdown of the files that are taking up space on your device, along with some recommendations for deleting unused apps and other things. You should also consider deleting any large message attachments that you saved.
Merging duplicates feature: This applies to photos, videos, and contacts, so you can get rid of any redundancies taking up space.
Emma Collins is a Content Writer at Handy Recovery. She used to work as an Assistant Language Teacher (ALT) in Hokkaido, Japan before she finally changed careers and focused on digital marketing, content writing, and copywriting. For 5 years, she has already written thousands of articles and web pages on different niches, such as fashion, finance, digital marketing, and technology— particularly android, iOS, Windows, social media, and more.