When the Duplicates album fails you (more on this later), using an app to delete duplicate photos on your iPhone or iPad is the most convenient solution. However, not all apps were created equal. Good news: you have a lot of options. Bad news: you have a LOT of options.
🗨️
To help you narrow down your choices as well as get an idea of how these tools work, we came up with the 7 best apps to delete duplicate photos on iPhone along with their detailed breakdowns. Read on!
What to Look for in Duplicate Cleaner Apps
The Apple App Store is a sea of duplicate photo cleaner apps. If you've already tried looking for one, you'll know. To come up with our top 7, we distilled the most important characteristics of a duplicate cleaner app into a strict (but sensible) set of criteria.
🔗
While we did our best to exclusively include apps that matched our criteria exactly, there were some apps that still made the cut because they (1) only lacked 1 or 2 minor attributes and/or (2) they had a certain tool or feature that made up for their weaknesses.
🤗 Ease of use – We prioritized apps that were accessible to all users, especially beginners. Not all apps on this list are "pretty", but they are all super easy to understand and use right away.
🤖 Algorithm quality – As we alluded to in the intro, the Duplicates album in the Photos app doesn't always catch 'em all. We ensured that the apps we chose were good at detecting not only exact duplicates but also "similar" photos – especially those that iOS' own Duplicates album fails to pick up.
⚙️ Customization – We gave preference to apps that allowed users to customize their scanning and/or browsing preferences so users can browse and delete duplicates by different criteria.
💸 Pricing – We did our best to only include apps that had a decent free trial (or were free entirely). While many apps on this list (and in the App Store) are paid, we made sure that their price tag was worth it to at least its target user base.
7 Best Apps to Delete Duplicate Photos on iPhone
Based on the criteria above, here are our 7 recommendations. To help you quickly grasp what these apps have to offer (while giving you as much info as possible), we provided short summaries for each entry, their pros and cons, what platforms are supported, and how much they cost.
1. Remo Duplicate Photos Remover
Remo Duplicate Photos Remover is a widely known free iPhone app that deletes duplicate photos. What we like about it (aside from its $0 price tag) is that it's a really straightforward app that does exactly what it says it does – nothing more, nothing less. So if you're looking for a Swiss army knife-type cleaner for your iPhone, Remo is not it.
However, it does its one job really well. Using the app is super straightforward; all features are easily accessible and clearly labeled. And the app has many features that make duplicate photo deletion much more convenient.
Remo neatly organizes your duplicates into categories you can browse, allows you to mark duplicate groups or individual photos easily, and it even saves the best photo in a group so you can get through the process faster.
Remo is a great choice if you want to use a free app to clean duplicate photos; it has useful features that complement its main function, it offers a decent user experience, and it's available for all mainstream platforms.
Pros:
Free
Available on all mainstream platforms
Simple interface and super easy to use
Finds both "Exact" and "Similar" photos and categorizes them
Provides useful and relevant tools like preview, image details viewer, etc.
Cons:
It can only delete duplicate images; it has no other major features or tools
Bland interface
Can sometimes categorize "exact" duplicates as "similar" duplicates
Price:
2. Cleaner for iPhone
Unlike the last entry, Cleaner for iPhone is not just an app to remove duplicate photos, it's an all-in-one cleaner with useful tools for managing photos, videos, and contacts. It has a lot more features than standalone duplicate cleaners, making it an attractive choice for users who want just one tool to manage everything. And while it's a paid app, its short free trial unlocks all of its features.
Cleaner for iPhone has excellent core features, such as categories for different types of media (e.g. live photos), scanning files by time period, and organizing videos by file size to help you get rid of the biggest storage hog quickly.
Its duplicate contacts cleaner is also useful for cleaning up your contacts, but there are cases where it struggles to identify contacts with no names even if they have complete business information (which can lead to unwanted merges).
In summary, Cleaner for iPhone is a good option if you're willing to pay and you want a more well-rounded tool.
Pros:
Fully-featured free trial
Useful categories like screenshots, live photos, etc.
Scan for duplicates taken in a specific time period
Tools for managing contacts – backup and restore, merge duplicates
Organize media files by size
Cons:
Confusing in-app subscriptions and pricing
Short free trial
Struggles to manage contacts with no attached names
Battery charging animation is irrelevant and just bloats the app (but not by much)
Price:
$2.99 ~ $49.99 (weekly, monthly, annual, and lifetime subscriptions available)
3. Clean My Photos: Phone Cleaner
Clean My Photos: Photo Cleaner is another all-around cleaning app for the iPhone. You can use it to manage media files like photos and videos, as well as your contacts. It also has additional features we haven't seen in this list, such as the ability to clear iPhone cache data and even compress photos and videos in your camera roll without losing any graphic quality.
Its core features are also pretty good; you can remove duplicates (photos, videos, and contacts) with one button (though we encourage you to review them carefully). You can also filter your camera roll by size so you can quickly get rid of the most significant storage hogs. You can also monitor your iPhone's battery health, but we consider that to be a slight bonus.
It's a bit on the pricier side but the app offers a 3-day free trial.
Pros:
Nice interface and super easy to use
1-tap cleaning
Delete iPhone cache data
Clear duplicate photos, videos, contacts, and even calendar events
Cons:
Can sometimes mark "non-junk" photos for deletion (e.g. it keeps original photos but marks edited ones)
Short free trial
Can get pretty expensive depending on your needs
Price:
$2.99 ~ $39.99 (weekly and annual subscriptions available)
4. Duplicate Photos Fixer
Duplicate Photos Fixer is the second free app on this list and it's got a lot of cool features we haven't seen from other entries. It only cleans up duplicate photos but provides many tools to make that task easier. Our favorite feature is the custom scan settings, which allows you to set specific criteria for the scan.
You can set bitmap size (e.g. 100×100 pixels), matching level (how similar to the original), date range, and even location range by meters – you can also combine these parameters for a super-targeted scan.
Its user experience could be better as there are some intuitive functions missing. Previewing a duplicate can be annoying because they are displayed as thumbnails with a tiny preview button in the corner. You also can't swipe through previews, so you'll have to open the preview for individual photos every time.
However, Duplicate Photos Fixer is still a great free app whose pros outweigh its cons.
Pros:
Clear exact duplicates and similar photos
Adjust how aggressively the scan identifies duplicates (similar vs similar enough)
Comprehensive scan settings and customization
Automark tool automatically marks all duplicates except one per group
One-tap deletion
Cons:
Manages duplicate photos only
Automark tool is great for preserving data but it means you will have to delete them manually
User experience needs some improvement
Price:
5. Flic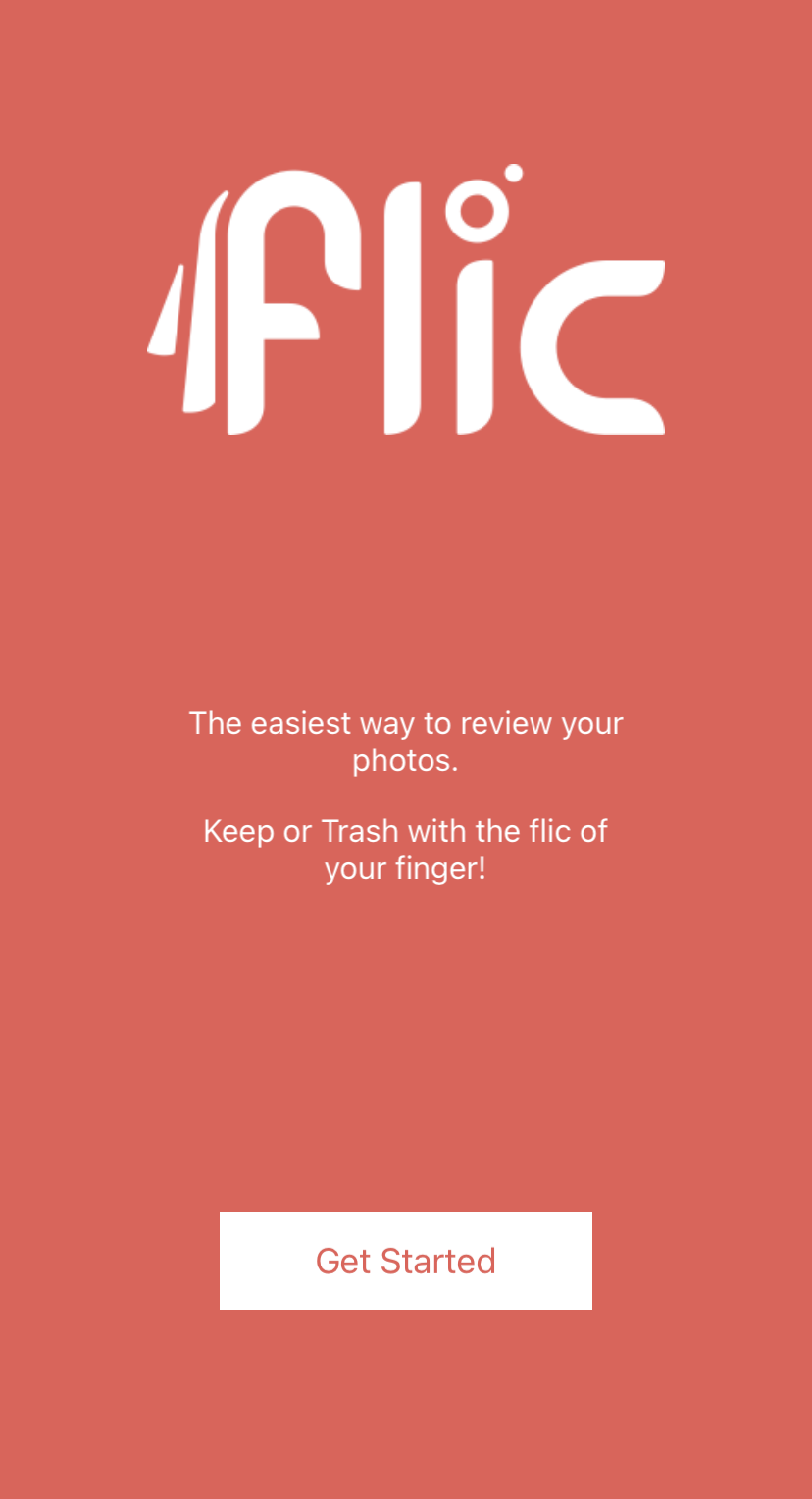 Unlike the first few entries on this list, Flic is a general photo manager app. It basically turns the daunting task of organizing your camera roll into simple gestures; as you go through your photos, you can swipe right to keep the photo on display or swipe left to delete it.
Whenever you delete photos, you can see in real-time how much memory is getting freed up. It also provides a trash folder, so you can easily review multiple deleted photos in one go instead of having to confirm every time you delete an individual picture. Flic's Pro version has even more cool features, such as a favorites folder and timeline review.
However, Flic wasn't designed specifically for clearing duplicates – so don't expect specialized tools like custom similarity levels or grouped duplicates. And it's not 100% free either; you can only "flic" a limited number of photos unless you upgrade.
Pros:
Efficiently manage photos using swipe gestures
Trash folder that you can review before deletion
Good user experience
Cost of the pro version is way more reasonable than other paid apps on this list and offers cool features like the Favorites folder
Cons:
You can only "flic" a limited number of photos with the free version
It's a general camera roll manager, so there are no extra tools specifically designed for clearing duplicates efficiently
Price:
Free
$4.99 for Premium upgrade
6. Remove Master for Camera Roll
Remove Master for Camera Roll is another swipe-to-delete (or keep) app that allows you to process photos in your library quickly. It provides a trash folder where you can mark individual items for permanent deletion or delete everything at once.
Remove Master is a freemium app that only allows users to delete unlimited photos after purchasing the premium license. The license also unlocks other features, like a favorites folder and a navigation tool that lets you view photos by month.
Like Flic, Remove Master is a general camera roll manager app – it's not designed to handle duplicates with finesse so manage your expectations!
Pros:
Swipe gestures to keep or delete photos
Trash folder for reviewing deleted photos before permanent deletion
Cons:
You can only delete a limited amount of pictures with the free version
Ads
Price:
Free
$4.99 for Premium upgrade
7. Slidebox – Photo Manager
Slidebox – Photo Manager is a super intuitive photo manager that gives you way better control over your photo organization. Again, we preface this by saying that Slidebox is not an app specifically designed to clear duplicates but it still makes deletion and review easier thanks to swipe gestures. You can also easily undo the last action as an added safety net.
It's one of the best album organizers on the app store – it only takes 1 tap to save a photo to an album and all changes you make in Slidebox directly affect the Photos app (and by extension, iCloud).
It has a great-looking interface and the user experience to match. But if you strictly want an app to get rid of duplicate photos quickly, the first few recommendations on this list will serve you much better.
Pros:
Great looking interface
Swipe gestures
Integration with the Photos app and iCloud
Easily sort photos into albums
Undo last action
Cons:
Not specifically designed for clearing duplicates
Price:
$4.99 ~ $49.99 (monthly and annual subscriptions available)
FAQ
Conclusion
There are dozens of variations of duplicate cleaner apps on the App Store. The good ones should either have unique features that add real value for the user or (more importantly) they make the task of deleting duplicates faster and easier.
However, note that no algorithm is perfect, even if you're using the best photo cleaner app for iPhone – so make sure you carefully review the duplicates you want to delete beforehand!
Alejandro Santos was both a tech guy and a writer early on in his life. As a kid, you'd find him in his uncle's repair shop helping fix customers' computers. Today, you'll find his work on data recovery and software testing published on multiple tech websites, continuing to help users from afar.