Is your Mac drive full of multiple copies of the same files? If so, then you're wasting precious storage space. Since finding duplicates manually could mean having to go through thousands of folders one by one, you should equip yourself with the right tool for the job.
✅
The duplicate file finder Mac apps recommended in this article can automatically scour your computer to reveal all duplicate files, allowing them to get rid of them in bulk.
What Makes a Duplicate File Finder Tool Good Enough to Be on Our List?
There are many excellent macOS duplicate file finders to choose from, so what makes some better than others? The following factors are the answer:
| | |
| --- | --- |
| 📊 Factor | 💬 Description |
| Scan results | A duplicate file finder Mac app is worth using only if it can reliably find all kinds of duplicates, including documents, images, videos, audio files, file archives, and more. At the same time, you want to avoid tools that deliver inaccurate results because such tools could cause you to accidentally delete legitimate files. |
| Ease of use | Duplicate finder Mac apps should make your life easier, so ease of use is an important factor to consider when choosing between them. Yes, you could use a bash script to find all files that share the same name and size using the Terminal app, but do you really want to when you can just click a button and enjoy a much nicer user experience? |
| Features | The importance of a polished user experience brings us to features. At the very least, you want your macOS duplicate finder to preview found files so that you can visually confirm that they are safe to delete. In addition to preview capabilities, it's great when a duplicate finder features file type filters, near-duplicate image detection, real-time duplicate monitoring, and more. |
| Price | How much do you value your Mac storage space? If you're running out of it because of duplicate files, then spending a few dollars on a duplicate finder instead of upgrading your storage is a great deal (and completely free tools exist as well). Just make sure to read the fine print when making your order because some duplicate finders are subscription-based and could end up costing you quite a lot in the long run. |
| Compatibility | You want to avoid outdated OS X duplicate file finders that haven't been updated in ages because their performance is guaranteed to be subpar. In addition to operating system compatibility, you may also want to pay attention to customer support, particularly when buying a paid duplicate file finder. |
Top 10 Best Duplicate Finders for Mac
After researching as many lists of the best duplicate file finders for Mac as we could find and personally testing more than two dozen of them, we came up with the following top 10 list.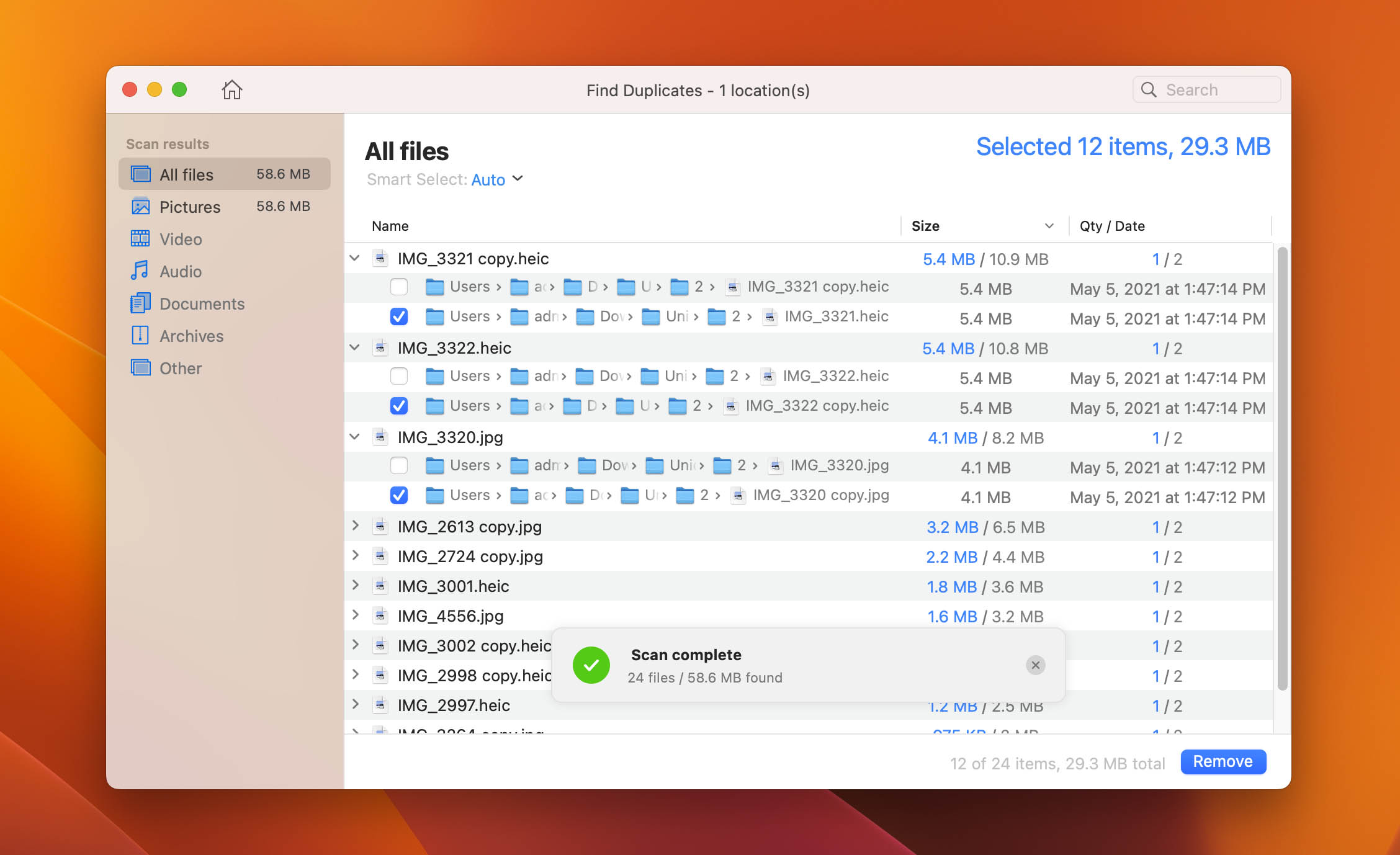 You may be familiar with CleverFiles as the company behind the best data recovery software for Mac, and its stand-alone duplicate file finder is just as worthy of your attention.
✅
Pros:
Developed by a respected software company
Excellent usability
Can auto-selected duplicates with a click
Symlink creation capabilities
Fair pricing model
❗️
Cons:
Long breaks between updates
Unlike many other macOS duplicate file finder apps, which can be downloaded for free only to sneak up on you with a requirement to purchase a license to do anything useful, CleverFiles Duplicates Finder employs a fair pricing model, asking for just a single upfront payment to unlock all features forever, and there are many features to unlock.
CleverFiles Duplicates Finder can be used to find duplicates on all internal, external, and even network-attached storage devices. Its pleasant user interface makes finding and removing duplicates a simple affair, with an option to auto-select duplicates with a click, the ability to create symlinks to satisfy file dependencies, and more. We just wish it were updated slightly more often.
Price: $2.99 for a lifetime license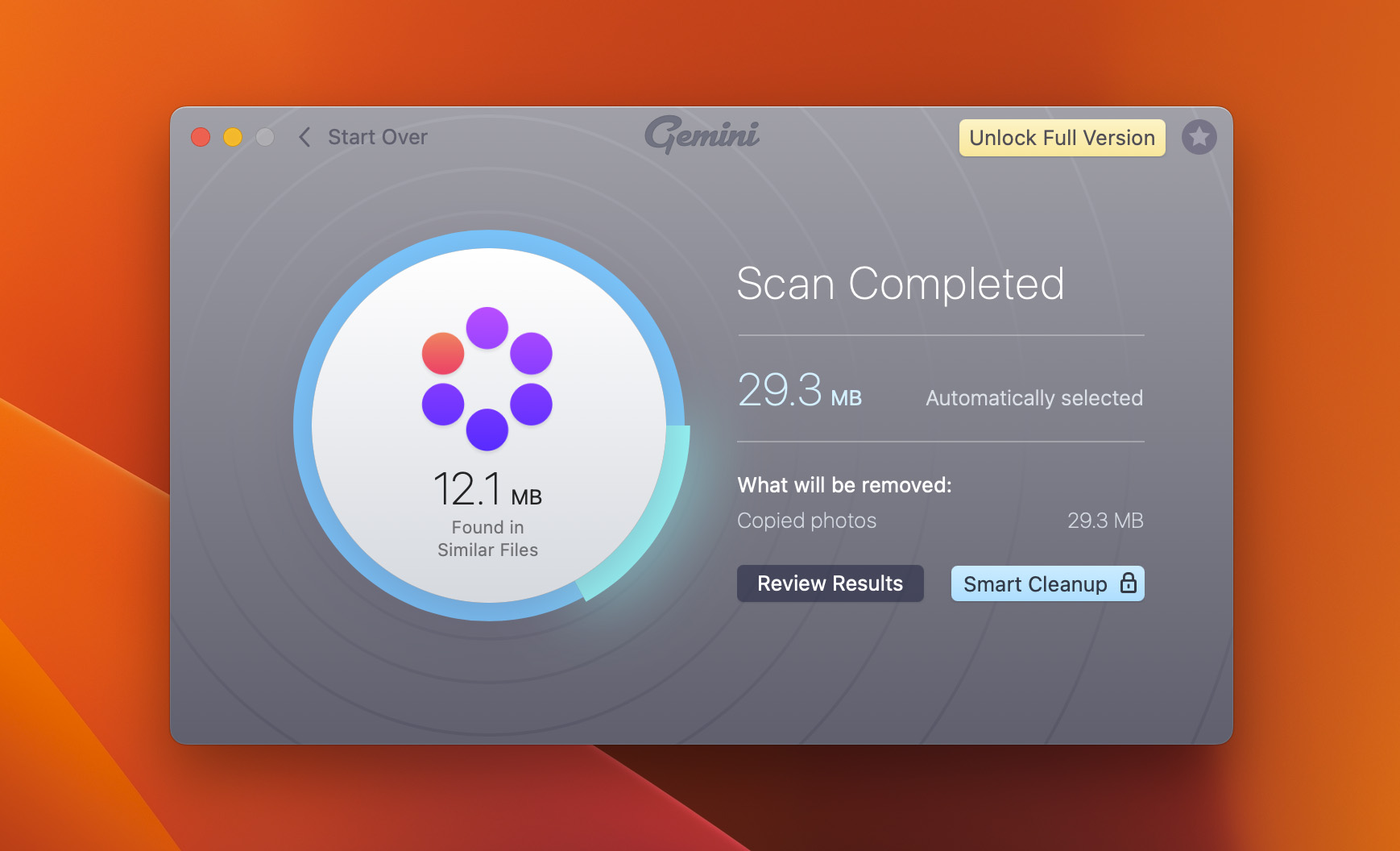 Gemini 2 by MacPaw is a beautiful, award-winning duplicate file finder for Mac, but shiny things can be expensive.
✅
Pros:
Beautifully designed user interface
Reputable developer
30-day money-back guarantee
Can detect similar images
Useful menu bar integration
If you've ever used CleanMyMac X, a popular system cleaner, then you know that MacPaw knows how to create software applications users actually look forward to using. Gemini 2 demonstrates the same user experience design mastery through and through.
The good news is that the duplicate file finder isn't just nice to look at! Its advanced algorithms can find both exact duplicates and similar files, and you can turn on the Duplicates Monitor feature to stay duplicate-free at all times. The only bad news is that Gemini 2 is very expensive regardless of if you go with the monthly subscription or the lifetime license.
Price: from $19.95 per year or $44.95 for a lifetime license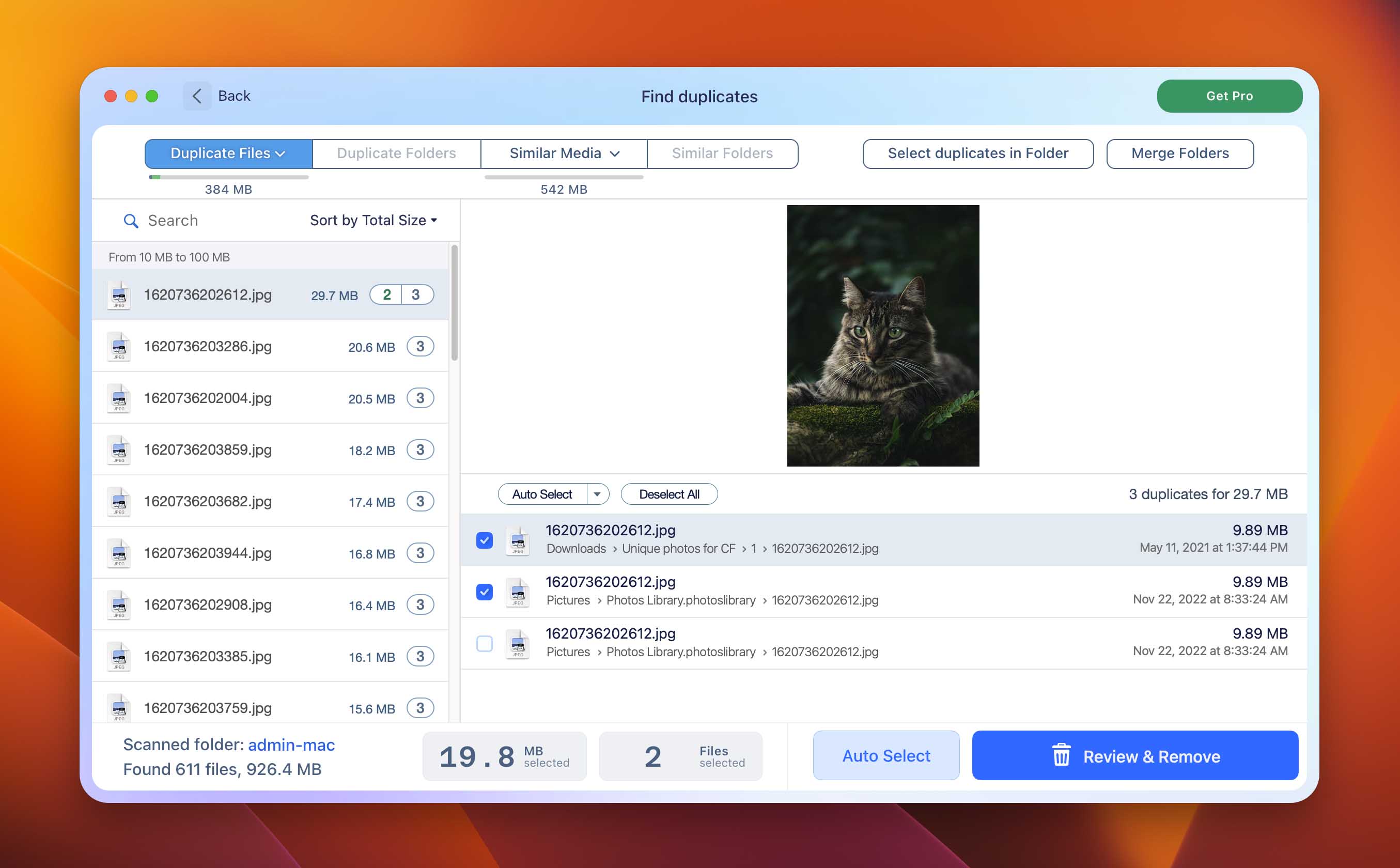 Nektony's Duplicate File Finder is smart, sleek, and optimized for the latest version of macOS. Sounds like a complete package? It is!
✅
Pros:
Raving user reviews
Can scan multiple Photos Libraries
Ability to merge folders
Freemium pricing strategy
Duplicate File Finder by Nektony (called Duplicate File Finder Remover on the Mac App Store) has thousands of raving user reviews that praise everything from its well-thought-out design to its performance to its advanced features. Indeed, this is one of the best duplicate file finder Mac apps for those who don't want to compromise.
Does it cost a lot of money to never make any compromises? You bet! A single Duplicate File Finder lifetime license costs $34.99, which is more than 10 times the cost of CleverFiles Duplicates Finder. You do get some useful extra features for your money, however, such as the ability to merge folders and scan multiple Photos libraries.
Price: $14.99 per year or $34.99 for a lifetime license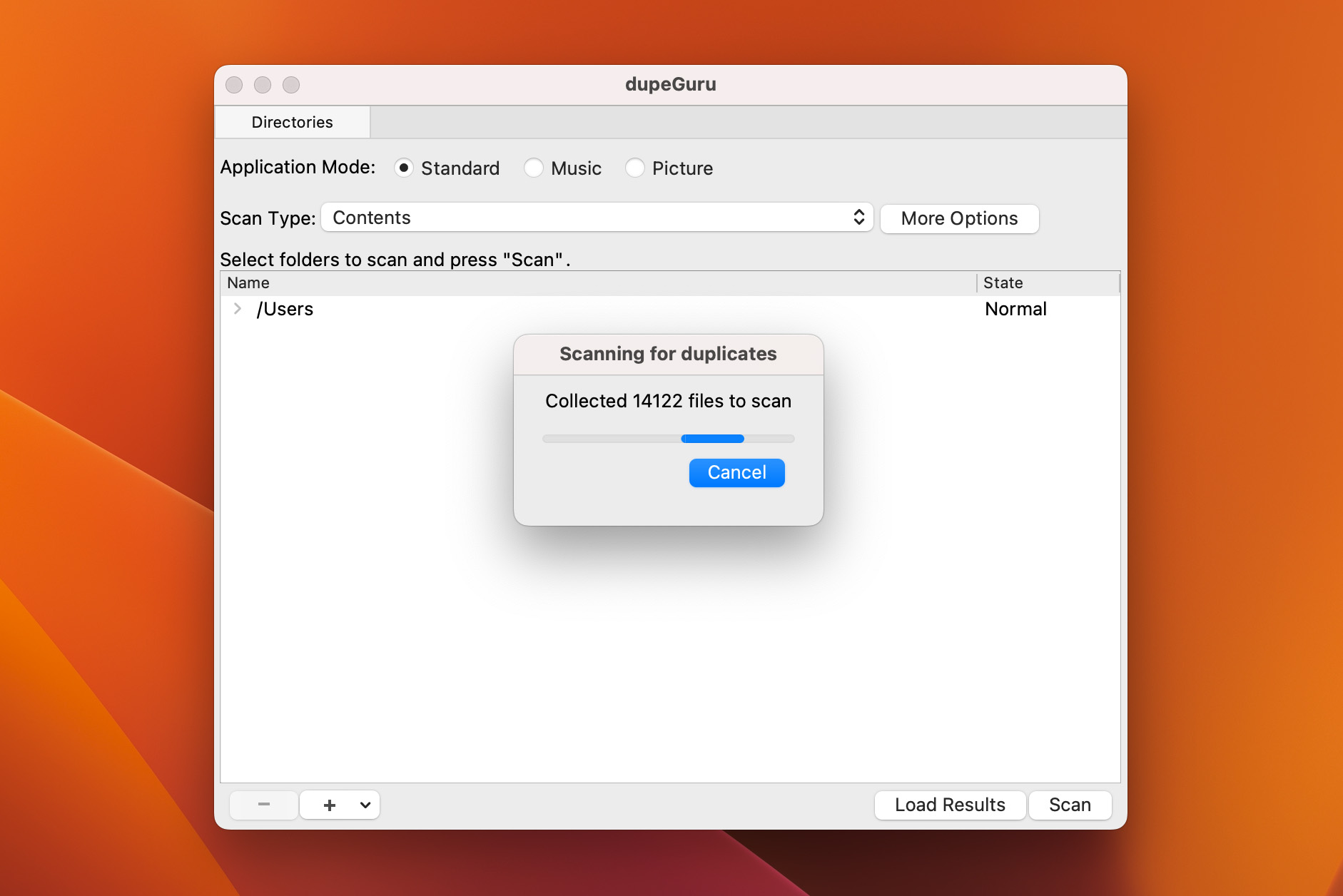 Are you a fan of open-source software? Then dupeGuru might be just the right macOS duplicate file finder for you.
✅
Pros:
Open source
Completely free
Fuzzy matching algorithm
Supports all major operating systems
It's often wrongly assumed that all open-source software is free, but that's not true. Fortunately, dupeGuru is—and completely. This multi-platform duplicate file finder uses a fuzzy matching algorithm to find duplicates even when filenames are slightly different, and it works just as well with documents as it does with pictures or music.
dupeGuru is highly customizable, so you can tweak its scanning settings to find exactly the kind of duplicates you're looking for. Just know that you may find some of the available options somewhat confusing because dupeGuru is designed to be functional first and easy-to-use second.
Price: Completely free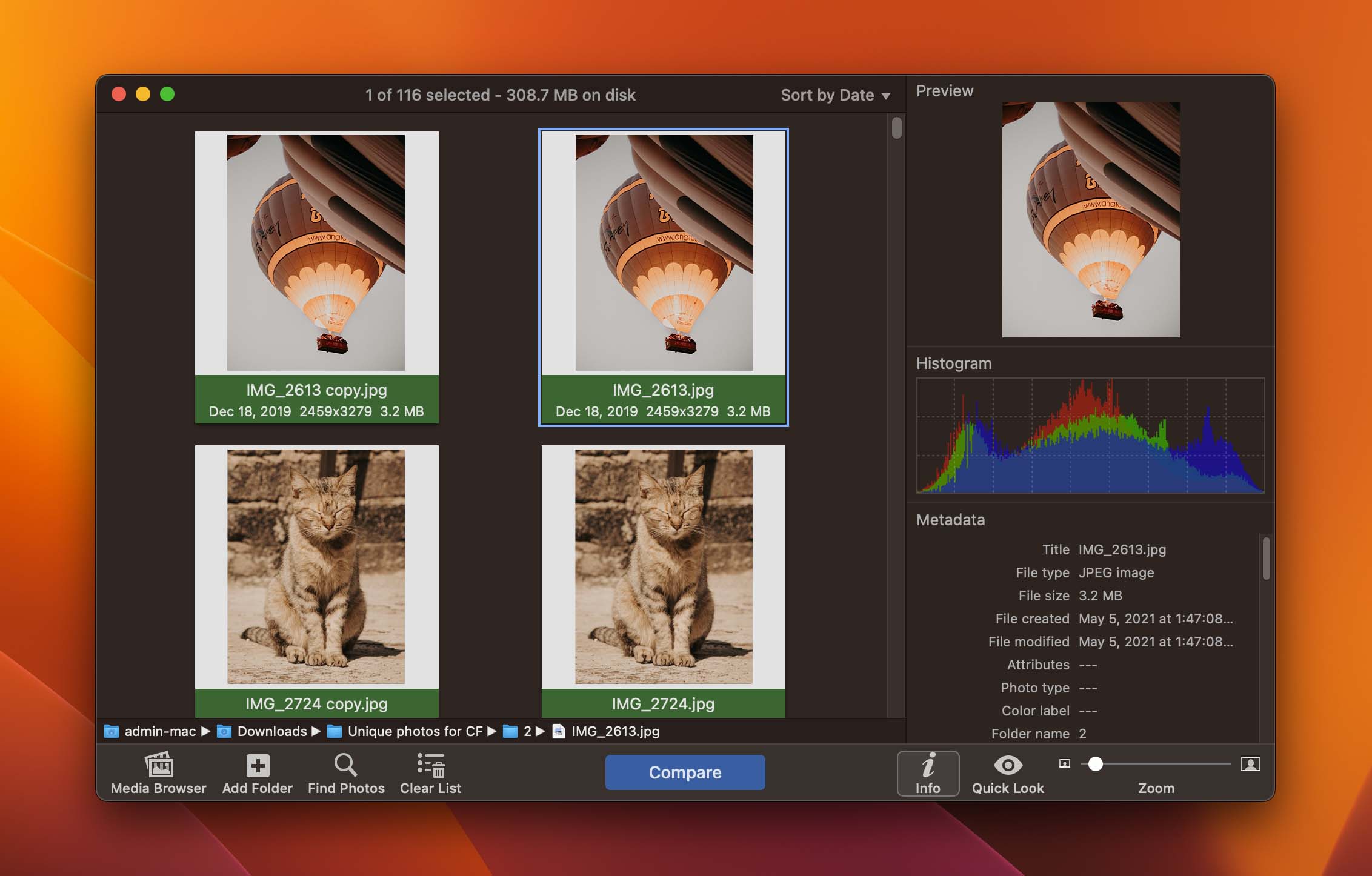 Photos and images in general are perhaps the most common type of duplicate files found on Mac computers, and PhotoSweeper can help you effortlessly find them.
✅
Pros:
Works with many photo editing apps
Frequently updated
Great user reviews
❗️
Cons:
Designed exclusively with photos in mind
It's easy to accidentally import the same photos from a digital camera twice without even realizing it or save multiple edits of the same image and then forget about them. Thanks to PhotoSweeper, you can quickly sweep your storage devices to find all exact duplicates and similar photos.
The macOS duplicate finder works smoothly with Apple Photos, iPhoto, Aperture, Capture One, and Adobe Lightroom to make your life as easy as possible. While it's possible to also find duplicate videos with it, it's clear that PhotoSweeper was designed with photos in mind, and that's how we recommend you use it.
Price: $9.99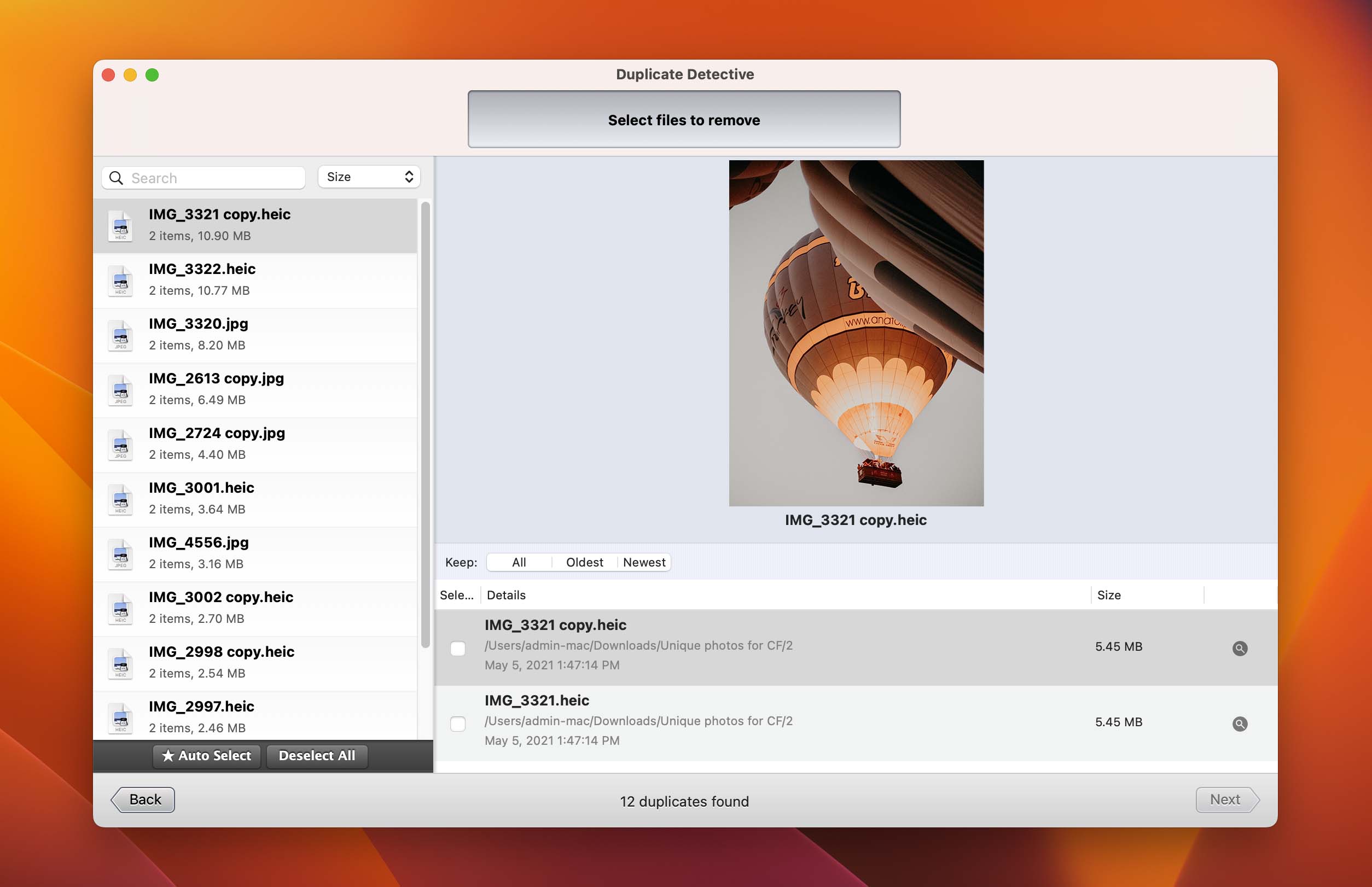 With Duplicate Detective, you can pretend that you are a detective searching a confiscated hard drive for clues that will help you solve a murder mystery—or you can use the app without putting on an imaginary deerstalker.
✅
Pros:
Many positive reviews
Receives updates on a regular basis
Powerful search engine
❗️
Cons:
Tedious to use with many duplicates
At the time of writing this article, Duplicate Detective has 160 reviews in the Mac App Store, and most of them are positive. And why wouldn't they be—the duplicate finder has an easy-to-navigate user interface, a powerful search engine, and plenty of filtering options that you can use to sort your duplicates.
The biggest shortcoming we feel the need to criticize is that the duplicate review process revolves around comparing pairs of potentially duplicate files one by one, and that can be tedious if the tool finds many similar files. The only alternative is to auto-select everything in bulk, but that's a risky thing to do.
Price: $4.99 for a lifetime license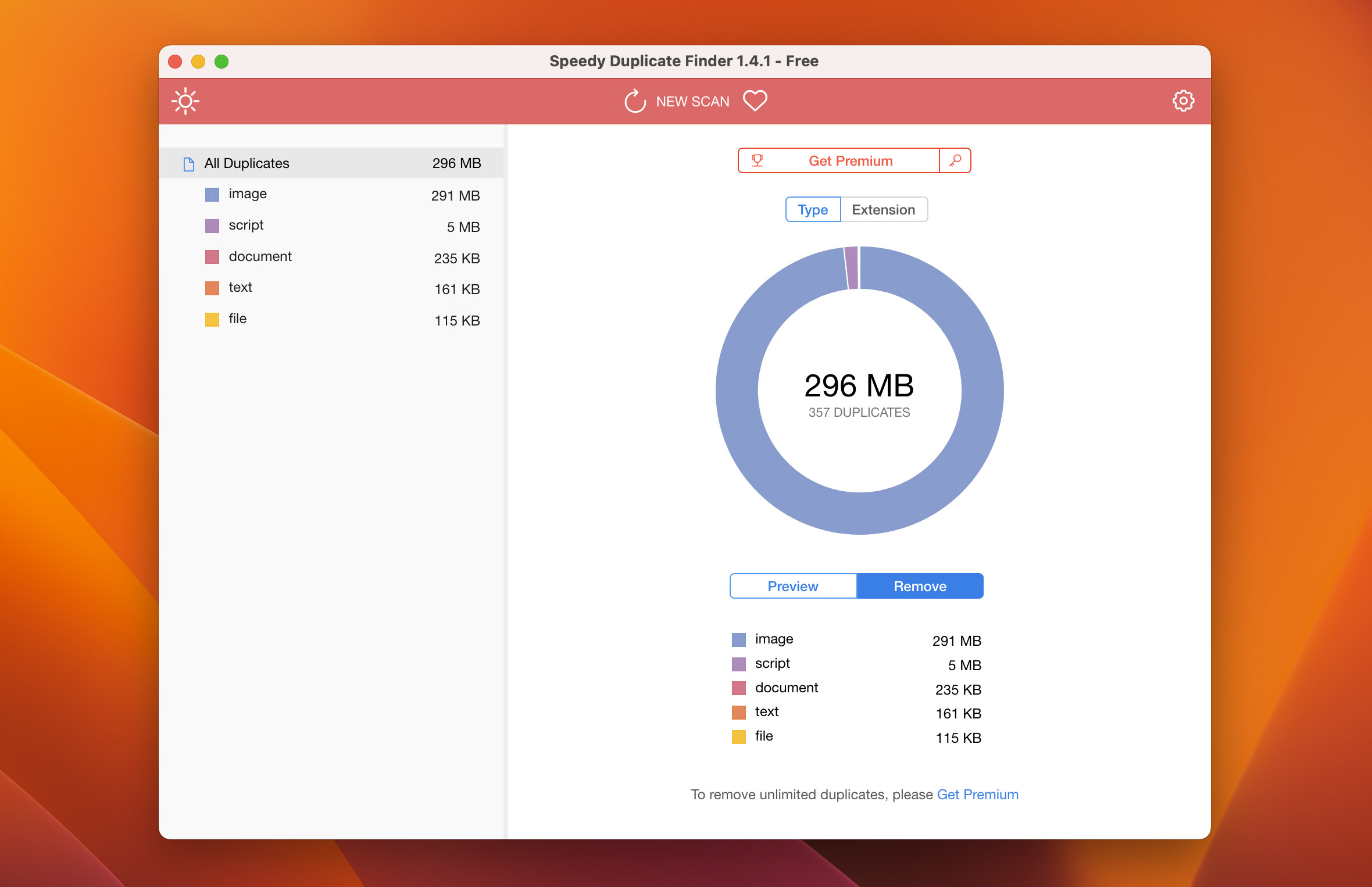 Qiplex, the company behind this macOS duplicate file finder, offers an entire portfolio of useful Mac utilities, and Speedy Duplicate Finder is one of its more successful products.
✅
Pros:
Multi-platform
Simple yet flexible
Sold in a discounted bundle
❗️
Cons:
The non-App Store version isn't signed
No in-app file previews
Speedy Duplicate Finder advertises three main advantages over similar software applications: blazing performance, simple yet flexible duplicate scanning process, and smart scan results filters. We're happy to report that it really does all this and more.
What it doesn't do is display in-app file previews, making it rather difficult to go through a long list of potentially duplicate files. Considering that Speedy Duplicate Finder costs more than many of the best duplicate finder Mac apps, we think that its developers should fix this issue promptly.
Price: $29.95 per year or $39.95 for a lifetime license (non-App Store version)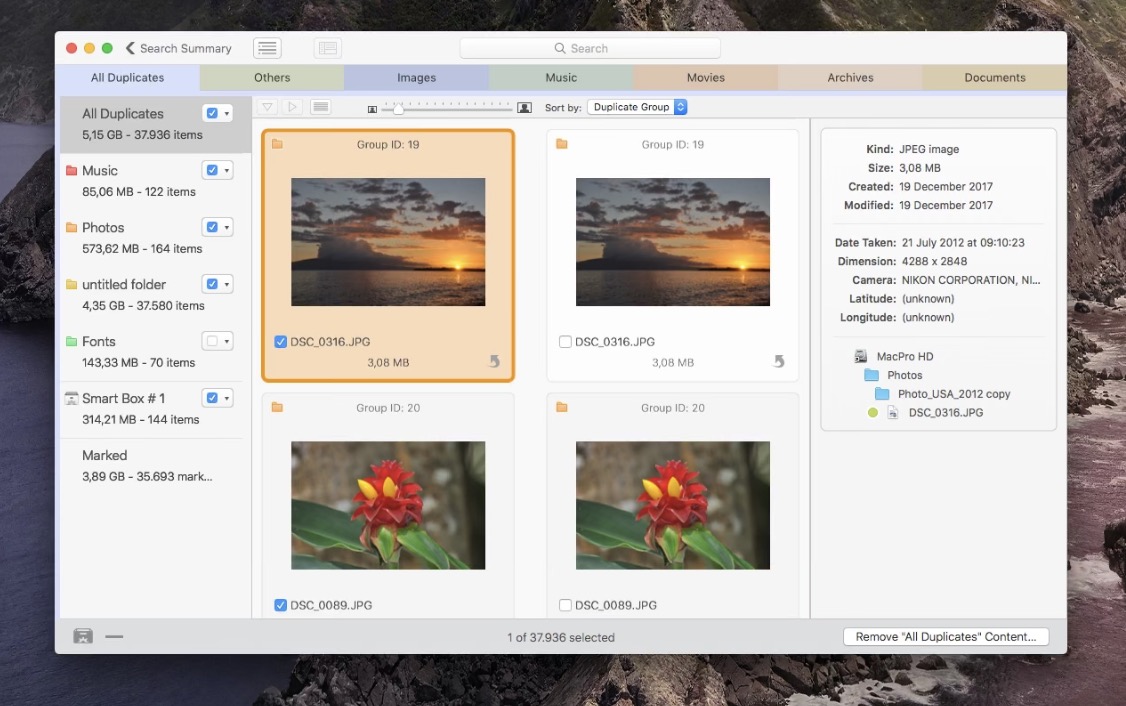 Do you feel that it's about time to tidy up your Mac? Then we can recommend this duplicate file finder, whose name fits the task perfectly.
✅
Pros:
Actively developed
Free trial available
Powerful features
❗️
Cons:
Expensive
New major version = new purchase
Hyperbolic Software have been perfecting their duplicate file finder app for years, and it shows. The latest version of Tidy Up (version 6) has a modern user interface, support for Apple Silicon Macs, and the ability to search in Lightroom, Photos, Music, Mail, and Contacts. Depending on how experienced you are, you can use Tidy Up in Simple or Advanced Mode and always get the same great scan results.
Before buying this software, we recommend you check when the latest major version was released. If it has been a while, then you may want to wait for a new major version to be released otherwise you would have to spend extra money to upgrade to it.
Price: $34.99 for a lifetime license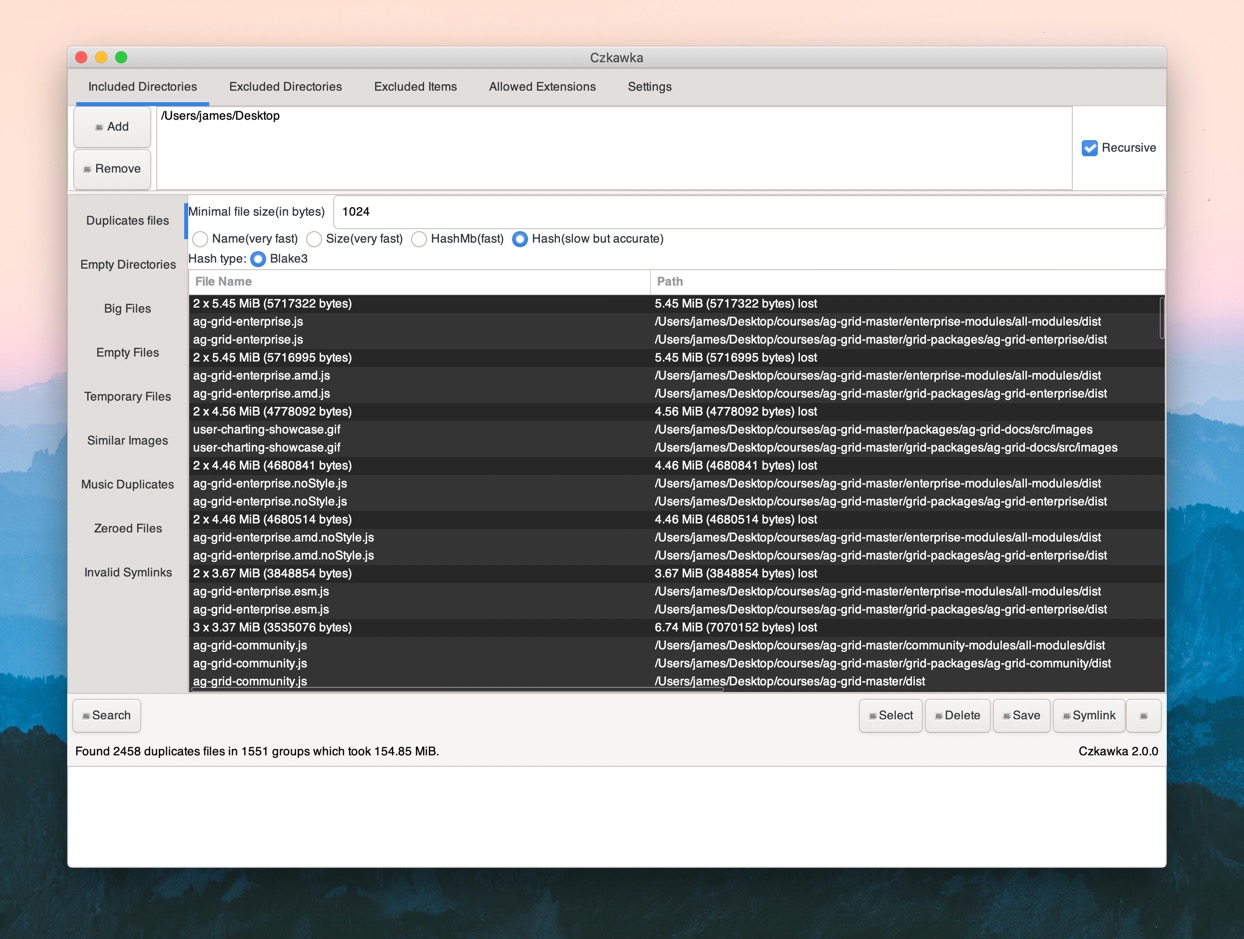 The name of this Mac duplicate file finder means "hiccup" in Polish, and we like to imagine that it's intended to signify how quickly duplicate file removal can be performed with its help.
✅
Pros:
Completely free
Open source
Muti-threading and cache support
❗️
Cons:
Potentially confusing user interface
Doesn't feel like a native Mac app
Complicated installation
Czkawka is an open-source duplicate finder written in Rust. You can find it on GitHub, along with installation instructions. Make sure to read them properly because it takes a few Terminal commands to install the application.
Once installed, Czkawka can be interacted with using two different front-ends. The CLI frond-end is meant for easy automation, while the GUI front-end makes the performance-oriented duplicate finder with multi-threading and cache support accessible even to relatively casual Mac users.
Price: Completely free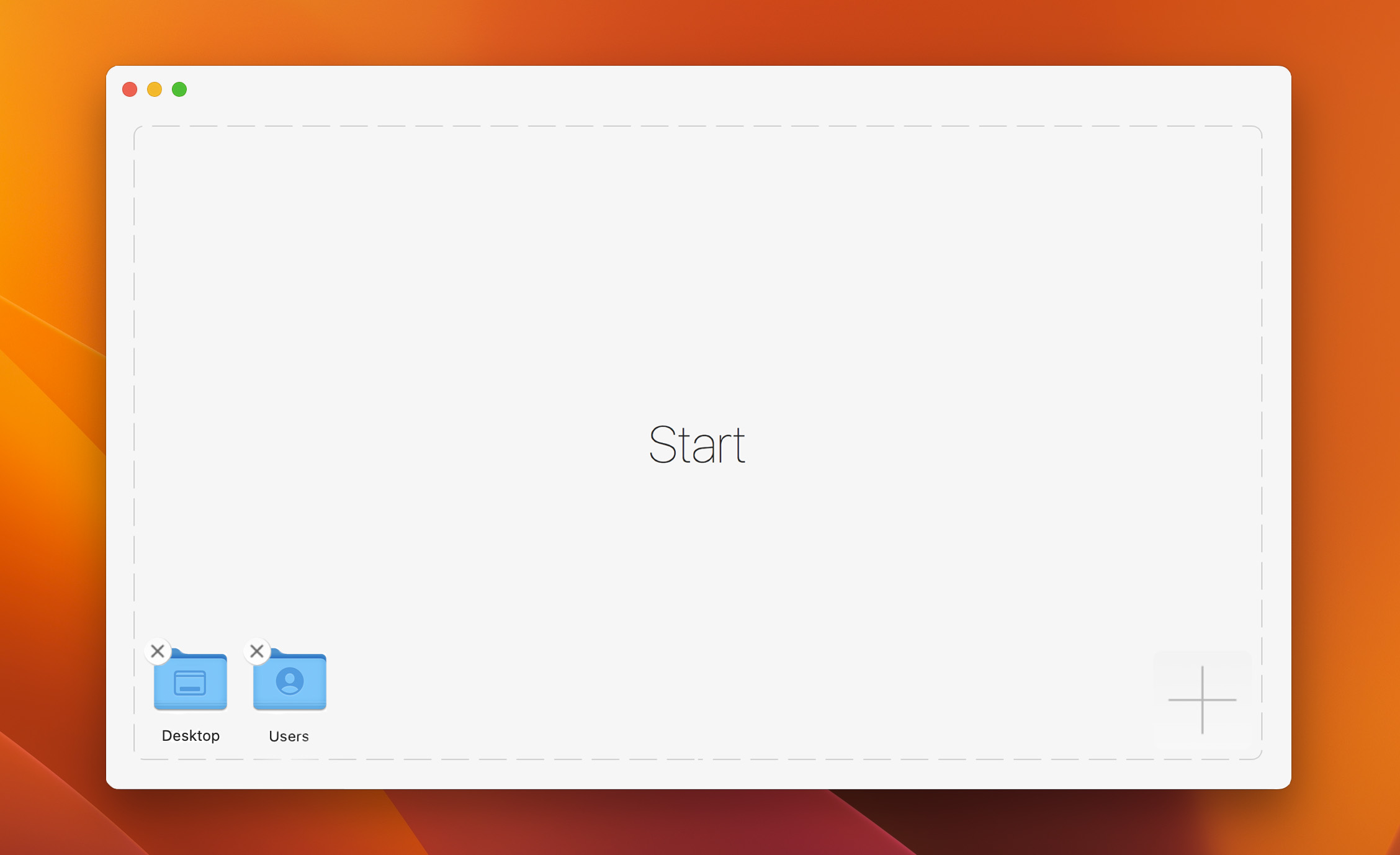 What makes Duplikate stand out from other macOS duplicate finders is its elegant, modern user interface.
✅
Pros:
Elegant user interface
One-click duplicate removal
❗️
Cons:
Expensive
The last version was released in 2016
The app shines the most when used to find duplicate images and photos, but other file types are supported as well. You can use it on OS X 10.11 or later, and you can purchase it either directly from the developer's website or from the Mac App Store.
We recommend you get Duplikate from the Mac App Store just so you can painlessly refund it should you experience any issues with it. That's unfortunately possible because the last version of this duplicate finder Mac app was released in 2016.
Price: $44.99 for a lifetime license
Honorable Mentions
When researching the best duplicate finder Mac apps for this article, we stumbled upon quite a few tools that deserve to be mentioned even though they didn't quite make our top 10 list. Here they are:
FAQ
Final Words
It's almost inevitable for duplicate files to accumulate over time on your Mac—from files you've downloaded twice to multiple copies of the same pictures and videos. To reclaim the storage space occupied by them, you should regularly scan your computer using one of the best duplicate file finder Mac apps recommended in this article. In a few minutes, you can delete gigabytes of useless files and eliminate hard drive clutter.
David Morelo is a professional content writer in the technology niche who joined the Handy Recovery team in 2019 and has since made an invaluable contribution to the quantity and quality of our materials. David's main principle is not to start working on a new article until he has studied the subject backwards and forwards.
Andrey Vasilyev is an Editorial Advisor for Handy Recovery. Andrey is a software engineer expert with extensive expertise in data recovery, computer forensics, and data litigation. Andrey brings over 12 years of experience in software development, database administration, and hardware repair to the team.