Are you running out of your Mac storage space and are not sure where it all went? Instead of wasting valuable time by manually analyzing the content of your folders, it's much more efficient to use one of the disk space analyzer Mac apps recommended below.
✅
With their help, you can discover and eliminate the biggest space eaters in no time to make room for more useful files.
What Makes a Disk Space Analyzer Tool Good Enough to Be on Our List?
The website AlternativeTo lists dozens of macOS disk space analyzer apps, and its collection doesn't even include every single solution in existence. We used the following criteria when selecting the best disk space analyzers for this article:
| | |
| --- | --- |
| 📊 Factor | 💬 Description |
| Speed | The purpose of disk space analyzer tools is to save you time, but some analyzers are much faster than others. It goes without saying that it's always better to use an analyzer that can comb through hundreds of gigabytes of data in just a few minutes instead of multiple hours. |
| Usability | You can theoretically analyze your Mac storage with a series of shell commands, but that would be far from straightforward. It's much easier to pick a disk analyzer Mac app with an intuitive graphical user interface that even tech-illiterate users can master without much effort. |
| Price | Apple customers know that storage space isn't cheap, but that doesn't automatically mean that you should spend a lot of money just to analyze your disk space. That's why we always prefer free and affordable solutions over expensive ones. |
| Features | The best macOS disk space analyzers can do much more besides spitting out a long list of files sorted by their size. They can filter found files by type, preview them, visualize how much space individual folders occupy, and much more. |
| Support | We recommend you avoid disk analyzers that are not actively developed anymore and optimized for your version of macOS. If it has been more than a year since the release of the last update, then you should use a different analyzer instead. When buying a paid analyzer, make sure professional customer support is available to help you with any payment, installation, or usage issues. |
Top 7 Best Mac Disk Usage Analyzer
Here's our selection of the best Mac disk usage analyzer apps currently available. We've personally tested all recommended apps on an M1 MacBook Air running the latest version of macOS available at the time of writing this article.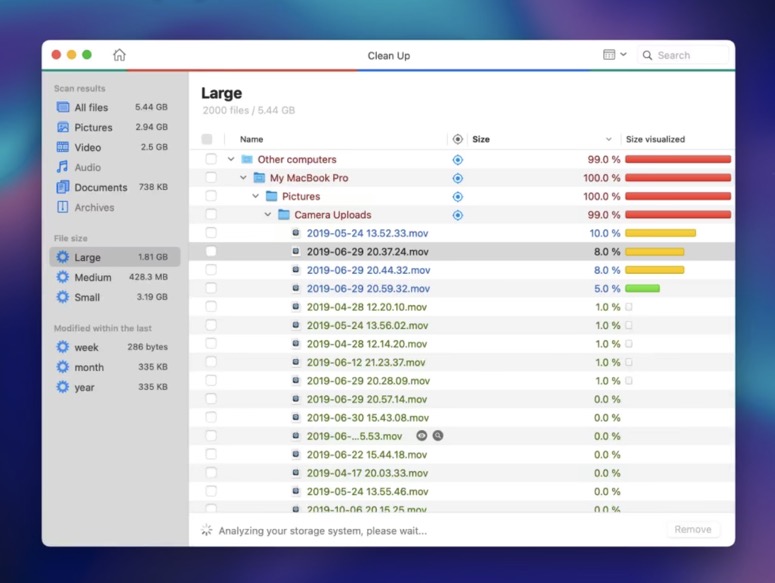 CleverFiles Cleaner, developed by the people behind Disk Drill, a popular data recovery software for Mac, isn't free, but we think it's well worth its small price.
✅
Pros:
Modern user interface
Great performance
Adjustable scanning depth
Flexible file filters
Save/load scan sessions
Some of the best macOS disk space analyzers focus on creating stunning usage visualizations that, while pleasant to look at, don't always make the identification of large files as effortless as it can be. That's why CleverFiles Cleaner relies on familiar nested folders to represent found data, with flexible filters and multiple columns that enable you to sort data by file/folder type, size, or name.
You can use CleverFiles Cleaner to analyze any storage location reachable from your Mac, including internal/external hard drives, memory cards, USB flash drives, and even network-attached drives or cloud storage folders. When scanning huge collections of files, you can take advantage of adjustable scanning depth to prevent the Mac storage analyzer from going inside every single subfolder.
Price: $2.99 for a lifetime license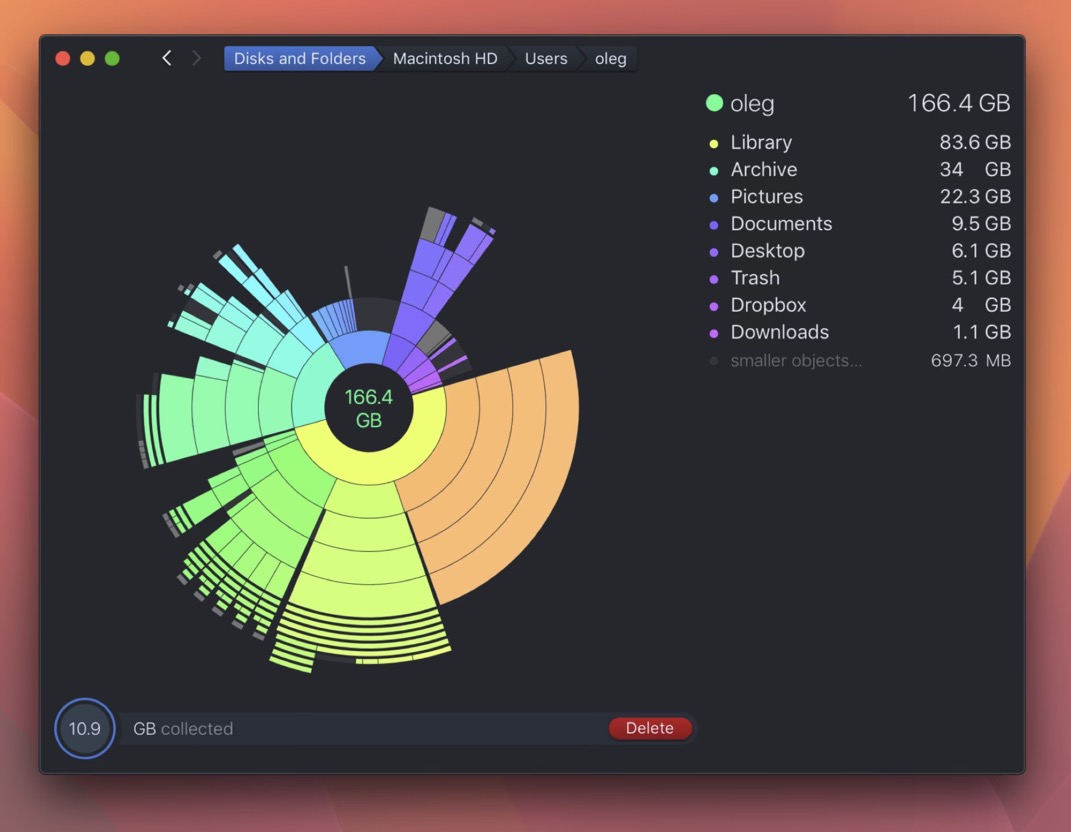 There isn't a better-looking macOS disk usage visualizer than DaisyDisk, but pretty things tend to be pricey.
✅
Pros:
Gorgeous visualizations
Speedy performance
Frequently updated
Regularly discounted
DaisyDisk is commonly featured as an example of a third-party Mac app done right. Indeed, there's no denying that this disk space analyzer is both pleasant to look at and enjoyable to use. Best of all, it also performs exceptionally well, with scanning taking only a few seconds on most modern Macs.
The first version of DaisyDisk was released by Software Ambience in 2008, and updates haven't stopped arriving since then. The latest version is fully compatible with Apple Silicon Macs, and you can download it both from the Mac App Store and the official website. We recommend you wait for a major shopping holiday with your purchase because DaisyDisk is often discounted by as much as 50%!
Price: $9.99 for a lifetime license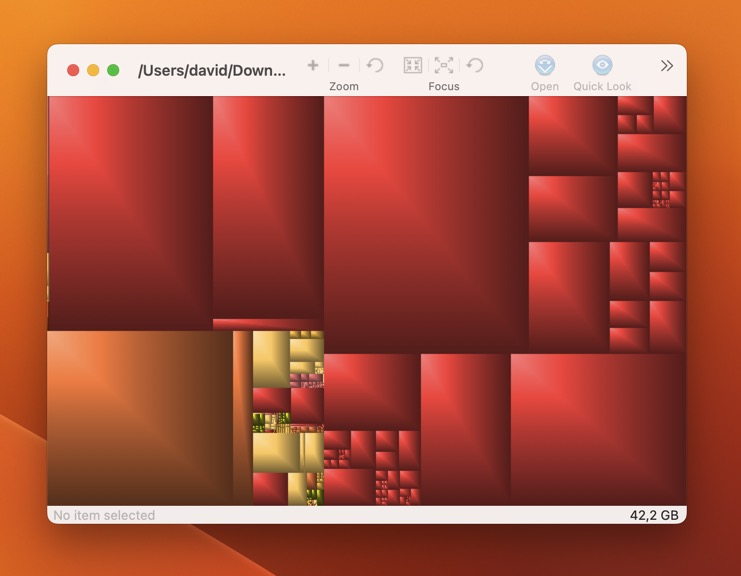 Grand Perspective is an excellent open-source macOS disk usage analyzer that can be yours for free if you download it from its official website.
✅
Pros:
Can be downloaded for free
Open source
Updated multiple times a year
Fast and reliable
❗️
Cons:
Removing many files takes time
This small utility can quickly create a map of your storage device, showing each file as a rectangle whose area is proportional to the amount of storage space it occupies. Files that are located in the same folder are grouped together and highlighted in the same color.
The only problem with Grand Perspective's approach is that it can take a lot of time to find unnecessary files and delete them because you have to hover your mouse cursor above each rectangle to see the name and size of the file it represents.
Price: Completely free when downloaded directly from its website ($2.99 from the Mac App Store)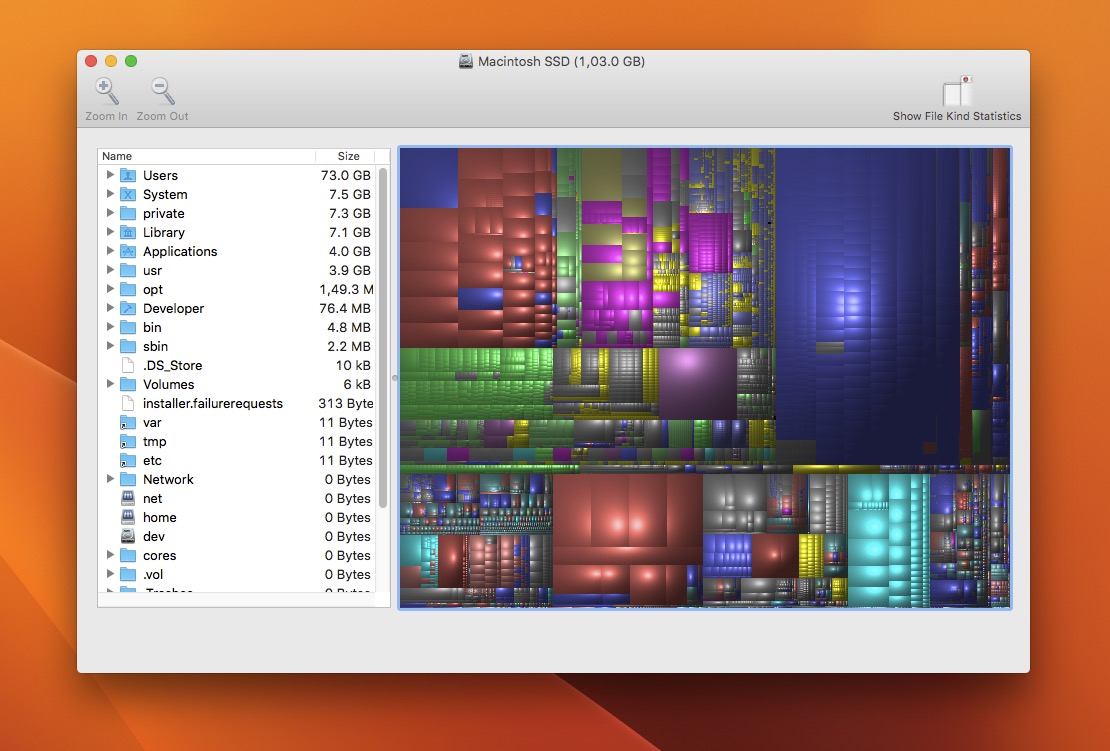 If you're looking for an alternative to WinDirStat, then this disk usage utility for Mac is your best bet.
✅
Pros:
Completely free
Open source
Multiple ways to find space hogs
Disk Inventory X is completely free and open source, released under the GNU General Public License. Sadly, it hasn't been updated since 2019, and its user interface certainly doesn't look like a modern Mac app (more like a relic from the days of Mac OS X.
Still, the application deserves a place on this list because it simultaneously creates treemap-based visualizations and shows found folders and files in a list view right next to it. What's more, Disk Inventory X provides many filetype filters that can be activated with a simple click.
Price: Completely free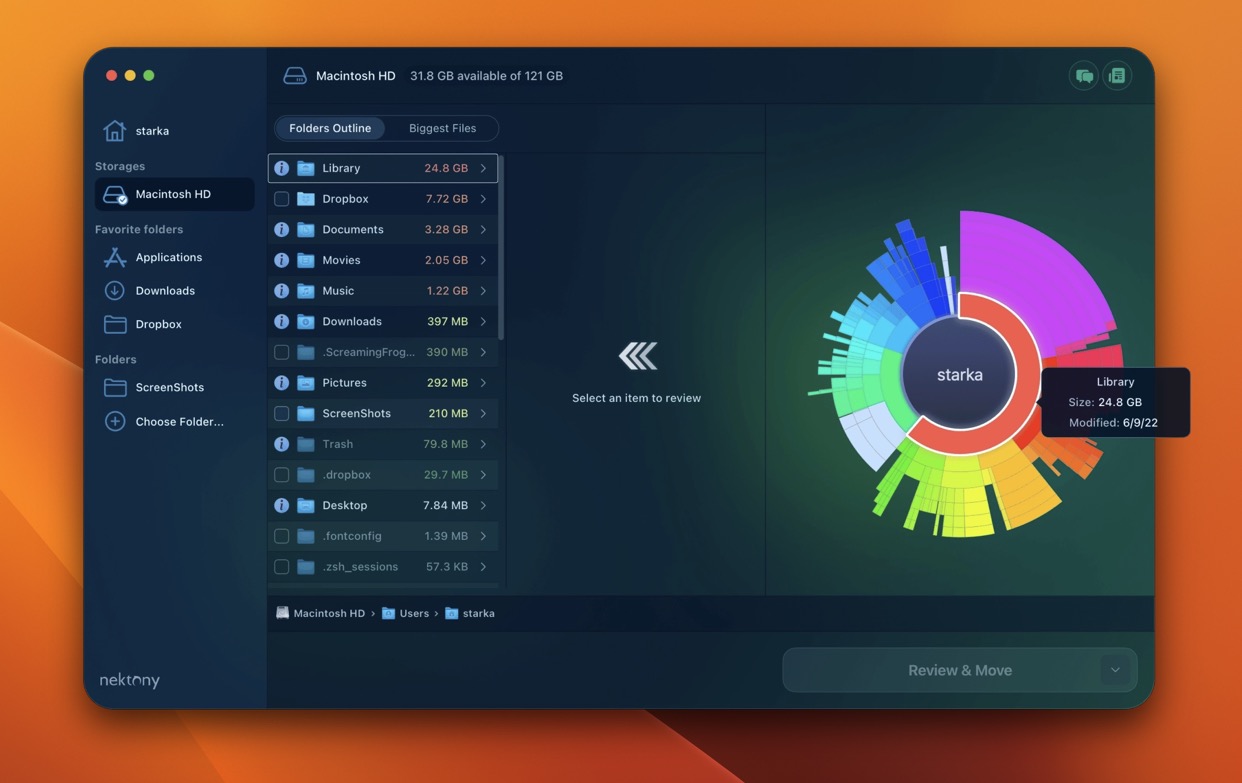 Nektony's disk space analyzer for Mac is so well-designed that you'll look forward to using it.
✅
Pros:
Great-looking user interface
Free version available
Can free up purgeable space
❗️
Cons:
More expensive than its competition
Anyone who has used at least one or two software applications developed by Nektony knows that the Ukraine-based software company knows how to make powerful features accessible and enjoyable to use, and Disk Space Analyzer Pro is yet another testament to their prowess.
Yes, the disk space analyzer is more expensive than most other apps featured in this article, but it does a lot to justify its price. We especially like the option to easily clean purgeable space, which is often occupied by useless caches and other system junk.
Price: $13.99 for a lifetime license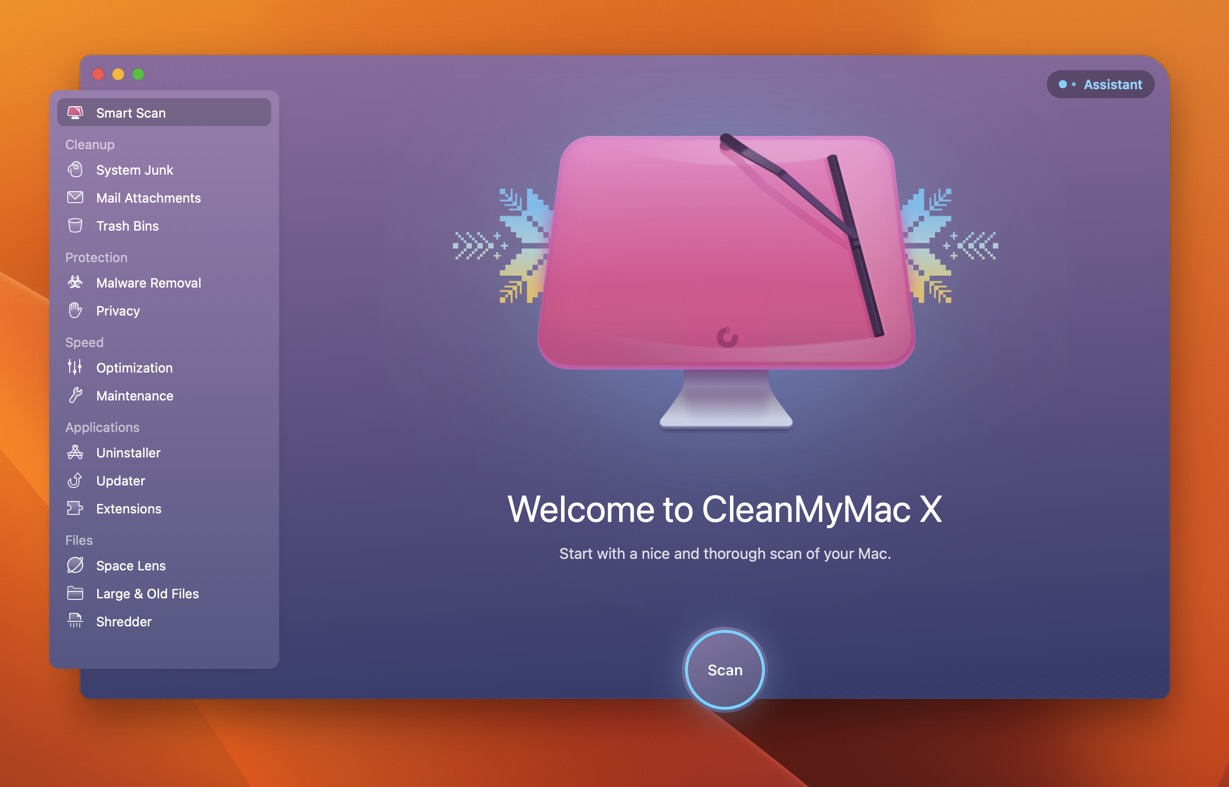 CleanMyMac X is the most popular Mac cleaner, and it happens to come with an excellent disk space analyzer feature.
✅
Pros:
Countless positive reviews
A lot of features
Nice all-in-one package
❗️
Cons:
Expensive
Jack of all trades and master of none
Downloading a feature-packed Mac cleaner just to analyze disk space may seem like overkill, but CleanMyMac X is such a nice app that we find it difficult to resist it. Its space analyzer feature is called Space Lens, and it produces a neat map of your storage, making it easy to see which folders take up the most space and what their content is.
There's also a feature called Large & Old Files, and it does exactly what it says: finds all large and old files so that you can painlessly get rid of them. Sure, many other disk space analyzers do the same and better, but they don't come with a ton of other system cleaning tools. If you have use for them, then the price of CleanMyMac X should be easy to swallow.
Price: Starts at $39.95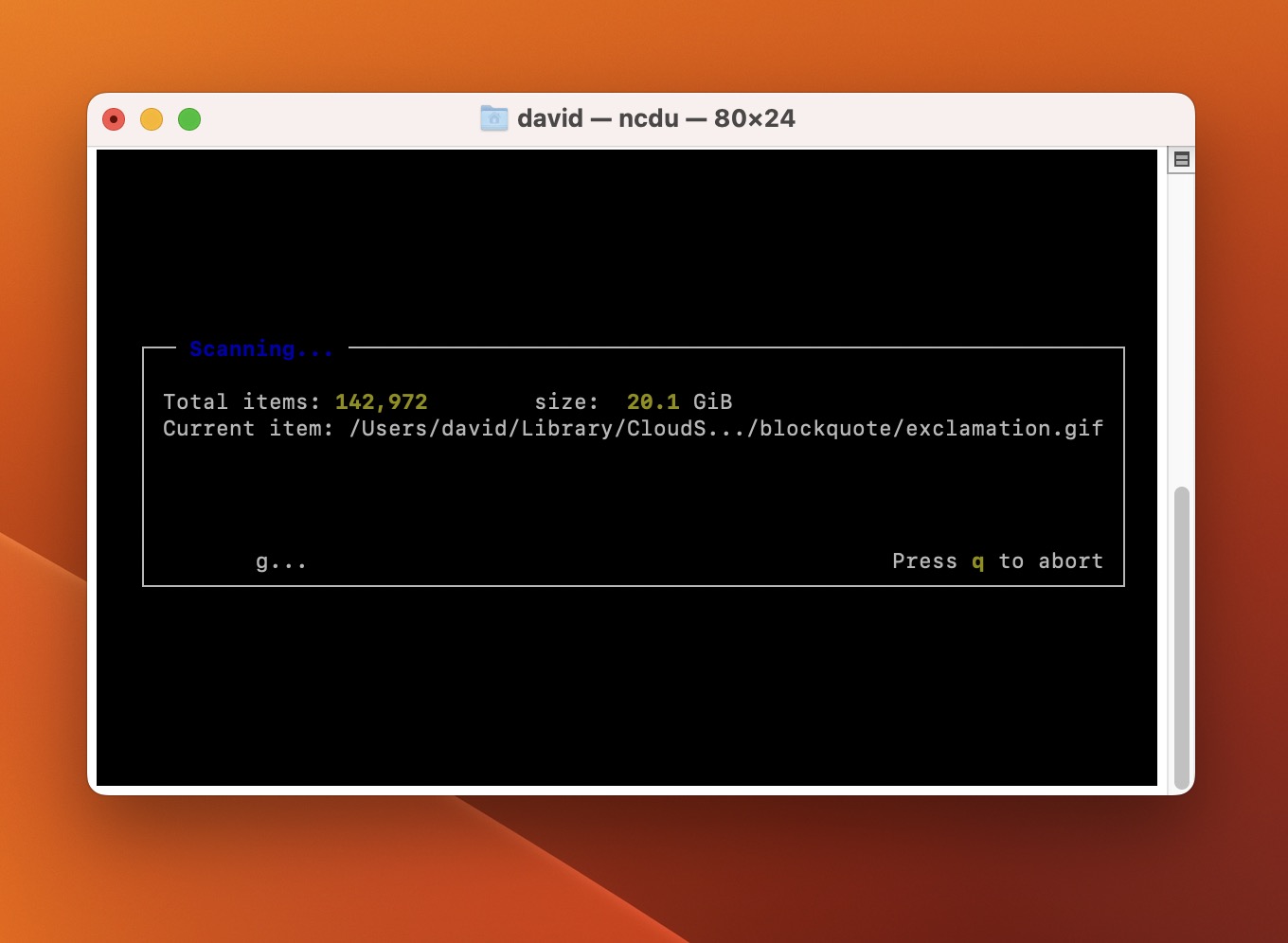 The Terminal app in macOS is your gate to powerful commands (you can sort files by size in any folder using du -hs * | sort -hr) and even more powerful text-based software, such as ncdu.
✅
Pros:
Completely free
Open source
Fast scanning speed
❗️
Cons:
No graphical user interface
Not for inexperienced users
Despite its appearance, ncdu doesn't date back to the days of Unix mainframes. It was first released in 2007 as a handy disk space analyzer capable of running in any minimal POSIX-like environment with ncurses installed.
While its lack of a graphical user interface may deter some inexperienced users, those who remotely administer servers over SSH see it as an advantage. What all users can appreciate is ncdu's fast scanning speed and open-source license.
Price: Completely free
Honorable Mentions
The competition among Mac disk usage analyzer apps is fierce, and not all praiseworthy solutions have made it onto our top 7 list. Here are those you should know about:
FAQ
Final Words
Mac users pay a premium price for additional storage space, so it's in their best interest to use every single gigabyte as efficiently as possible. The best Mac disk usage analyzer apps described in this article can be used to instantly reveal the biggest files regardless of where they're hidden and delete those that are not needed in just a few steps.
David Morelo is a professional content writer in the technology niche who joined the Handy Recovery team in 2019 and has since made an invaluable contribution to the quantity and quality of our materials. David's main principle is not to start working on a new article until he has studied the subject backwards and forwards.