If you're dealing with a WD My Passport that's not showing up on your Mac, there are several areas worth investigating. The problem might be caused by simple software errors, but it could also be related to hardware failure. It's important to assess the situation carefully before writing off the disk as unrecoverable because there's often a lot that can be done.
WD My Passport and Mac Compatibility
WD My Passport is a line of external hard drives by Western Digital. Using these drives on a Mac is generally no different from using them on a PC. However, if you encounter problems related to data loss, you're going to have to take a different approach. If your WD My Passport is not recognized by your Mac, for example, this will require tinkering with different settings compared to on a PC.
Why Is My WD External Hard Drive Not Showing Up on My Mac?
There are several possible reasons why a WD external hard drive might not show up on your Mac. The most basic ones are related to software errors. It's possible that you simply need to change some settings or restart your computer to address the problem.
In other cases, you might be dealing with a more serious issue that requires the use of specialized tools. It's even possible that you might have to send your drive to a repair center. If your WD hard drive is not showing up on your Mac, you need to start by evaluating the situation properly.
It's a good idea to maintain a separate backup of your data for cases like this. While this won't do anything to bring your drive back to life, it will at least minimize the impact of potentially losing your data. This can be particularly useful if you have to go with an approach like formatting your drive entirely.
What if you never made a backup but you're already at a stage where your drive is showing issues? In this case, we've got you covered – read on to find out more.
Ways to Fix a WD My Passport Drive Not Showing Up on a Mac
Depending on the exact cause of the problem, you can take several general approaches to fix the situation. If your WD My Passport for Mac is not working, run through the below list to see if any of those fixes work for you.
Option A:

Check Your Finder Preferences

👀

Check your preferences in Finder as well. It's possible that you've simply disabled hard disks from showing up, in which case you just have to change one setting to make your drive visible again.
Launch Finder.
Go to Finder -> Settings.
Click General.
Ensure that Hard disks and External disks are checked.
Option B:

Use Another Port

Sometimes the solution could be as simple as using another port on your computer. If that ends up solving the problem, consider investigating your computer for hardware issues. It may also be possible that your drive expects a USB 3.0 port and you're connecting it to a USB 2.0 port instead. However, that should rarely prevent the drive from showing up completely.

Avoid using the faulty USB port if that turns out to be the problem. Even if it works again in the future, it's possible that it might malfunction again and cause problems with the drive. It may even lead to permanent corruption in the drive, so be very careful.
Option C:

Reboot Your Mac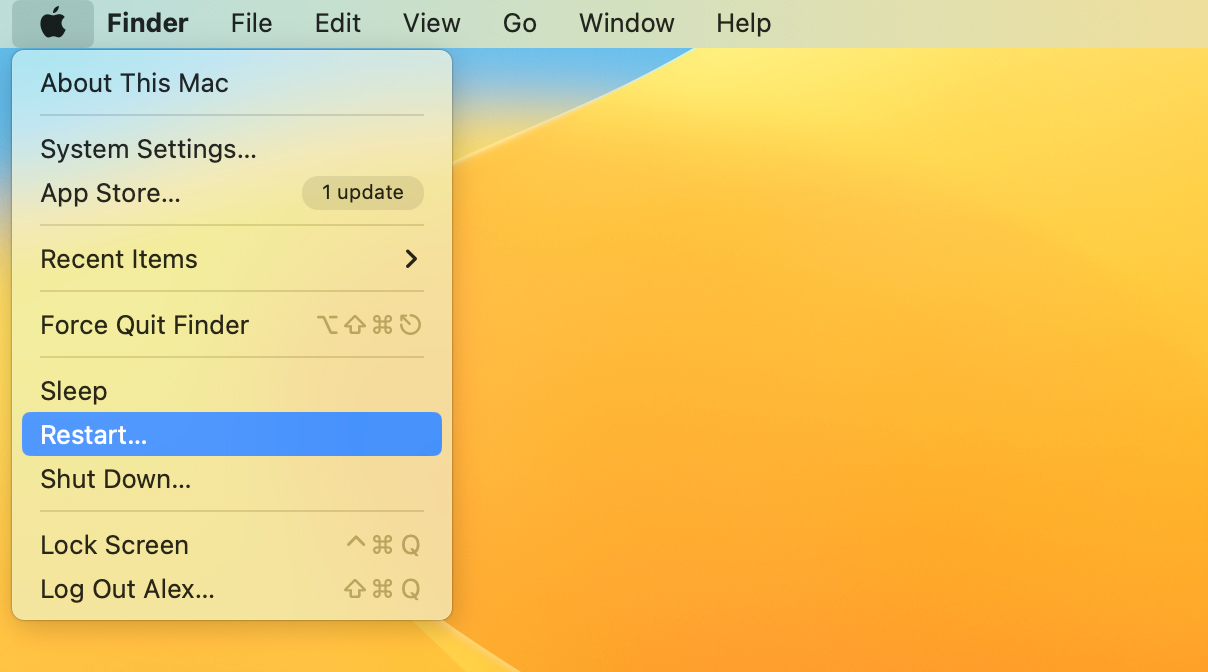 If you haven't tried rebooting your Mac, this is another simple solution you can attempt. Make sure to disconnect the WD My Passport drive first, and only reconnect it once the computer has finished booting up. If that makes the drive show up properly, it was likely down to a simple software error in your operating system. However, if this problem happens again, you may need to reinstall your macOS or investigate it for other software problems that could be causing this. Check if there are any conflicting applications, for example.
Option D:

Run First Aid to Repair Your WD Drive's Error

👀

The simplest way to fix a problem with an external drive not working on your Mac is to use Disk Utility's built-in First Aid feature, as explained by Apple in the official support documentation.

To do that, follow these steps:
Connect your WD My Passport to your Mac.
Launch Disk Utility.
Select your drive from the list on the left side.
Select First Aid.
Click Run.
Option E:

Check if Your WD Passport Is NTFS-Formatted

👀

While NTFS-formatted drives are generally not a problem for Macs since macOS Catalina, you might still encounter unexpected problems if your drive uses the wrong format.

To check what format it's currently using, simply follow these steps:
Connect the drive to your Mac.
Launch Disk Utility.
Select your hard drive from the menu on the left.
Click the Info button in the top-right corner.
Check the File system row in the pop-up window.
If your drive is formatted in NTFS, you might want to reformat it in ExFAT instead. To do that, just follow the steps we outlined in the "Format Your WD Drive" section above.
Option F:

Format Your WD Drive

👀

Formatting your drive could also fix the issue. Note that this will erase all data currently stored on the drive. It may still be possible to recover some of the deleted files later, depending on the type of formatting that was used ("fast" or "more secure").

Check Apple's official guidelines on the topic, or just follow these steps:
Connect your WD My Passport to your Mac.
Launch Disk Utility.
Select your drive from the list on the left side.
Click Erase at the top of the window.
Type in a name for your drive and select ExFAT for the format.
Click Erase.
How to Recover Data from a WD Drive That Isn't Showing Up
If your WD My Passport drive is still not showing up, you may be able to use specialized recovery software to at least extract your data from it. Before you begin, check if your drive shows up in Disk Utility. If it does, you can safely proceed with the next steps.
This is not a complicated process and has a high chance of success if the drive hasn't been fully formatted or physically damaged.
Download and install Disk Drill.
Connect the WD My Passport drive to your Mac.
Launch Disk Drill.
Check the list of drives, and pick your drive from it.
Having selected your drive, Click on Search for lost data and wait for the scan to finish.
Click Review found items.
You will be presented with a list of recoverable files and folders. Check what files are listed and decide which ones you want to recover. Once you're finished, click on Recover to save them.You can preview your files at this stage. This can be useful if the original filenames can't be recovered. If you can't use the preview feature though, you should focus on the recovery chance column. To preview a file, simply hover your cursor over it, and click the eye icon.

👀

Tip: you can also go to Show -> Existing above the file list to switch to viewing exisiting files on the drive. This can help you see what files are already available without the need for recovery.

Make sure to choose a location separate from the drive itself. Otherwise, you will overwrite your existing data and you'll lose it permanently!
👀
Disk Drill can be a handy utility when it comes to recovering deleted files from an external drive on a Mac. The application offers various features that are not supported by other similar tools or are not common on the market, including a wide range of supported formats and the ability to preview your files.
How to Protect Your WD Drive on a Mac
If you want to avoid getting into a situation where you can't unlock your WD drive on a Mac, or even mount it, you should take some precautions to protect the drive. External hard drives require special care to avoid damaging them. This is especially true if you travel a lot.
🎒 Always carry your WD My Passport drive in secure storage that can prevent physical damage
⏏️ Eject your drive properly from the operating system before unplugging it from the computer
💽 Avoid filling the drive to its limit
💾 Regularly backup your data to a separate device
🚫 Don't download any suspicious or unauthorized applications
💻 Don't give your drive to people you don't explicitly trust
Conclusion
Fixing a WD My Passport drive that's not showing up on your Mac is a generally simple process that doesn't require a lot of technical knowledge. You have to be careful about how you're handling your drive to minimize the risk of physical damage, and always make sure to work with legitimate, approved tools for data recovery if it comes to that.
FAQ
If your WD external hard drive is not showing up on your Mac, you can try the following fixes:
Run First Aid to repair the drive
Format the drive
Switch to a different port
Adjust your Finder preferences
Restart your Mac
Check if the drive has an incompatible file system format
If your drive is not showing up on your Mac, this can be caused by a number of factors. If you're lucky, it's a simple software error that could be easy to resolve. For example, you might just need to restart your computer. It's also possible that the USB port the drive is connected to is malfunctioning. Finally, you also need to consider the option that your drive is physically damaged and requires a repair or complete replacement.
If your WD My Passport drive is not working, follow the steps in this article to try and make it show up. Keep in mind that some of the steps will require you to erase your data – for example, if you go with the option of formatting the drive entirely.
Stefan is an experienced freelance writer that specializes in technology content. He holds an MSc in geological engineering and has always been fascinated by technology which has made him follow a career as a writer. Given his specialization, over the years he became an advocate of Windows and Mac and can create professional content about their uses and advantages they bring to the world.
Andrey Vasilyev is an Editorial Advisor for Handy Recovery. Andrey is a software engineer expert with extensive expertise in data recovery, computer forensics, and data litigation. Andrey brings over 12 years of experience in software development, database administration, and hardware repair to the team.