Your home is your castle, and it's only natural that you want to know what's happening both before and behind the castle gates. Ring video doorbells and security cameras make it possible for homeowners to see what's happening in high-quality from any place and on any device.
The video footage captured by Ring cameras can be used to identify thieves, remember cherished family moments, and much more. But what if it becomes deleted because of a user error or hardware/software failure? Is it possible to recover deleted Ring videos?
✅
Yes, it is! But only in some cases, and we describe them in this article while providing detailed step-by-step instructions for you to follow in order to avoid data loss.
Where Are Ring Camera Recordings Stored?
To give users the ability to check in on their home from anywhere and see what happened when they were not watching, Ring products store recordings on secure Amazon AWS servers—but only when users purchase one of the two available paid subscription plans (Basic or Plus).
As a Ring Basic or Plus subscriber, you can extend video storage to up to 180 days, up from the default setting of 30 (default in the UK and EU) or 60 days (default in the US, Latin America, Middle East, and Asia), and you should definitely do that because you never know when you may need to retrieve some old footage.
You also get the option to download up to 50 videos at once to your mobile device or computer. Because the cloud storage isn't unlimited, it's a good idea to archive all important Ring recordings locally. That way, you can watch them even after they've been removed from the cloud.
❗️
Without a paid subscription plan, no recordings are stored in the cloud—only real-time video with the Live View feature is available.
Can You Recover Deleted Ring Videos?
That depends on where your Ring videos were stored:
❌ Cloud storage: Unfortunately, Ring doesn't implement a Trash feature that would allow users to recover accidentally or intentionally deleted videos from its servers. As such, any cloud-stored videos that have been deleted are gone for good and can't be recovered using the solution described in this article.
✅ Local storage: If you downloaded recordings from Ring's servers to your mobile device or computer before deleting them, then you can use special data recovery software to retrieve deleted Ring videos from the storage device on which they were located before their deletion.
The recovery of deleted Ring videos from a local storage device is a time-sensitive process, and you should begin it as soon as possible. If you wait too long before you start to restore deleted Ring videos, you risk permanent data loss since new data might overwrite the videos you want to recover. In the next section, we describe how to use one of the best data recovery apps to recover deleted Ring videos.
How to Recover Permanently Deleted Ring Videos
Now that we've established that only locally stored Ring videos can be recovered, it's time for us to explain how to recover deleted Ring doorbell videos and deleted Ring security camera footage.
Just like when recovering any other video files, you should use reliable data recovery software like Disk Drill for Windows, whose free version can recover up to 500 MB of data.
With Disk Drill for Windows, you can even view deleted Ring videos before you perform their actual recovery, so it's easy to get back only important footage and leave everything else behind.
Step 1:

Download and Install Disk Drill for Windows

Disk Drill for Windows is a freemium data recovery software application, and you can download it directly from its official website. To install the software, open the installer file and follow the installation instructions. You can then double-click the desktop icon to launch it.
Step 2:

Find Deleted Ring Videos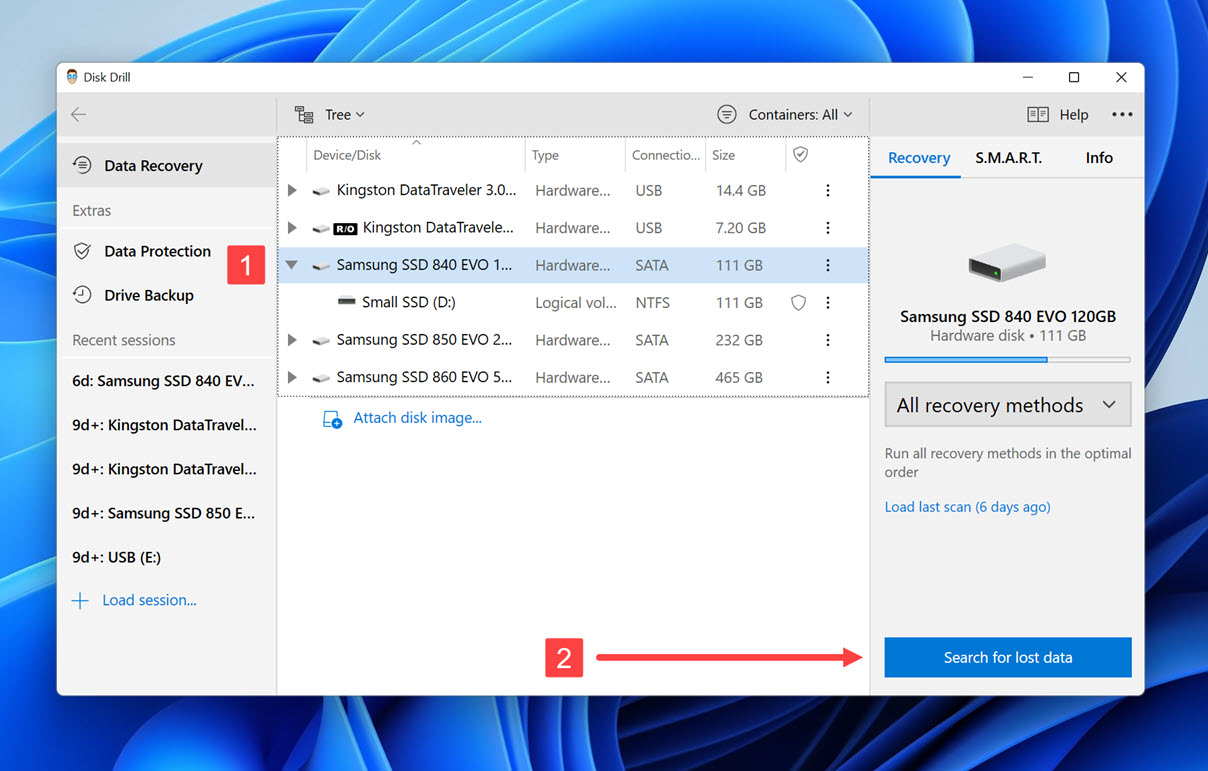 When you launch Disk Drill, you should see the main application window with a list of available storage devices. You need to select the storage device on which the deleted Ring videos were stored and click the Scan for lost data button. Disk Drill will run all recovery methods in the optimal order, and you can just sit back and wait for it to finish scanning.
Step 3:

Recover Ring Videos to a Safe Location
Once Disk Drill has finished scanning, you need to analyze the scan results and find deleted Ring videos. You can use the scan results filters on the left to display only video files or archives. Why archives? Because Ring videos are downloaded as .zip files that you need to extract to see the .mp4 files inside. If you've renamed the downloaded video, then you can also use the search bar in the top-right corner to find the video by name.
By selecting individual videos, you can preview them directly inside Disk Drill. To add a video to the recovery queue, simply click the checkbox next to it. Finally, you can click Recover and choose a suitable recovery directory (any location that's on a different storage device than the one where the deleted Ring videos were stored is okay).
FAQ
Conclusion
Despite their huge importance, Ring videos can't be recovered from the company's servers—only locally stored copies can be recovered using data recovery software like Disk Drill. That's why Ring users should always download all recordings they don't want to use and keep them on at least two different storage devices. Having Disk Drill installed and ready for use is also a good idea since the time you have to recover deleted Ring videos might be limited.
David Morelo is a professional content writer in the technology niche who joined the Handy Recovery team in 2019 and has since made an invaluable contribution to the quantity and quality of our materials. David's main principle is not to start working on a new article until he has studied the subject backwards and forwards.
Andrey Vasilyev is an Editorial Advisor for Handy Recovery. Andrey is a software engineer expert with extensive expertise in data recovery, computer forensics, and data litigation. Andrey brings over 12 years of experience in software development, database administration, and hardware repair to the team.